A quick survey of appetizers on the restaurant landscape shows that many are still serving the old standbys. Indeed, Mintel Menu Insights, a leading market-research company, lists these as the most common listings: samplers; buffalo wings; nachos; mozzarella sticks; fried calamari; chicken fingers and bread sticks. But are they the most sought after? Trends point to appetizers moving into a mindset rather than a menu part.
Diners seek the familial, interactive experience that small plates serve them. They want culinary exploration without commitment. They want to graze, share and be delighted. Mediterranean influences bring meze and tapas. Global street food inspires appetizers of kebabs and spiedini, rice balls and pot stickers, flatbreads and lettuce wraps. Bar food has moved from peanuts and pretzels to mini burgers and cheese fritters.
Pizzerias and Italian restaurants are abandoning cheese bread for crackerthin flatbreads topped with Parmesan. They're replacing mozzarella sticks with bite-sized fritters stuffed with bacon and cheese. They're catching the new appetizer wave, and with that, adding menu distinction. One thing they're not doing, it seems, is increasing difficulty of execution.
"Our appetizers entice customers and push the check average up, but they are relatively easy to prepare," says Magellan Moore, executive chef at Mezzo Italian Kitchen & Wine in Gahanna, Ohio. The restaurant's Pizzetta Flatbread has been a huge hit since it opened more than a year ago. He spreads mascarpone and roasted garlic on unbaked lavash, then tops that with a mozzarella/provolone blend. Grilled chicken, Roma tomatoes and caramelized onion finish the appetizer, and it cooks for six minutes in a very hot stone oven. "It's an appetizer that's not too heavy, but big enough to enjoy for three or four people," says Moore.
Capitalizing on the Mediterranean trend, he also menus Fresh Mozzarella Fritters and a Seared Parmesan Risotto Cake. For the fritters, he spreads Parmesan risotto on a sheet pan and lets it cool. He forms one-ounce balls and stuffs them with mozzarella, then rolls them in fl our, dips them in egg wash and rolls them in panko breadcrumbs. He then deep fries them until golden, and serves the fritters with a marinara dipping sauce. For the risotto cake, he takes the cooled Parmesan risotto and cuts into 2½-inch squares, then sears two squares in a pan, adds mozzarella to one half, then tops it with the other square. After finishing the cake in the oven, Moore serves it with a fresh tomato chutney. "We give our diners craveable appetizers that hit the same sweet spots that the more common appetizer hits, but we give them a totally new experience," says Moore.
Crust Pizza + Wine Bar, in Rochester Hills and Bloomfield Township, Michigan, calls out its appetizers as small plates, with on-trend offerings such as spiedini and baked goat cheese. "The folks we want to capture and keep are diners who might go for restaurants that run at $40 or $50 a person, but know they can get the same quality and consistency of food here without spending that kind of money," says Jon Sherer, Crust's owner.
The restaurant, which brands itself with its use of fresh ingredients prepared simply, has served the spiedini since its opening in early 2006. Morsels of Provolone cheese are wrapped in Prosciutto di Parma, then skewered and baked in a wood-burning stone oven at 900 F for fi ve to eight minutes. The skewered bundles show off char marks on the crisped prosciutto. They're topped with a balsamic glaze and served over a bed of organic arugula. The spiedini sells at $9.50 and runs a 21-percent food cost.
For the baked goat cheese, Sherer makes a fi re-roasted sauce, pours the hot sauce into an oval terrine, then adds two ounces of domestic goat cheese. It's baked in the oven until the goat cheese browns and bubbles. He adds fresh rosemary and fl at-leaf parsley, then serves it with housemade warm fl atbread (Crust's pizza dough that has been flattened and knocked down). It sells at $7.50 and runs an 8-percent food cost. "We're aimed at a foodie crowd, and we want to be unique," says Sherer. "Our appetizers are really popular, and I think our customers remember us for them. We're trying a little harder than the next guy." ?
Smoked Mozzarella Fritters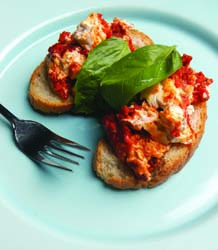 1½ cups fresh whole-milk ricotta
1½ cups shredded smoked mozzarella
Salt and pepper to taste
1 tablespoon chopped fresh thyme
¾ cup all-purpose flour
3 eggs
2 cups panko bread crumbs
Vegetable oil for frying Line up four bowls.
Combine the ricotta, smoked mozzarella, salt and pepper and fresh thyme in the first bowl. In the second, add fl our. In the third bowl, beat the eggs. Add the panko bread crumbs to the last bowl. Form a small ball of the cheese mixture in your hands, then roll it in the fl our to coat. Transfer the ball to the eggs and roll to coat. Transfer the cheese ball to the panko and again roll to coat. Transfer the ball to a parchment-lined tray. Continue with the remaining cheese mixture. Fry fritters in batches, being careful not to overcrowd them, until golden, about 1 to 2 minutes. Remove with a slotted spoon to paper towel to drain.
Katie Ayoub is a frequent contributor to Pizza Today. She lives in Toronto, Ontario.