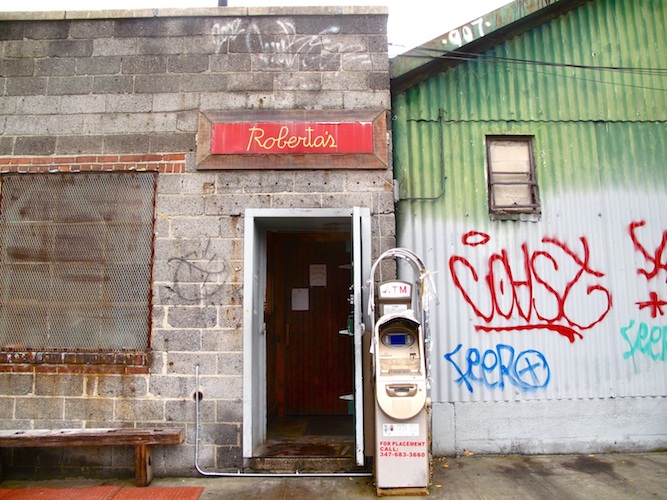 Roberta's
261 Moore Street
Brooklyn, New York 11206
(718) 417-1118
www.robertaspizza.com
This wood-fired pizzeria is an oasis in an urban city with its patio and rooftop garden and greenhouse. Last year, the restaurant released an extensive cookbook. It's no wonder with the flavor combinations on Roberta's menu. Cleverly named pizzas like the Millennium Falco (tomato, Parmigiano, pork sausage, onion and chili — $16) and the Darkwing (mozzarella, chandoka, cured duck and Brussels spouts — $17) take center stage.
Jockamo Pizza
5646 E. Washington St.
Indianapolis, Indiana 46219
(317) 356-6612
www.jockamopizza.com
The two-unit pizza company has garnered quite a name for itself in Indy. Last fall, Jockamo released a new menu featuring fresh menu items like Stuffed Peppers (stuffed with goat cheese and served with house made chili oil and a breadstick — $8), a BBQ Pulled Pork sandwich ($6.50), and Jockamo Special (a pesto-sauced pizza with artichoke, tomatoes, a three-cheese blend and a balsamic reduction — $15 for a 12-inch). The pizzeria also serves a line of "Hangover Pizzas" on the weekends. The Farmhouse is topped with sausage gravy, scrambled eggs, chicken, cheddar and bacon — $14 for a 12-inch.
Crust Pizza & Wine Café
6989 N. Hayden Rd.
Scottsdale, Arizona 85250
(480) 948-3099
www.crustrestaurants.com
Crust is known as "Home of the Pizza Rustica" — rustic in style and shape.  The pizzeria offers more than a dozen of these specialty thin-crust individual pizzas. The God Daughter is topped with pesto, bacon and fresh mozzarella ($9). The Arugula and Prosciutto rustica is served with fontina cheese ($12.50). Crust also has a lineup of 20-inch, thin-crust pizzas like The Little Nicky, a four-cheese white pie with roasted garlic, spinach and tomatoes ($21.50) and the Uncle Louie with sausage, pepperoni, Rustica sauce, marinated tomatoes, fresh mozzarella and basil ($22.50).
Taverna Pizzeria and Risotteria
258 W. 2nd Street
Austin, Texas 78701
(512) 477-1001
www.tavernabylombardi.com
Famed Lombardi's Pizza is behind Taverna with its three Texas locations. Its menu features artisan pizzas, pastas and half a dozen specialty risotto dishes. These include Risotto Con Prosciutto with Asiago fresco, arugula and toasted walnuts ($16.50) and the Risotto Con Capesante with artichokes, roasted grape tomatoes, lemon confit and pan seared diver scallops ($19.50). Pizza offerings included the Salamino Piccante with spicy salami, grape tomato, mozzarella and goat cheese ($13.50) and the Burrata with roasted pomodorini, burrata, basil, EVOO and sea salt ($14.50).