Time to sharpen your knife skills? And by skills, we're talking about back-of-house efficiencies and safety protocols around the most common foodservice tool. Knowing which knives work best for cutting different types of product, how to care for them properly and how to use knives safely can give operators a well-honed edge.
Safety first. "Train your employees how to use the knife properly," says James P. DeWan, adjunct chefinstructor at Chicago's Kendall College School of Culinary Arts and co-author of The Zwilling J. A. Henckels Complete Book of Knife Skills: The Essential Guide to Use, Techniques and Care. He recommends the classic French method, which sees the bottom of the blade pinched by the dominant hand's thumb and first finger with the other fingers wrapping around the handle. The other hand curls into a claw position, which guards the fingertips against the blade, and grips the ingredient being cut. "The side of the knife is flush against your guide fingers," he says. "That's the way to cut safely. It takes time to get used to it, so it's important to practice it. There are tons of videos on YouTube that demonstrate proper technique. Have your kitchen staff watch them and then practice their skills repeatedly."
And like all well-run professional kitchens, staff training is key. "Our senior cooks teach the newer cooks how to cut properly," says Jim D'Angelo, COO of Lou Malnati's, which has 35 pizza shops in the Chicagoland area. For repetitive tasks, such as cutting dough, back-of-house staff must don protective metal mesh gloves. "We implemented the policy about five years ago and we strictly enforce it," he says. "Knife cuts were making up a huge amount of our back-of-house injuries. We don't make them wear it on the line, but when they're doing something repetitive, they have to. It's reduced accidents significantly."
To maximize performance and minimize injury, DeWan recommends keeping blades sharp. Lou Malnati's sends its knives out for sharpening weekly. "We lease our knives from a company and sharpening them is part of that lease," says D'Angelo. The company takes away the dull knives, replacing them with sharpened ones, sharpens the dull ones and returns them the next week, following the same pattern to always keep Lou Malnati's flush with sharp tools.
At Fiammé Pizzeria in Naperville, Illinois, a sharpening truck visits about every two weeks, or whenever executive chef Ryan Craig calls them in. "He does them right there on the spot, and it works really well for us," he says.
DeWan suggests honing the knives with a steel in between sharpening sessions. "The blade of the knife has microscopic teeth that bend with use," he says. "Running the knife over the steel pushes those teeth back into alignment."
Of course, pizzerias require specialized tools. When it comes to which knife works best, the answer is as varied as the available types of pizzerias.
For thin crust and Napoletana-style pizzas, the favored choice seems to be the pizza wheel. "Our pizzas are Neapolitan style and our ingredients are delicate, requiring a more precise, delicate touch," says Craig. "I tried using a rocker knife because it's more efficient, but I lost a lot of ingredients, which just flew off the pizza with the movement of the big blade."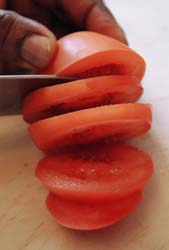 On the line, he uses three pizza wheels: one for red, one for white and one for gluten-free pizzas. He also keeps a chef's knife and paring knife for ingredient prep, as well as a good bread knife for cutting French bread into crostini and bruschetta.
Lou Malnati's also uses a pizza wheel for its dine-in thin-crust pizza. "It doesn't drag the cheese and it gives us a nice precise cut," says D'Angelo.
For dine-in deep-dish, which is the most common pizza ordered at Lou Malnati's, his prep cooks use a boning knife, which sports a long, narrow, sharp blade. "It allows them to cut through the thick layer of cheese, toppings and crust with some pretty good speed and accuracy," he says.For carryout and delivery, a mezzaluna, or rocker knife, is the go-to blade. Its handles allow for a sure grip while putting more weight on the knife to cut through the pie with precision and clean edges. "We'd use it for our dine-in deep dish pizzas, too, if we could," he says. "It's so fast and efficient." The mezzaluna can portion a 14-inch pizza with only four cuts. As the restaurant chain cuts and then serves its dine-in deep dish in the pan that the pizza was baked in, the rocker is not an option. "The boning knife works well, but for cutting speed, nothing is better than the rocker," says D'Angelo.
Why not a pizza wheel for deep dish? "It plows through the toppings and doesn't give you a clean cut. You have to go over it too many times to cut through, making a mess of the pizza as you do it," he says. For prep work, his staff uses the traditional eight-inch chef's knife, also known as a French knife, and smaller (2½-inch) paring knife.
Katie Ayoub is a frequent contributor to Pizza Today. She's based in Naperville, Illinois.