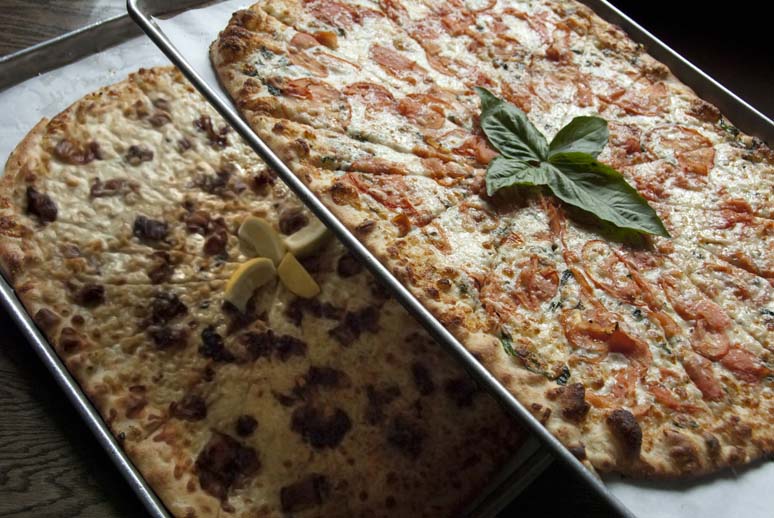 New Haven pizza delights diners near and far
Like Chicago and New York, New Haven, Connecticut, boasts its own pizza style. For those operators selling New Haven-style pizza, it's more than just pie — it's about preserving a legacy.
New Haven apizza (pronounced "ah-beets") is a Neapolitan-influenced pizza displaying a thin, crisp crust and chewy inside. It's traditionally baked in coal ovens, which adds a distinctive char to the crust. Sparse toppings mean diners won't find over-sauced, over-topped or over-cheesed pizza. Pizzas are also hand-formed, so pies lack a uniform shape.
Two indigenous New Haven pizza styles include the plain (tomato) pie and the white pie. The plain pie arrives with fresh tomato sauce, garlic and Parmesan. (Mozzarella is considered a topping; a customer who wants it must order it.) The white pie displays an olive-oil base topped with oregano, garlic, mozzarella and Parmesan. White clam pizza dials the white pie up a notch with the addition of fresh littleneck clams.
Frank Pepe, owner of The Original Frank Pepe Pizzeria Napoletana, in New Haven, Connecticut, is credited for creating white clam pizza. The story goes that a man was selling raw little neck clams in an alley. Pepe decided to add them to the menu, first as an appetizer, then on the white pizza. Today, the pizzeria goes through 70 to 80 bushels of clams per week, says Gary Bimonte, who is not only co-owner but also Pepe's grandson.
"My grandfather was one of the first who had a pizzeria, and one of the first to bring pizza to New Haven," Bimonte says.
Pepe honed his pizza-making skills in Italy. When he immigrated to the U.S. in 1909 he worked in a macaroni factory and bread bakery. His first pizzas consisted of bread dough and sauce, which he self-sold. Pepe's opened in 1925. He employed many relatives. In fact, his nephew, Salvatore Consiglio, opened the iconic Sally's Apizza down the street.
Today, Pepe's recipes remain, and pizzas still cook in coal ovens. "The coals burn a very hot, intense dry heat that puts a nice char on the crust. It makes the pizza take on its own character," says Bimonte.
That character often leaves an indelible impression on those who eat it. Case in point: Bill Jacobs, who grew up in New Haven. Despite settling in the land of deep-dish he craved New Haven pizza. In 2001, he opened Piece Brewery and Pizzeria in Chicago.
"Naysayers were everywhere," says Jacobs. "If you give people a great product they are going to recognize a great product.
"I explained to people what makes New Haven pizza special. It's not an abundance of ingredients. You can really taste what you are eating," continues Jacobs, who advises operators to visit New Haven and experience the pizza first-hand before adding it to menus.
Piece is not an anomaly. Pizzerias outside Connecticut can successfully serve New Haven-style pizza.
"Once people realized that we were not misspelling the word pizza (apizza) we started to catch on," says Thomas Marr, chef/cofounder of Pete's New Haven Apizza's, which opened in 2008 in Washington D.C.
Marr found that many folks in the D.C. market were unfamiliar with well-done pizza. "We have information on our Web site. We declare the 'char' on our menu as an expectation. When customers ask what the difference is in New Haven Apizza, I say it is like fresh baked bread; soft with a slight chew on the inside and crunchy on the outside," Marr says. New Haven Apizza now totals four locations.
Nick Laudano, owner, Nick's Pizzeria and Bar, in Boca Raton and Coral Springs, Florida, relied on media publications and servers' table side introductions to educate patrons regarding New Haven-style cuisine. Today the white clam pizza, which bakes in a coal-fired brick oven at 750 F and features Parmesan, cherry pepper, lemon and garlic, is a best-seller.  "It's truly unique and a must try," says Laudano.
Bimonte finds educating diners never ends. "People in New Haven know our pizzas. At our newer locations we explain to customers that their pizza is not burnt. It's the char. That's our style. Now we ask, 'Do you want char or no char?' We've really evolved," he says. "We also took the original tomato pie off the main menu and made it a specialty pizza." (There are now seven Pepe locations in Connecticut and one in Yonkers, New York.)
For operators tempted to add New Haven-style pizza to their menu, Laudano offers this advice: "If you are not well-versed in New Haven-style pizza," he says. "Leave it alone."
For some, it's too sacred to mess with.
Melanie Wolkoff Wachsman is a freelance writer in Louisville, Kentucky. She covers food, business and lifestyle trends.