Caribbean-inspired flavors can turn your menu into paradise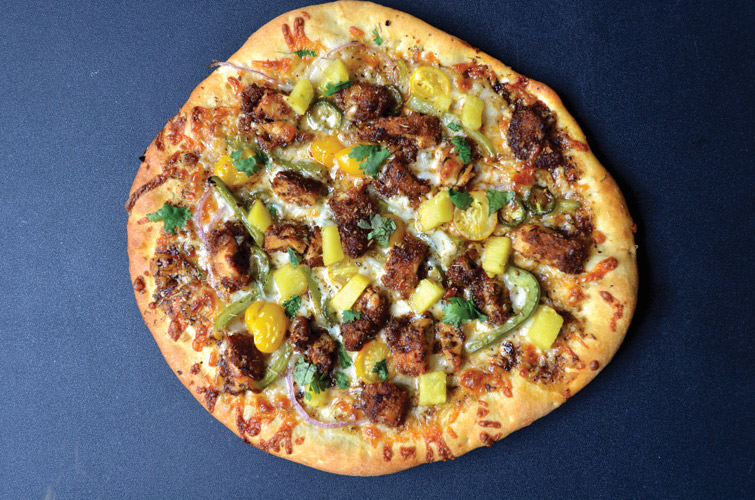 The most exciting aspect of pizza is the ability of this fine platform to showcase different flavor profiles from around the world. The exciting flavors of the islands is a perfect example of how you can increase interest and boost sales by using Caribbean flavors in your menu mix.
Named for the native Carib tribe, the Caribbean basin or Atlantic Rim consists of islands and chunks of mainland from South America to New Orleans and is a melting pot of African, Indian, Creole, Spanish and French peoples. Here are some much-used ingredients:
Fruit and vegetables: onion, green pepper, okra, jalapeño, Scotch bonnet, fresh tomato, cucumber, sweet potato, corn, eggplant, breadfruit, mushroom, pumpkin, sweet potatoes, black-eyed peas, broad beans, peas, rice, mango, banana, pineapple, coconut, tangerine, orange, banana, lemon and lime, guava, papaya, peanuts, cashew, cabbage, avocado.
Sauces, sweets: molasses, vanilla, salsa, barbecue.
Meats: chicken, pork, lamb, goat.
Herbs and spices: jerk, curries, tamarind, cilantro, ginger root, nutmeg, allspice, cinnamon, brown sugar, oregano, onion and garlic powder, thyme, chili powder.
Introducing new flavors in your menu mix is always a risky endeavor. To take your new Caribbean flavors to market for your customers to get excited about, you'll need to manipulate the already existing toppings sitting in your make line. My favorite way to simplify the manipulation of flavors is to add powders, sauces, pastes and brine to vegetables and meats commonly found in my menu mix. Here are a few:
tamarind, onion, pineapple juice and lime.
jalapeño, garlic, mandarin oranges and ginger.
onion, curry powder, green pepper and lime.
corn, coconut milk, cumin seed and cilantro.
---
Jamaican Jerk Sauce
Nothing is more quintessentially Caribbean than jerk chicken. It starts with the jerk sauce, which has many variables. I love to make a less sweet sauce from scratch like the one below rather than buying jerk sauce off the shelf, which can tend to be more sweet. I also make the sauce less hot than with scotch bonnet peppers to appeal to a wider customer base.
Jamaican Jerk Chicken Pizza
This pizza transforms the sauce above into a blast of Caribbean flavors. As you can see, I've kept my food costs low by using only five ounces of cheese to substitute more pineapple for a sweet and sour chicken pie. I also use fully cooked boneless chicken wings that have a coating on the outside — this soaks up the jerk sauce very nicely. Don't forget the cilantro and lime — these really make this pie sing!
---
Puerto Rican Pork Pizza with Mandarin Orange
I love this pizza because the sofrito gives it a depth of flavor. As the cheese melts, it takes the pork juices and sofrito in its wake and the sweet, citrusy mandarins form the perfect foil for both. My staff loves to put crumpled tortilla chips on this pie (when I'm not looking, of course).
Get the Puerto Rican Pork Pizza with Mandarin Oranges and Puerto Rican Sofrito recipe.
John Gutekanst owns Avalanche Pizza in Athens, Ohio and has a pizza blog called Pizza Goon. He is an award-winning pizzaiolo, baker, teacher, speaker and author.