I find it almost comical how salad sales spike at the beginning of the year, which derives from people's New Year's resolutions and then again in the spring time as people start realizing what they are going to look like in their bathing suits this summer. Of course salad sales sustain throughout the summer, but the reality is that sales only taper off because people get bored with the same old Chef, Greek and Antipasto salads readily available on most menus. If you raise the variety and quality of ingredients, you can easily create some amazing new items that will carry salad sales throughout the entire year.
I've shared with you over the years how easy it is to make your own dressing instead of offering packets or peel-off cups and how that creates a more loyal fan base and sets you apart from the competition. It was very rewarding at this year's Pizza Expo to be approached by an attendee who shared with me that after my demo on this topic at last year's show, they jumped in head first and started making all their own dressings. They shared the amazing benefits and the overwhelming response from customers and their satisfaction. (Search the Pizza Today archives online and on YouTube for past articles and videos.)
Now it's time to take those homemade dressings and variety of nice salads to an even higher level. The salads that I'm showing you here are perfect not just to sell as someone's lunch or dinner but are also perfect for your customers to pick up as a side in a pint, quart or even large pan to bring to any picnic, office event or family reunion throughout the entire year.
Let's start with a simple one and can be made with everything you already have in your restaurant. This salad has been around for years but it's very popular, probably for the most part because of the ease of eating it without having to cut it up like most chef or garden salads:
California Chopped Salad or Chop House Salad. In essence, this is a full dinner-sized garden salad with a couple of differences. Take your vegetable toppings such as tomatoes, cucumbers, red onions, green peppers olives and banana pepper rings and chop or dice your vegetables. Toss the whole salad for your customers with their dressing of choice. The ingredient that makes this a "California" chopped salad is diced avocado –– although the avocado was native to central Mexico, Fallbrook, California, claims the title of "Avocado Capital of the World."By simply adding some diced turkey, ham, hardboiled egg and cheese, you have just upgraded this to a Chop House Chef Salad.
Cobb Salad. If you're going to bring in avocadoes for the Chop House salad you can very easily offer a Cobb Salad. This is traditionally set up to build on top of a bowl filled with your salad greens and essentially garnish the top with stripes of diced ingredients such as tomatoes, chicken breast, hardboiled egg, cucumber, avocado, bacon and bleu cheese.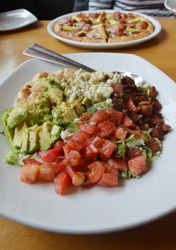 Here's a couple of awesome salads that are served more as sides but can be served over a bed of salad greens and topped with grilled chicken or shrimp to make it a meal:
Dill Pasta Salad. I love Campanelle shaped pasta here. It's so quick and simple to put this one together. I use it on my salad bar and customers are buying this pasta by the pan to take to parties. To try a small batch, boil one pound of the pasta until perfectly cooked and then drain and chill it. I then toss the pasta with a medium dice of a cucumber and two small ripe tomatoes. For the dressing, mix 2/3 cup of mayonnaise, 1/3 cup of water, salt and pepper to taste, a teaspoon of granulated garlic and one teaspoon of dill weed. Toss this with your pasta, tomatoes and cucumbers. Feel free to add toppings to your liking, like black olives.
Tortellini Pasta Salad. A cheese filled pasta makes a fantastic tortellini pasta salad. Tortelloni (larger than tortellini) or even cheese filled beggar's purses (sacchetti) are other great choices. I like to use a simple vinaigrette and toss them with some nice freshly diced cucumber, tomato, black olives and fresh chopped spinach. You can kick this one up with some diced pepperoni, salami and some feta cheese.
Curried Chicken Salad. Curried Chicken salad is a wonderful option that can be served over a bed of greens and served as a meal or just served by itself. Take a couple of pounds of grilled chicken breast and coarsely chop it up. Dice and mix in a green and red apple, a couple of celery stalks, ½ cup of cranberry raisins and golden raisins, a cup of mayonnaise and a tablespoon of curry. Mix all the ingredients together with a ½ teaspoon of lemon juice to help keep the apples from oxidizing. The raisins and apples bring a natural sweetness that counter the curry to create a flavor sensation that is sure to be an instant hit with your customers.
Hearty and creative salads are sure to be fulfilling enough to keep your customers happy all year 'round. One of the benefits of offering your salads in a bulk form for your customers to take to parties is that you are sure to get lots of extra exposure simply by having the party guests ask "where in the world did you get this amazing salad?"
Most people get lazy and pick up some pre-made, pre-packaged potato or macaroni salad that's loaded with preservatives that simply tastes nasty. Here's your chance to change all of that and make a tasty name for business all at the same time!
DILL PASTA SALAD
Boil one pound of the pasta (such as Campanelle) until cooked and then drain and chill it. Toss pasta with a medium dice of a cucumber and two small ripe tomatoes. For the dressing, mix 2/3 cups mayonnaise, 1/3 cup water, salt and pepper to taste, a teaspoon of granulated garlic and one teaspoon of dill weed. Toss this with your pasta, tomatoes and cucumbers. Feel free to add ingredients to your liking, like black olives.
Jeff Freehof owns The Garlic Clove in Evans, Georgia. He is a frequent contributor to Pizza Today and a speaker at International Pizza Expo.