Farm to Table: Risky, expensive, unpredictable, humbling, but totally rewarding.
Farm to Table is not new. However, when I started my restaurant, Dante, 13 years ago, it was a daunting experience. If ever there were an ideal location to pull off a true 'farm to table' experience, it is here in the very center of the United States surrounded by hundreds of miles of the most fertile and productive farms. Here we have access to the best proteins, fruits vegetables, tuber, mushrooms and other natural products. However, getting to all that abundant food product is not simple, straightforward or inexpensive. In 2008, it meant blazing new ground and literally creating a whole new supply chain from scratch. This is my story on how we created a whole new culinary food option for my new restaurant. Perhaps, most satisfying, is that I learned this ancient concept from the true cultivators of this very basic and natural process when I studied in Tuscany. Whether you are cooking in Omaha in the middle of the United States or in Cortana in the middle of Tuscany the basic 'Farm to Table' rules are the same.
The first thing to think about if you want to cook locally and seasonally: do your research. Find out what plants thrive around you and when. Omaha is a four-season city in the Heartland, with a growing year that is fairly predictable for chefs.  
What isn't as predictable for me is when spring actually starts and how long the growing season will last for each particular product. Ramps are the first sign of spring, which grow wild for about two weeks until it gets too warm. Ramps are my very favorite ingredient because they can't be cultivated, and they mark the beginning of spring for Omaha and our menu. The person that harvests them on her property, Leslie, is as obsessed with them as I am. They were the first settlers to own the land, and I like to think that Native Americans likely harvested the very same ramps on this land, their property, for 1,000 years before her and her people. These stories are powerful for your guests to hear, and they connect you and your restaurant to the land around you. People want to know where their food comes from!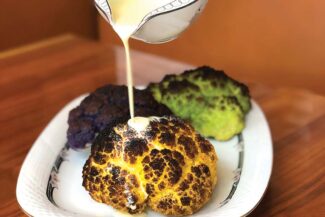 After the ramps we have nettles (wild), asparagus, arugula and morels. Every year I know to expect these products around the same time. I can go on and on with more seasonal examples through the march of seasons. Then inevitably, everything freezes, and we wait to start all over.
I like to tell people that Dante is hyper-seasonal. I say this because naturally the spring and summer seasons in Nebraska produce most of the produce. but that doesn't mean that all "summertime produce" is available the entire summer. In other words, if you cook with your seasons, use what is available to you in your area locally at that time.
How do you begin the process of sourcing local farmers and producers? The local farmers markets are a good place to start. Walk around and talk to the producers. Tell them what you are doing and ask them what they are good at and enjoy growing. I have also found success in talking to my restaurant peers. Go out to eat and talk the chef. Tell them, "I love your arugula, where do you get it?"  It's also great to cultivate restaurant friends to help with the many other challenges that we experience daily in this industry.
I prefer to work with experts in specific areas of farming and producing. Sometimes farmers come into the kitchen and ask, "what do you want me to grow?" I say, "what do you want to grow?!" I like experts in specific areas that know what vegetables grow best in our area and how to make them taste the best they can possibly be. It is very hard for me to do what we do at Dante without this kind of 'subject matter expertise', and frankly I don't think that I would want to, nor would my guests. 
For example, at Dante, I work with a farmer named Carl Glansman. His farm is called Nishnabotna Naturals in Oakland, Iowa. He provides me with beautiful produce for our green salads. Even though many produce varieties are climate dependent, including arugula, (more on that later), Carl is an expert in knowing how his plants need to grow successfully and when. I have been working with Carl for 11 years and he delivers his perfect greens almost every day and my guests expect this. They expect perfect salads that are sometimes very spicy in the summer, and sweet and mild in the fall and spring. They even taste different week to week! Carl can talk for hours about his natural growing practices, most of which I don't understand. He guides me by delivering to me what I need to present as perfect a salad as possible to my guests. It is hard to describe the thrill that I have when I deliver a salad with his greens to a table and be able to tell my guests that "Carl picked these greens for you this morning. They were in the ground at six this morning destined to land on this table for you". My guests come to Dante for this type of experience, and I opened my restaurant to provide exactly this experience. It is my passion.
I also work with a farmer, Mike Levine, whose farm is called Fruit of Levine. He grows fantastic fennel, amazing asparagus in the spring and provides us with honey and a variety of honey-based products, that's it – nothing else. Mike has been a beekeeper for more than 35 years. He knows exactly what to do to produce the most incredible honey possible. But guess what, sometimes it is not available. When that happens, then honey is not on the menu at Dante today.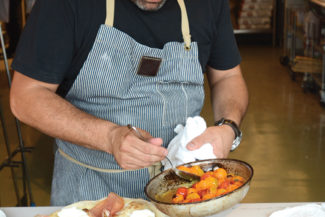 If you seek out these farmer technicians, you will be forced to cook in the season with what is provided to you by the people that are experts and are continuously learning more about what makes their particular, chosen specialty grow best. I have learned from them about their product that I buy and put on the Dante menu. My point is, learn from your producers and pass it on to your guests – they will appreciate it.
In Omaha, I tell people that you will never see tomatoes on the menu in January, as it's usually freezing, and tomatoes require heat! Why would anyone want to eat a tasteless, mealy, appalling and poor representation of something that was harvested maybe weeks prior, stacked in boxes and thrown on a truck and driven 1,500 miles to me? Look, in Omaha there is no way to cook only local year-round (our key season is May, June, July, August, September and October notwithstanding). BUT you can mitigate the damage if you are in tune with what is available and when. 
Perhaps ironically, I find it much easier to be creative with my menu when there are hard constraints. If it is February in Omaha and you want to cook locally, (which by default would make it seasonal), you understand what is available during that time. Warning: there won't be a lot to choose from. But with tubers and mushrooms, at least you have a starting point to begin to build a menu or a pizza. After you cook with the seasons for a year, you will begin to understand what grows best and when, and where to source your product. Hopefully you will learn to avoid forcing items that don't belong — i.e., that mushy tomato in winter.
The Farm to Table experience can be frustrating, risky, expensive, seasonally unpredictable, and sometimes humbling as you try to build a menu around items that are not ready for harvest. In the end, this has been a totally rewarding journey, not only for me as a chef, but for my discerning customers that have come to expect the best and enjoy it. I can't overstate the thrill of being able to deliver a plate of summer greens to my guests, that literally were in the ground just hours before. Farm to table for me has become a passion — a passion that tracks back to my culinary experiences in Italy. In retrospect, my guests come to Dante for this type of experience, and I opened my restaurant to provide exactly this experience. Like I said, it is my passion.
Nick Strawhecker owns Dante in Omaha, Nebraska.