Throughout the last 12 years of my career I've put a lot of thought into how to increase my pasta sales. Historically, pasta sales were less than 25 percent of total menu item sales (while stromboli and NYC style pizza are what our East Coast eatery is known for). There was a lot of profit in pasta dishes that had been left sitting on the table. Despite our creative recipes, specialty cuts and pastas filled with imported cheeses, those numbers didn't really grow.
Moreover, during times of indoor dining restrictions, 20-inch pizzas and 30-inch  'Bolis were the hot ticket because they travel well, they're portable, sharable and an economical way to feed a family during a time of economic uncertainty. 
Our pizza sales were higher than ever, but now that restaurant dining rooms have reopened, guests are gravitating toward a more personalized experience with individual dishes that are highly customizable, and highly profitable for us. Our pasta have never been higher, surpassing pizza and stromboli sales many nights. It is easy to take advantage of this trend if you can think outside of the (pizza) box.
Why is pasta so profitable? Because in a lot of cases, our guests will each order their own pasta dish at $13.00 to $25.00 per plate, plus any protein they may add vs. one shared 20-inch pie at $18.00 to $40.00 (which feeds four to six people). 
But it's not only the higher per person average that makes pasta so profitable. Pasta has low cost of goods. With good training, solid recipes and portion controls, together with accurate pricing, you can create pasta dishes that are exciting to your guests, easy for your team to prepare and carry a high profit margin. Cross utilizing ingredients that you already have on hand is always good practice, try challenging yourself to find ways to be creative while keeping your inventory tight and your menu offerings fresh and innovative. Have fun with it!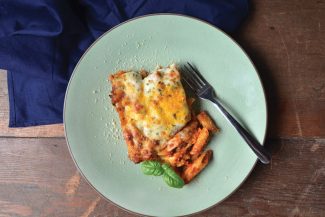 If you're considering adding a pasta program to your pizzeria or restaurant, think about cuts of pasta that you can use for multiple dishes. Ziti or penne can be used in a variety of dishes, such as baked ziti topped with broiled mozzarella; mac and cheese using a Wisconsin Brick Cheese and heavy cream; or even a veggie pasta dish with sautéed mushrooms, onions, garlic, roasted red pepper and artichoke hearts in a brown butter sauce. Ziti and penne are both versatile, travel well, hold sauces nicely and you can easily add a protein to any of these dishes to "enhance the guest experience".
I also love rigatoni, although, it is a little more delicate and requires some finesse if you are going to par boil and re-thermalize it. Also consider how much storage space you have when deciding how many cuts you want to keep on hand. While fettuccine Alfredo and spaghetti are thought of as a staple, consider how many dishes you can really create with them. If space is a concern, then perhaps consider utilizing cuts with more versatility instead.
Depending on the size of your kitchen and how well equipped it is, you may consider adding lasagne to your menu. Although lasagne is labor intensive, it can be very profitable if you hit the right price point. If labor is a concern, you could consider making it a weekly special, in order to drive sales on a slower day of the week. Using a fresh pasta sheet opens up a world of possibilities. You can use them to make handcrafted manicotti, ravioli or pappardelle pasta. 
Another strategy is to offer only a few pasta cuts paired with a marinara recipe that can be easily adapted to create other sauces. Add ground beef for Bolognese; add crushed red pepper and other spices to make an Arrabbiata; or a vodka sauce made from a base of marinara, vodka and a hint of cream. 
Speaking of cream, if you already have grated Parmesan on hand, add butter and heavy whipping cream to create a delicious Alfredo sauce. Make it zippy and try simmering your Alfredo sauce with a few sweet picante peppers for a fun variation.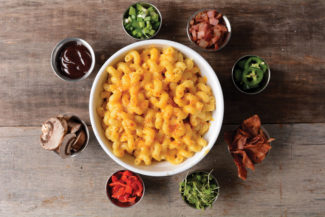 I mentioned that our guests are seeking a highly individualized and customizable experience. The advent of the "Chipotle" style restaurant has gifted us the "pick and choose" mentality. "I know you've got fill in the blank back there in the kitchen, why can't you just cook that up with some pasta?" We've all had that guest. This is why a build-your-own pasta section of your menu is a winner! Pick your pasta, pick your sauce and protein.
When it comes to specialty pastas and substitutions, we must strike a balance between being a "restaurant" and protecting our brand. If the substitutions that your guest wants to make hurt the overall quality or integrity of the dish, or delay the experience of other guests, it's going to fall on your shoulders. The crappy review won't read, "The owner told me not to put marinara on my four cheese and pear pasta which was garnished with fresh sage and balsamic reduction, but I did it anyway and it was awful, my bad!" They will simply say that the pasta that you had imported from Italy and artfully crafted was overpriced and it sucked! Offer only the modifications that will work best with your recipes. You are responsible for the guest experience, so protect it.
I have learned that less is more. I had a huge pasta selection pre-pandemic and I was not selling a whole lot of any one thing and a little bit of everything. You will be more profitable if you sell a high volume of a few key pasta dishes. It will be easier to train your team to execute them perfectly if they have fewer dishes to learn, and they will appreciate having fewer SKUs to purchase, stock and count every week. (You ARE doing weekly inventory – Right?) Be selective and intentional about your pasta offerings and you will profit from pasta profits!
MELISSA RICKMAN  is co-founder of Wholly Stromboli in Fort Lupton, Colorado, and member of the World Pizza Champions.