My first lessons in the art of tomato fanaticism came from an Italian chef and restaurateur named Bimbo. He looked like a tall George Clooney and I was just 14 years old when he hired me to wash dishes at his restaurant in Palatine, Illinois. Because of my work ethic, the cooks called me "Weasel" as I tried to keep up with piles of dishes to wash in a three-compartment sink in this hot, steamy kitchen that was always slammed.
Some nights, Bimbo would turn his sweating head over his shoulder and say, "Clear-a-da-sink, Donnola!" (Donnola is 'weasel' in Italian). I would drain and clean the sink just as he arrived with three to four cans of tomatoes and a huge colander. Silently, almost religiously, Chef Bimbo would drive his thumb into the side of each tomato, slit it down the sides and let the seeds run out with the juice. He'd then set it aside in the colander and every once in a while he'd hold up a huge plum tomato and say, "Look at dat!" It was the only time I saw Bimbo do anything slowly all night and I couldn't understand why a grown man was so infatuated with a tomato.
Now, 38 years later, I know why: it was his life and livelihood. Now it's mine because I use at least 20 types of tomatoes, from the elegant San Marzanos from the slopes of Vesuvius to the large plum and pear tomatoes from California's big valley and others grown locally with names like Big Bertha, Cows Teet, Tula, Bonny's Best, Mortgage Lifter and German Pink. But not all tomatoes are created equal.
After comparing tomatoes on both retail and wholesale levels, I've come to the conclusion that the old adage "You get what you pay for" is very true. As a small pizzeria owner, I've also found that the most honest taste-testers when deciding for sauce is my gang of 25 employees.
Here are some considerations when looking for canned tomatoes:
For what are you using them? Packers regularly use calcium chloride to "harden" up the flesh of tomatoes so they are more manageable and have a pronounced textural mouth-feel when eaten. These tomatoes are known as "filets" or even whole tomatoes. They are very good on top of a sauceless pizza as in my Pizza Romana recipe that follows.
Where they are grown? Just like wine, provenance is everything because of one word: consistency. u
Who packed them? Is it a proud family-owned company who watches over every aspect of the operation or a large conglomerate, (and) does that matter to you? u
What difference does it make? I usually stay away from taking sides on any pizza subject but I cannot go on without saying this; the best canned tomatoes that I have tasted are the ones that are vine-ripened and packed just hours after being picked. I am a tomato NUT and there is no mistaking the fresh sweetness of these beauties when I taste them side-by-side with tomatoes that are not fresh packed! Fresh packed tomatoes have a more pronounced back-of-the-throat, (umami) sensation as you breathe out through your nose along with the pleasant balance of acidity and sweetness not found in what I call "dead packed tomatoes." u
Consider creative labeling. Don't assume that a can of "Imported Italian Tomatoes" are automatically the San Marzano variety grown in the loamy soils near Mt. Vesuvius and made famous by the oldest pizzerias in Naples. The San Marzano is designated with a DOP insignia or stamp on every can of their certified tomatoes. San Marzano tomatoes are not as sweet as the California variety but have a deep tomato bang that lingers on the palate with heightened acid that succumbs to a finishing hint of sublime sweetness.
Organic tomatoes. I use only tomatoes that are certified organic for my day-to-day pizza sauce recipe for the simple fact that I want a fruit that isn't sprayed with chemicals. (Spraying is so old-school). I pay $12 a case more than the leading brand (or $2 a can), but my market includes a very progressive clientele with kids like mine and they now know who to trust with their health.
Tomato season is my favorite time of year, and I wait with baited breath for the best of the best. Consider:
Hydration. All really great fresh tomatoes get soggy on a pie. You have to either slice them thin or put them on top of a cheesed pie. Try to find tomatoes that hold their flavor in meaty flesh instead of juice.
Best of the best. My personal favorite has a great depth of intensity and is called the Cherokee Purple and, like its name, the brilliant green-to-purple color is spectacular. Add to that the benefit that this tomato hides a lot of its flavor in the flesh instead of the seedy gonads. Mr. Stripey is also a great tomato as well as the green zebra. For small tomatoes, try the Italian varieties like ciliegino cherry or datterino and there is a great green cherry that is super sweet called "Doctors Green" that I love to intersperse with yellow and red cherries.
Top Secret Cherry Tomato Prep
Do you hate spending all day cutting cherry or grape tomatoes? This is my full-proof way to cut cherry tomatoes … don't tell anyone!
Take two equal five-inch lids from ricotta or sour cream.
Place the tomatoes shoulder to shoulder on the bottom lid.
Place the other lid on top.
Cut horizontally through the small gap with a sharp non-serrated knife. (although a serrated one will work.)
To intensify a cherry tomato, I use an old secret that I've seen the Italians sneak by with while competing at the International Pizza Expo. Take a bunch of cherry or grape tomatoes in a sauté pan and sauté on medium heat with olive oil and sugar. The skins caramelize and the juices intensify into a wondrous sweet tomato bomb!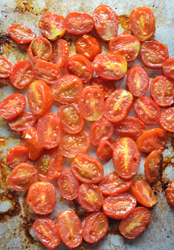 Upside Down Tomato Pizza
This is a delicious pizza when you are bombarded by those millions of cherry tomatoes in July and August. It is guaranteed to test your culinary flexibility because it is wet by nature and the dough is steamed instead of dry-heated. You will need a high-sided steel or aluminum pan for this pie. (I dare you to try this!)
Ingredients:
One 9-ounce of your signature pizza dough formed into an eight-inch disc
40 to 60 grape or small cherry tomatoes (enough to cover a 8- or 10-inch round pan)
10 to 14 fresh basil leaves, enough to cover the tomatoes
2 ounces of thinly sliced Parmesan
3 to 5 ounces thinly shaved fresh mozzarella from a log (fresh mozzarella in brine will not work here as it exudes too much moisture.)
1 teaspoon coarse sea salt
1½ tablespoons extra virgin olive oil
The Bottom: Brush ½ tablespoon extra virgin olive oil on the bottom of an 8- or 10-inch deep sided pie pan. Place cherry or grape tomatoes in the bottom of the pan. (Small cherry tomatoes work best for this recipe as they produce fewer gaps where the mozzarella can seep down when baking. Leave enough space for the dough to be tucked into the sides.) Place large leaves of basil (lettuce leaf basil is great) on top of the tomatoes to create a carpet so the mozzarella will not melt out.
Place thin sheets of shaved Parmesan atop the basil leaves. This melts harder than the mozzarella and halts the water-like flow of melting mozzarella. Place thin sheets of mozzarella atop the Parmesan.
Without disturbing the ingredients, place the dough over the ingredients. Brush 1 tablespoon of extra-virgin olive oil (less for 8-inch pan) on top of the dough. Gently push dough down into the sides of the pan while you spin the pan around. This will create the crust. Some tomatoes will pop up under the dough; make sure you haven't crowded the pan too much. If not, push them back down. (Note: poke seven small pin holes in the dough around the edges, this will let some steam escape. Do not make them too big.)
Proof the pizza in the pan for 30 minutes at 80 F.
The Bake: Place the pan in a 475 F oven for seven minutes and check the progress. If the dough is puffing up, take another pan and press the dough ceiling down. Place back in the oven for another seven minutes.
Pull the upside down pizza out of the oven and check the dough by placing a knife down the side. The dough around the edges and at the top should be golden now but the steamed dough inside may still need cooking. It's time to flip.
The Flip: Place a large pizza peel or cookie sheet on top of the pan and flip. The pizza should pop out and you may lose a few tomatoes that are easily replaceable. Sprinkle the tomatoes with sea salt then place the pizza on a hard-bottomed pan to cook the top of the tomatoes and the upper crust for approximately five to ten more minutes. Cool somewhat, present and enjoy!
Pizza Siciliana
I sell an amazing amount of these thick crusted, pan pizzas. Even though the magic is in the dough made fragrant by a long, cold fermentation, the beauty is in those long curvy pear tomatoes that sit like kings on this Sicilian pizza throne. This variant can be made in any square pizza pan. For this recipe, I use a long 7- x 18-inch pan for an impressive presentation with dough that is almost two inches thick but you can vary according to your pan.
45 ounces of your proprietary dough with 70 to 80 percent hydration.
5 ounces of grated Parmesan or Asiago pressata
20 ounces shredded mozzarella/ provolone blend
5 to 6 ounces fresh basil leaves
12 to 14 pear tomatoes, split and drained
4 ounces of cubed, fresh mozzarella
Course sea salt and extra virgin olive oil
Take the dough ball and stretch into a pan that has been oiled with extra virgin olive oil. Using both hands, spread the dough to the ends and corners. Let the dough rest at room temperature for fifteen minutes. Stretch again using your fingertips to work the middle of the pan first and out toward the ends. Oil the top of the dough and let rest near your pizza oven at 80 F for one hour visiting two more times to push the dough into corners.
After the pizza has proofed for an hour, take your fingertips and dimple the dough, starting with the middle first and down the pizza dough. Place in a 485 F oven until just barely golden (5 to 7 minutes). Pull out, remove from the pan and cool.
When cool, place the Parmesan, mozzarella-provolone mix, fresh basil and pear tomatoes on the pizza. Place the fresh mozzarella dice along the pie and drizzle generously with extra virgin olive oil and sea salt. Place back in the oven for another 10 minutes or until all the cheese has melted. Remove and let cool somewhat before serving or boxing.
John Gutekanst owns Avalanche Pizza in Athens, Ohio. He is speaker at International Pizza Expo and a member of the World Pizza Champions.