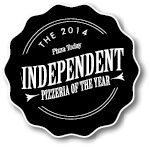 Many Americans wax poetically about one day owning a restaurant. Kim was no different.  But, what made her think it would work?
"Basically, I love to cook," she explains. "Growing up it was sort of a natural thing. I watched my mother and grandmother cook and learned from them. I developed my palate from them. So even though I didn't have any professional training, I felt like my background prepared me for a restaurant. And my husband was like, 'You can do this. I believe in you. You are the best investment I could possibly make.'"
Still, they were putting their entire savings into the venture. As Kim says, the duo "really threw caution to the wind and went for it." With a risk like that, there's only one chance to get it right. What made Kim think pizza would be the way to go?
"I have no professional culinary background," she explains. "I'd never even waited tables. I came from zero experience. Because of that, I decided I needed to focus on one thing and do it really well. For me, having lived in New York for several years, one thing I had missed was great pizza. In the Midwest there wasn't a lot to choose from and no one was really doing what I thought we could be doing with pizza. And so I thought: I miss it, I love it, I want to eat it … but it's not here. Well, if it's not here, I'm going to make it."
That's a simplification that makes Pizzeria lola's success story sound easy. But the fact of the matter is that one does not simply decide to make great pizza and then open to overwhelming fanfare the next day. If Kim were going to pull this off, she was going to have to educate herself fast. She began by reading everything she could get her hands on, from magazines to recipe books.
"I began experimenting with dough recipes," says Kim. "Because for me the foundation of all great pizza is great crust. So I started reading artisan bread baking books, because I felt like great pizza crust was really just great bread."
To that end, Kim follows in the footsteps of many French artisan bread bakers and uses a poolish as a starter at Pizzeria Lola. A poolish is a wet, spongy pre-ferment that yields a greatly developed flavor in the finished baked product. Though not common in today's pizza scene due to the attention a poolish demands, Kim saw no other way. She was going to make her crust the best it could possibly be at all costs. But perfecting it took trial and error.
"I started working in my home kitchen, just having pizza nights and having friends come over to try various recipes. I realized that I really loved doing it and that I was really coming on to something."
But there's a substantial difference between a skilled home cook and a professional, artisan pizza maker. Kim realized she needed to continue digging deeper if she were going to make pizza on a large scale. That's when she learned about Tony Gemignani's International School of Pizza in San Francisco. Initially hesitant about whether the school was legitimate, she first called Tony before making a decision on whether she should attend. Satisfied he knew what he was talking about after having a conversation with him, Kim was soon on a plane to California.
For his part, Gemignani recalls Kim as an astute pupil, one who was very serious about learning the craft. What impressed him the most, he says, was her intentions to be true to artisan baking.
"She knew from the beginning that she wanted to do something unique with the dough," he says. "She is really bringing something different to the Midwest."
In the beginning, Kim wanted to take a more traditional american approach.  In fact, she was going for somewhat of a middle ground between two iconic styles.
"Originally, I was thinking I wanted to do sort of an East-coast inspired coal-fired pizzeria," she says, "because when I first started thinking about this back in 2008 I went back to New York and then back to New Haven, Connecticut. My husband went to school at Yale and, for him, the best type of pizza was what you find at Pepe's and Sally's and Modern."
But, then, an epiphany occurred in San Francisco.
"I watched Tony cook out of his wood-fired oven," explains Kim, "and I just fell in love with it. There's so much beauty in cooking something in a wood-fired oven. It's so visceral and gorgeous. It's something people have been doing since the beginning of time. I loved that. And so that's when I started to change my focus a little and when I decided that I wanted to open up a wood-fired pizzeria."
As her plan evolved, Kim decided she did not want to create a Neapolitan pizza. Instead, she wanted to "create sort of a hybrid that might be similar to what you find at Pepe's, but with my twist and coming out of a wood-fired oven. So it's sort of the best of both worlds."
Kim had no idea what she was in for when lola opened. would customers embrace the product? would she survive the grind that destroys so many others? Was she prepared for the life of a small, independent restaurant owner?
She claims her background as a thespian proved to be more useful than one might imagine.
"Acting in a lot of ways did prepare me for what I'm doing now," reasons Kim. "In a lot of ways as a restaurant owner you are up on a stage. And when you are acting on stage in front of a live audience, anything can happen and you have to be able to go with the flow."
Early on Kim had to learn on the fly. She handled any and every task from cleaning kitchen exhaust systems to fixing clogged toilets. She promised herself that when Pizzeria Lola became profitable it would share those rewards with employees in some way, such as by offering them health insurance and paying them a higher minimum wage. This was real talk, not lip service. As employees and customers saw how genuine Kim was about making their experience a meaningful one, a cult following ensued. One of Kim's ideas — to place a photo booth in the restaurant — quickly paid off. Soon quirky photo strips of customers having fun at Pizzeria Lola began lining a dining room wall. With no marketing budget and no fancy adwork, the word was nonetheless out: Pizzeria Lola is a great place to hang out. More importantly, it's an even better place to eat.
And that's where the true success story begins, because for Kim it's really all about being great by virtue of serving a great product.
"One of the biggest things I learned from Tony when I was with him in San Francisco is that he's never satisfied," she says. "He's always looking to be better, to achieve something greater. He's always looking to learn more. And for me it's the same philosophy. It's about trying to always achieve greatness. And to achieve greatness means you don't settle. There's always more you can learn. When you say 'We're the best.' Then that's when you should close up shop. There are always things you can finesse. That's how you can stay around and one day be a restaurant that becomes iconic versus one that's around for five years. And that's my dream — to be a restaurant that outlives me. I would love to one day be considered like a Pepe's of the Midwest. That would be a dream come true. It's about the passion and the craft and the artform of pizza."
The menu at pizzeria lola is reflective of kim's ambitions. It reaches the masses with pepperoni, but specialties like "The Forager" and "The Xerxes" draw attention from foodies. The Forager pizza features crimini, shiitake and portabello mushrooms along with taleggio, fontina, tarragon and truffle oil. The Xerxes is made with sautéed spinach, sheep's milk feta cheese, mozzarella, Kalamata olives and almonds.
Kim likes to focus on locally available, seasonable products. It's the kind of commitment that she believes her customers have come to expect. And her kitchen staff stays motivated by the seasonal changes, she adds. Still, two of her major mainstays are inspired by her Korean heritage and have drawn rave reviews from online bloggers and critics.
The "Lady ZaZa" is crafted with an Italian red sauce, house-made kimchi, Korean sausage, serrano peppers, scallions, sesame and soy chili glaze. Then there's the "Korean BBQ", which showcases Niman Ranch beef short ribs, mozzarella, scallions, arugula, sesame and soy-chili vinaigrette.
Another wildly popular pizza — pictured on page 65 — is "The Sunnyside." This customer favorite is topped with La Quercia guanciale, pecorino, cream, leeks and two organic eggs sunnyside up.
The food served at Pizzeria Lola is house-made with great care, says Kim. Everything from meatballs to dressings and sauces to croutons are made in-house. Locally produced cured meats are sliced on site as well.
"We don't cut any corners," says Kim. "And people appreciate that. That's why there's a demand for it."
One particularly interesting twist comes from the dessert menu. Kim says that since pizza is already filling, her experience tells her most customers don't want to order decadent cakes or dessert pizzas after their meal. To satisfy those who do have a sweet tooth, Pizzeria Lola offers house-made, soft-serve ice cream topped with extra-virgin olive oil and salt. Other options include house-made caramel sauce or chocolate-covered cacao nibs. The pizzeria also bakes fresh cookies every day and the do-it-yourself ice cream sandwich is a hit.