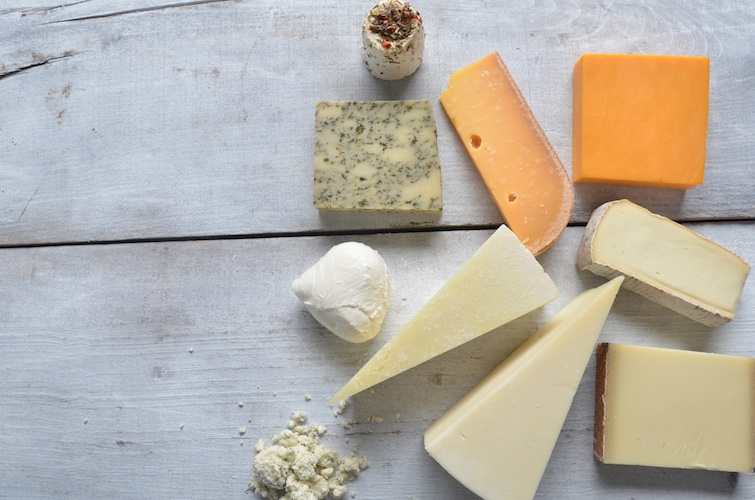 Americans love cheese. So much so, in fact, that the average person eats 23 pounds of it each year, according to the Center for Science in the Public Interest. Lucky for us, there is a world of cheeses that are as unique as the places they come from. Each offers a taste, texture and aroma that will set your dishes apart from competitors. In the Pizza Today's Cheese Guide, we showcase 20 cheeses and how each could be incorporated into your menu offerings.
Mozzarella
A semisoft cheese, it has an elastic texture and a mild flavor. It can be made from whole or part skimmed milk.
Mozzarella is as versatile as your creativity. It provides a great base to blend other, more pungent cheeses to top specialty pizzas, pastas and salads.
Fresh Mozzarella
Know as "Italian style," it has a much softer, more delicate flavor than its regular counterpart. It is generally made from whole milk.
Dollop fresh mozzarella on pizzas or slice for salads and appetizers. Try making mozzarella rolls by topping with prosciutto, pesto and sun-dried tomatoes. Slice and add fresh tomato, basil and a balsamic reduction for a unique spin on a caprese salad.
Parmesan
Originated in the Reggio and Parma regions of Italy, this hard, dry cheese has a sharp, somewhat sweet and nutty flavor, which intensifies with age.
Parmesan can be grated on many pasta dishes and pizzas. It also makes a great addition to breading. Give crust extra flavor by brushing with olive oil and sprinkling Parmesan along its edge. It also pairs well with fruits like apples, melons and pears.
Pecorino-Romano
This hard, dry cheese is made from sheep's milk. Its flavor is sharp and pungent.
A sharper alternative to Parmesan, it's also a great choice for grating over pizza and pasta dishes.
Gorgonzola
Named after a town outside of Milan, Italy, the rich and creamy cheese is streaked with bluish-green veins. Made from cow's milk, it has a savory, slightly pungent flavor.
Gorgonzola pairs well with many pizza toppings, such as bacon, prosciutto and caramelized onions. Use a Gorgonzola cream sauce for pastas, meat entrées or even blended into a creamy pizza sauce.
Mascarpone
Technically considered a curdled cream, the soft, delicate mascarpone is buttery rich. Made from cow's milk, it has a light, sweet flavor.
A main ingredient in Tiramisu, mascarpone has also found a place atop pizza accompanying roasted tomatoes, olives and pancetta. Use mascarpone as a base for a dessert pizza with figs and honey or berries and Nutella.
Burrata
It is a blend of mozzarella and cream and has a rich, sweet and milky flavor. Burrata has a silky exterior and is creamy on the inside.
Burrata goes well with salads and breads. It has become a popular appetizer when paired with meats and flatbread. Or, try a fennel sausage, broccoli rabe and burrata pizza.
Asiago
This cow's milk cheese has a rich flavor and becomes sharp with age. Depending on its age, it can be semisoft and ivory-colored to hard and deep gold.
Aged versions are often grated into salads, pastas, pizzas and sauces. Fresh Asiago can be sliced and melted in panini. Blend with mozzarella, fontina and Parmesan for a four-cheese pizza.
Chevre
Made from goat's milk, Chevre has a distinctively tart flavor. Typically its texture is soft and creamy, but it can also be found dry and semifirm.
Chevre makes for a distinctive pizza topping, ravioli filling or sauce. Herbs can be infused into the smooth cheese for artisanal flavor. Add grilled chicken, roasted garlic, cherry tomatoes and dollops of chevre to a pesto-based pizza. It also makes a great dessert cheese.
Gruyere
Originated in Switzerland, this hard cheese has a nutty, salty and fruity flavor. It has a slightly grainy texture.
A good melting cheese, use atop French onion soup, in chicken cordon bleu or in salads and pastas. It makes a great grown-up mac and cheese. Gruyere also pairs well with fruit.
Manchego
The popular Spanish cheese is made of sheep's milk. It's a hard cheese that has a rich, buttery and pleasantly sharp flavor.
Serve Manchego as part of an antipasto plate with olives, sun-dried tomatoes and crusty bread. Spanish chorizo and Manchego make for a perfect pair on a pizza with onions, tomato sauce and topped with cilantro.
Artisan Cheese
Also known as farmhouse cheeses, artisan cheeses are made with milk from the producers' own herd. Cheese varieties like Havarti may be found infusing other flavors, such as smoked chipotle, wasabi, horseradish, bacon, etc.
A little goes a long way with many artisan cheeses. Having unique flavor properties, they can be blended with more traditional cheeses to add robust flavors.
Gouda
The Dutch cheese varies from a smooth texture with delicate and mild flavors in young Gouda; while aged versions are hard and flaky with rich, fruity and nutty flavors. Its smoked varieties have become popular in the U.S.
Slice Gouda for sandwiches. The smoked version adds robust flavor to pasta and meat dishes and pairs well with pork. Gouda works well as a dessert cheese.
Queso Fresco
The mild, tangy Mexican cheese is made from whole or part-skimmed milk. It's soft and crumbly.
This is not a good melting cheese, but it does soften and become creamy. Crumble queso fresco over salads, soups or a Mexican pizza.
Feta
The tangy, rich white cheese has a signature crumby texture. Imported feta is made with sheep's milk, while the domestic version uses cow's milk.
Think Mediterranean — feta pairs well with spinach, olives, tomatoes or cucumbers. Drizzle feta with olive oil and serve with olives and crusty bread. Try a pizza with bacon, feta, mozzarella, green olives and a red sauce.
Ricotta
The fresh cheese is smooth with a slightly grainy texture. It's sweet and milky with a hint of nutty flavor.
Use ricotta in pasta dishes (lasagna and ravioli) and desserts (think cannoli). It also has its place atop white or red-sauced pizza. Try an Italian sausage and pepperoni pizza with ricotta, garlic and tomato sauce.
Cheddar
Next to mozzarella, cheddar is the most popular cheese in America. The relatively hard cheese has a broad spectrum of varieties, from mild to sharp, pungent flavors.
This cheese has so many applications in a pizzeria and complements chicken, bacon and steak. Blend cheddar and Monterey jack cheese to top a barbeque chicken pizza.
Fontina
Ranging from semisoft to semihard, this smooth cheese has a mild, buttery and slightly nutty flavor.
Fontina is an excellent choice for pasta dishes and pizza. Try blending Fontina with Gruyere for a cheese-pleasing panini.
Provolone
With its mild, but piquant flavor, provolone is made from cow's milk and has a firm texture.
Provolone makes a great sandwich cheese. A mozzarella/provolone blend makes for a flavorful pizza cheese.
Taleggio
This semisoft cheese is nutty with hints of fruity flavor. Aged versions become rich and mushroomy.
Top salads with Taleggio. Try a wild mushroom and Taleggio white pizza.
Featured Recipe: Sweet Onion, Mushroom & Gorgonzola Pizza
1 tablespoon olive oil, plus more for brushing
2 large red onions, thinly sliced
1 ½ cups thinly sliced button mushrooms
¼ cup granulated sugar
¼ cup balsamic vinegar
Salt to taste
1 prepared pizza crust
1 ¼ cups grated mozzarella
2 tablespoons pine nuts
4 ounces Gorgonzola cheese, crumbled
In a large skillet, heat oil over medium-high heat; cook onions, stirring occasionally, for 10 minutes or until soft. Add sugar and vinegar; cook over medium heat, stirring occasionally, for 15 minutes or until most of the liquid has evaporated. Remove from heat; season with salt. Let cool.
Place pizza crust on sheet pan; brush with oil. Spread mozzarella, then sweet onions & mushrooms over top; sprinkle with pine nuts and Gorgonzola cheese. Bake in 400 F oven for 7 to 10 minutes or until cheese is bubbly.