For independent pizzerias, adding a new menu item should be a thoughtful decision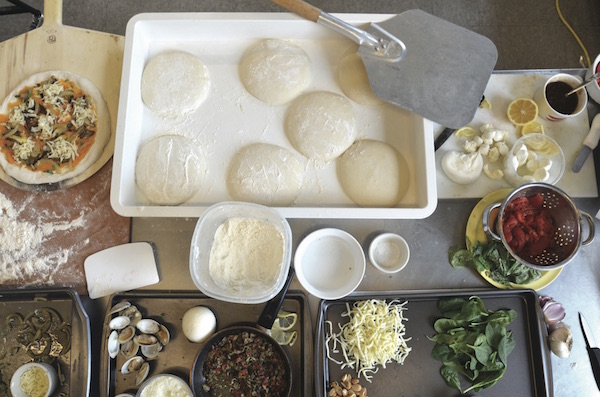 For Jason McGovern, owner of Denver Deep Dish, a three-year-old pizzeria based in Denver's Highlands neighborhood, putting the effort and investment into launching a new menu item comes down to a very simple question: Will it help us capture more customers?
However, McGovern's process for creating any new item, such as the breakfast pizzas his restaurant debuted last September, isn't quite so simplistic. Long before any product introduction, McGovern examines everything from product cross utilization, customer response, operational efficiency and costs.
"We want more customers, of course, but (introducing a new item) has to make sense on a number of fronts," McGovern confirms.
In an increasingly competitive and profit-challenged industry, savvy independents like McGovern understand just how important research and development (R&D) remain.
"You always need a rhyme behind the reason," he says.
At Flippers Pizzeria, a 14-unit Florida-based chain, Ben Richardson, vice president of operations, says founding partner and president Scott Kousaie drives new product development from the conceptual side.
Kousaie "follows the marketplace and has a palate from outer space," Richardson says.
Others, however, prefer to leverage those most impacted by new product offering: kitchen staff. At Slyce, a five-year old pizzeria located in Wauconda, Illinois, ownership entrusts new menu items –– always in the form of specials –– to kitchen point man Mike McElwee.
"He's our go-to guy and it gives him a chance to showcase his creativity," Slyce marketing director Jason Vucic says of McElwee.
At Denver Deep Dish, McGovern knows when to lead and when to step aside. He's hands-on when it comes to creating a new pizza, working alongside kitchen staff to develop any new pie, but defers to kitchen staff – albeit with some defined guidelines –– on other items, such as a recently launched line of housemade desserts.
"Pizza's my wheelhouse, but the kitchen guys have great ideas to offer, so you want to utilize that," he says.
Danny Bendas of Synergy Restaurant Consultants, meanwhile, has seen some restaurants leverage staff creativity by running an employee contest to create new items.
"This often sparks real interest and leads to some compelling ideas," Bendas says.
With the initial ideation in place, it's then about investigating key elements such as taste, ingredients, logistics and, last but not least, cost.
"Above all, we want something we'll be proud to put on the table and something our team members can execute on a consistent basis," Flippers' Richardson says. "Cost is, of course, a factor, but that's always something we can work on."
Bendas says sound operators are particularly sensitive to bringing in new raw materials.
"There needs to be a balance of creativity and calculated risk," Bendas says, adding that independents must be careful about trying to be everything to everybody. "That's the death knell. As compelling as a lobster pizza might seem, offering that dish in a small Midwestern town isn't terribly likely to fly."
Before moving the breakfast pizza onto the menu at Denver Deep Dish, McGovern asked himself three questions: Can we execute it on the line while maintaining our overall quality? Do the food costs line up? And can we make a dollar off it? While he had to bring in eggs and cilantro, the kitchen held every other ingredient. Staff, meanwhile, showed a quick aptitude for making the new product and embraced it, as did customers.
Still, though, McGovern resisted the urge to rush the intriguing product onto the regular menu without fully vetting various elements.
"You don't want to lose sight of what you're doing and your overall goals," he says. "Take some time and sleep on it."
Similarly, Richardson says Flippers avoids hasty decisions.
"We only shift our menu once a year and we want to be deliberate," he says. "When you rush, mistakes are more likely."
Bendas calls a patient and mindful R&D approach critical for independent restaurants that lack the research heft of their corporate counterparts.
"When adding a new menu item, it's about staying true to your brand, listening to your team and measuring the results," Bendas says.
When a new product is rolled out, oftentimes as a special to test consumer interest, sales and profitability remain a top gauge of product's success. After all, money talks.
"Ultimately, the market will tell you," Richardson confirms.
Yet, operators should be careful about judging a potential product's viability on sales alone.
McGovern looks to his employees for perspective. If employees order the product themselves or ask if the special will return, McGovern sees that as a positive sign of employee buy-in.
"When employees are gung-ho about a product, it's almost always a success," he says.
Bendas urges operators to listen to the operational perspectives of management and kitchen staff as well as to solicit direct customer feedback with intentional table touches, specifically regarding intent to reorder.
"Sales and cost of goods are important, but so, too, are operations, marketing and a product's fit with your brand," Bendas says, further advising operators to avoid discounting a potential new product for trial purposes. "You always want the item to stand on its own legs."
---
Why the growing Flippers Pizzeria chain eschews an off-site test kitchen
Rather than a sterile test kitchen in some distant office complex, Flippers Pizzeria has used the kitchen in its Lake Buena Vista, Florida, location as its official R&D lab since that store's 2008 opening.
The 14-unit chain's biggest –– and busiest –– store, the 3,300-square foot space functions as the company's training and development headquarters and hosts the company's operations team. When creating and testing any new product's viability, Flippers' leadership team heads directly into the eatery's working kitchen to trial a product with the people and conditions commonplace in its stores.
"We could conceptualize new products in a controlled off-site environment under perfect conditions, but restaurants are not perfect environments and we want to be fully engaged with the process," Flippers vice president of operations Ben Richardson says. "We need to make sure any new product can be executed with quality and consistency, particularly at a high-volume store. If not, then it won't make the cut."
Chicago-based writer Daniel P. Smith  has covered business issues and best practices for a variety of trade publications, newspapers, and magazines.