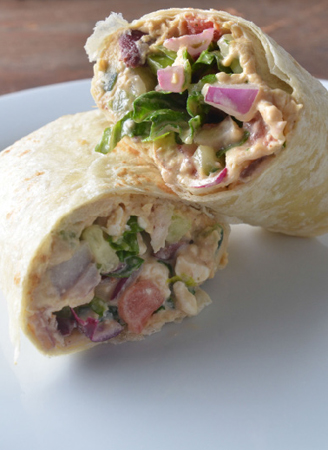 Operators are faced with the daunting challenge of keeping menu items interesting, yet approachable; filled with tasty ingredients, yet cost-effective. Wraps fulfill this need.
Simply put, wraps are a type of sandwich usually made with a soft flatbread, tortilla, lavash or pita rolled around a filling of proteins, veggies and sauce. Diners often view wraps as a healthier and lighter sandwich, which gives operators the chance to menu it as a specialty item. And that's not even the best part — wraps make use of on-hand ingredients — the only additional ingredient operators need to purchase to roll out a wrap menu is just the wrap itself.
That's-A-Some Pizza in Bainbridge Island, Washington, and That's-A-Some Italian Ristorante in Poulsbo, Washington, sell wraps with great results. "With wraps, your options are limitless. I like them because they are easy to prepare, and you can do both hot and cold versions," says Tom Pelland, owner of both restaurants.
Pelland's top-selling chicken Caesar wrap is assembled with chopped Roma tomatoes and Romaine, grilled then diced chicken, and house-made Caesar dressing inside a sun-dried tomato flour tortilla. Other seasonal wrap offerings include pulled pork with chipotle barbecue sauce, coleslaw and pineapple; and grilled rockfish with lettuce, tomatoes and sweet mango and red onion salsa.
Based in Jacksonville, Florida, The Loop Pizza Grill, which has 14 locations throughout Florida, North Carolina and Georgia, makes ordering — and preparing — wraps easy. Any signature salad can be ordered as a salad wrap, explains Cathy Manzon, director of marketing for parent company The Loop Restaurant Group, Inc.
For example, an Asian chicken wrap combines Romaine, cabbage, carrots, crunchy walnuts and noodles tossed in peanut-lime vinaigrette inside a soft flour tortilla.
Before wraps become a core menu item, the company does some taste testing. "We try different salads with different flavored wraps and try some wraps grilled and some not grilled," Manzon says.
Reston, Virginia-based Cafesano menus 10 wraps, ranging from a vegetarian avocado, tomato and Asiago to grilled kafta (ground beef mixed with parsley, onion and Mediterranean seasonings). Their best-selling chicken shawarma wrap features slow-roasted, thinly sliced marinated chicken paired with Romaine and tomatoes. It is served with garlic sauce and wrapped in a grilled pita.
"Because wraps are perceived by many as lighter, they're often ordered with other menu items. They can be easily eaten 'on-the-go.' They're also a great addition to a catering menu and very popular for business lunches," says Joanne McDaniel, director of marketing at Cafesano.
Not only are wraps crowd-pleasers, but they are simple to make. Cafesano's wraps are composed of meats and cheeses from the pizza and panini stations, spreads and dips from the appetizer station and vegetables from the salad station. The average wrap food cost is 25 percent.
"To stand out amongst other Cafesano menu items, made-to-order wraps get displayed in the deli case, which diners see while waiting to place their orders.
Michael's Pizzeria (located in Naples Island, Long Beach and Rancho Mirage, California) takes a different approach to wraps. Its "puccias" (which means pouch in Italian) utilizes the same pizza dough as their Neapolitan pizza. The dough gets fired at 850 F for 90 seconds. It is then pressed into a flat, round form.
"The air from the oven creates fluffy, raised crispy pizza bread," explains Massimo Aronne, managing partner at Michael's Pizzeria.
Puccias then get stuffed with Italian meats, such as speck and prosciutto, mozzarella, arugula, tomatoes and drizzled with olive oil. The most popular one is made with housemade fennel sausage, roasted pepper, arugula and aioli.
"For the puccias, we pick ingredients from the antipasti and pizza menu and prepare them using different techniques," says Aronne, who tries to keep puccias at a 20-percent food cost. For example, the ricotta used in a prosciutto cotto puccia is passed through a food mill and flavored with cayenne pepper, lemon and honey.
Puccias, Aronne says, appeal to customers who want a sandwich but don't want to miss out on the taste of their pizza dough.
Manzon feels wraps appeal more to woman than men. McDaniel agrees, adding that wraps are most popular with "women in the 25- to 45-year-old age group." While Pelland finds wraps appeal to all customer groups.
Not much marketing is needed to sell wraps. Pelland puts wraps on menu inserts or on a reader board, but admits: "that they simply sell themselves."
"Just think of the sandwich and replace the bread with a wrap," says Pelland, who prefers using flavored tortillas such as sun-dried tomato or pesto.
Manzon also prefers soft tortillas because of its thin and soft texture. "Tortillas are easy to roll, stay together well and are easy to cut and handle," she says.
The Loop Pizza Grill uses garlic herb, whole wheat and gluten free tortillas. At Cafesano, most wraps are built with 12-inch regular and whole wheat flour tortillas; few are prepared with pocketless pitas.
Operators don't seem to mind the extra cost of purchasing "wraps" when it comes to potential profits.
"Wraps are very cost-effective. Especially when they can be incorporated with food that needs to move fast," Pelland says. "Plus, they are an individual serving size, which promotes more sales compared to customers sharing a pizza four ways."
Looks like wraps are a win-win — for the customer and the operator.
HUMMUS AND GREEK SALAD WRAP
Recipe courtesy of Cafesano, Reston, Virginia
1 12-inch flour or whole wheat tortilla
3 ounces hummus
1 ounce cucumbers, chopped
1 ounce tomatoes, chopped
1 ounce red onion, chopped
1 ounce Kalamata olives
1 ounce green peppers, chopped
1½ ounces Romaine lettuce, shredded 1 ounce Feta cheese crumbles
½ ounce Greek vinaigrette dressing
Warm tortilla on panini grill. Spread tortilla with hummus. Toss remaining ingredients with Greek vinaigrette dressing.
Lay mixture in center of tortilla on top of the hummus and wrap all ingredients tightly in the tortilla.
Melanie Wolkoff Wachsman is a freelance writer in Louisville, Kentucky. She covers food, business and lifestyle trends.