Coming Soon to pizzatoday.com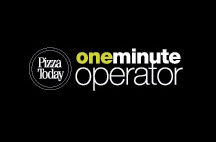 The One-Minute Operator is a new video series on PizzaToday.com featuring successful pizzeria operators dropping great advice one-minute at a time.
Social Media July Poll
Do you offer a gluten-free menu?
YES    72%
NO    28%
Where do you read pizza today?
We want to see where you read Pizza Today. Whether it be in your kitchen or at home on the back porch,  take a photo and be sure to use the hashtag #pizzatodayreader. It may appear in an upcoming issue!
Pizzeria Tweets and Status Updates
Roca Bar of Evansville

If you LOVE our pizza and want to enjoy a hot, fresh, signature Roca Bar pizza comment below! 1 randomly drawn fan wins a $10 gift card.
Saturday night = Roca Bar night Stop in and enjoy a great meal and of course an ice cold beer or Rocarita!
Why it works: This post is the epitome of a successful social media campaign. It generated more than 125 comments, 75 likes and several shares. Comments like "I heart ur pizza" and "I am craving some of that yummy pizza"? Well, you can't put a price on that, so a $10 gift card is a bargain.
Aver's Pizza
@averspizza

Mon lunch pie is Beckon Desire: Spinach pesto, Artichoke, Red Onion & Gorgonzola. 11-2 East Buffet. 11-1 North & South slices. #btownveg
Why it works: If you're vegan or vegetarian, you're often bombarded with advertisements for foods you won't ­— or can't — eat. Aver's does one a favor by promoting their meatless Monday special in plenty of time for folks to make decisions for lunch. Well done!