After you open the can, make the pizza sauce your own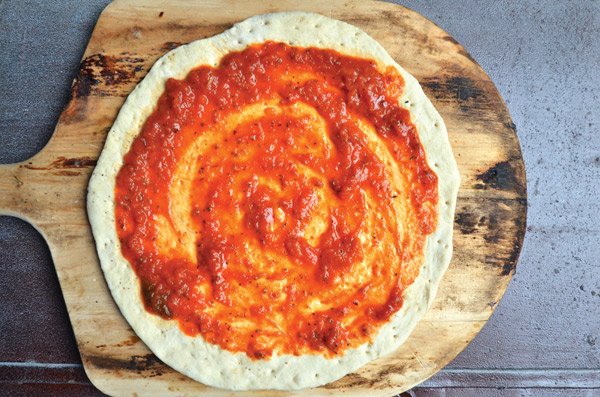 I've always looked at pizza like music. Each menu is a new album, the pizzas are the songs and the ingredients are the members of the band. In that scenario the beat of the drummer is the crust, the lead guitar is the cheese and the toppings are the vocals. That leaves only the unsung hero of the band — the bass player. The bassist is rarely flashy and almost never the focus of the song, but he nonetheless holds it all together. John Paul Jones, Michael Anthony, Duff McKagan … you can't be a great Led Zeppelin, Van Halen or Guns 'n Roses without these guys! And a pizza can't be great without a truly excellent pizza sauce tying it all together.
Starting as young as I did in this industry I've learned a lot more from my mistakes than my victories. One of the biggest lessons was not to underestimate the power of a great pizza sauce. When I opened my first store, I was inundated and in over my head. Making dough, cutting cheese and slicing toppings seemed hard enough. If a sauce had every ingredient I wanted in it already pre-made, why make work? It's an honest enough thought, one many of us make from time to time, but it's not the right thought.
There are some great pre-made sauces available that will get you almost there, but it's up to you to take it to the next level. If you're doing turn-and-burn pizza and it's more about convenience than taste, then by all means use the turn-key options. However, I suspect if you've read this far into an article on just pizza sauce, then you are not that person. You're the owner that says, "I want my pizza to be the best. What other tips do you have for me that I don't already know so I can take my pie to that next level?"
You're going to start with the best sauce you can find. Once you've settled on your selection, it's 100 percent up to you to make it your own with various customizations/enhancements.
Do you like a super chunky sauce? Do you like full tomatoes in your bite of pizza? Do you like different spices or unique items in your flavor mix? Lead with what you like and don't like and what you want your brand identity to match. Bear in mind, your one major sauce will probably be on at least 80 percent of your pies, so it's nothing to take lightly.
Whatever enhancements you make … please, please, please do not heat your sauce. It's a completely unnecessary step that will soften the flavor. When the pizza cooks in your oven, that will take care of heating it. Any pre-cook will only lessen the vibrancy of the colors and flavors of your sauce.
Once you do decide on a pizza sauce you're proud of, make sure to test it. Cook it with every style of pizza you have and see how it balances out. For my sauce I don't add salt because my mozzarella cheese and pecorino Romano have enough salt already. You might not have as much salt or spice in your toppings, so your sauce could be a good way supplement to that. Once you are proud of it, don't be in love with it — know it could be better and be on the lookout for ways to improve it.
I have seen every mistake a kitchen crewmember can make. Some are insane and one-in-a-million, but most fall into the category of Murphy's Law. If it can go wrong, it will go wrong. That's why I don't leave things to chance: all of our recipes are done in grams. We use a very good gram scale to measure all ingredients. Our staff measures out all the ingredients first, than re-measures again before performing the recipe. Using a non-digital ounce scale to measure will always give you a ballpark measurement at best. Lackluster systems ultimately lead to a customer biting into a pizza with five times too much garlic and no olive oil. In the military you're taught to KISS — Keep it Simple Stupid. Or if you are nice like me and seek not to offend possibly overly emotional teens who have not chosen active duty service but are rather working in a cool pizza kitchen, Keep it Simple AND Stupid.
With all that said, YOUR pizzeria is YOUR pizzeria. I don't begrudge anyone who does anything for a market that supports it. If you want to have a nutmeg heavy pizza sauce with diced mushrooms and chives and your customer base digs it, than nutmeg on.
For me, I dig freshness. I want a really red pizza sauce and the simple flavors I worked to prep from scratch to show off in the sauce. Mincing real garlic and dicing actual basil leaves makes a difference when the customer bites in. The taste and look of a real basil leaf can never come from a can or dried alternative.
Personally, I like using base products. So simple ground tomatoes and a not-from-concentrate tomato paste are what get my pizzas going.
I can open six No. 10 cans of ground tomatoes and one can of tomato paste and make 3 batches done this way for each batch:
Ground Tomatoes  —  2 cans
Tomato Paste  —  1/3 of one No. 10 can or 1,260g
Oregano  — 25g
Olive Oil – Extra Virgin — 90g
Garlic – Minced — 120g
Romano — 250g
Basil – Chopped — 30g
This process is not only very functional, but it yields a great sauce. It creates consistency and complements the rest of the band very well!
Mike Bausch owns and operates Andolini's Pizzeria in Oklahoma. He is a frequent speaker and presenter at International Pizza Expo.