Don't let tight quarters deter your sales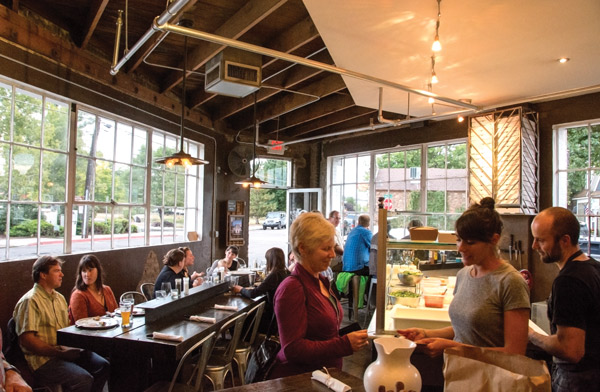 Charm meets functionality at Nomad's Pizza in Hopewell, New Jersey. This 600-square-foot historic carriage house has been transformed into a cozy European-style eatery. And despite its size, it's packing a punch for owner Tom Grim's bottom line.
Average wait times for a table on a busy night: Two hours. And people do wait.
"We have three places, and this one is the most profitable," Grim says. "The others are bigger with kitchens. We're able to focus, and we don't have the whole kitchen staff to worry about. We make pizza and salads and are very efficient."
James Sundstad understands why Grim has found success in a small space. Several years ago he was part of the team tasked with developing Starbucks' new "express" stores, recreating the Starbucks experience in 400 to 500 square feet. His team worked on a "mock" store at Starbucks headquarters to find a formula for operating in a limited space. Sundstad is now vice president of branded environments at CBX, a retail design consultancy.
"It comes down to honing your operation to make it functional and have a good customer experience," Sundstad says.
Here are ways to maximize your space for your customers' happiness and your profitability:
• Study and understand how your customers move. Think about the "journey" into your small space from their standpoint, Sundstad says. Choose a table, sit at it and then watch customers to see how they're "flowing." Is there a path for wait staff to deliver food without crashing into customers?
"If you handle velocity in a way that benefits the customer, and wait lines are not long, you can increase sales," he says.
• Vary seating to play with the sense of scale. Usually with a smaller space, people think they can only fit "so many tables," Sundstad says. Get creative with a mix of table heights and sizes –– a large community table, lower seating, bar seating, a counter by the window or even an "armchair nook" with two plush chairs facing each other in a corner. It makes the more space engaging, and the more variation, the better. "One level of low seating consumes space," he says.
Jim Jacobs, owner of Pisanello's Pizza in Mount Pleasant, Michigan, knocked down a wall in his shopping center to expand the restaurant in 2014. He nearly doubled the space from 50 seats to about 90.
But before that, seating was at a premium. The place had become incredibly popular after he added a buffet lunch service. To accommodate the lunch crowd, Jacobs built a bench along the length of one wall and placed tables in front of it. "They can be shoved together for whatever size you want –– two or 20 people," he says.
A combination of tables and booths, with Jacobs' personal woodworking touch, created a warm and eclectic space. "I made 80 percent of the table tops out of a local red oak board that I bought at a saw mill. Plus, I took some old maple top butcher block tables that we used for prep tables in the back, and I sanded those down and varnished them, and we use those for table tops now," he says.
• Create ambiance in tight quarters with light and sound. Jeff Pond is former owner of A4 Pizza, a 1,200-square-foot restaurant in Somerville, Massachusetts. He had to shutter A4 due to an August 2015 fire.
But one thing he learned about interior design from the A4 experience is that soft lighting provided depth to the dining experience.
"Our kitchen was in the same room. We had a wood fired oven that centered the room, and it was the only prep and cooking area. You came in, and it was wide open, and you saw everything that was happening. The ambience was warm by nature," he says.
Pond has bounced back and is constructing two new restaurants, scheduled to open in September and October. But he misses his cozy space at A4.
"The upside to the small space is that the energy is fantastic," he says. "You get just 10 to 12 people in the room, the energy changes. If you put them in a 200-seat restaurant, it's different."
Noise definitely plays into ambience, Sundstad agrees. Keep in mind that hard surfaces add to the acoustics of a small space. If you want diners to linger, incorporate textiles and soft background music.
"The core question to all of these elements is, how long do you want customers to stay? Or do you want them to get their stuff and get out? What are you encouraging them to do? If you do a high volume business, it's less about sit-down service," he says.
• Stick with simple and savory. While working on the express stores at Starbucks, Sundstad and his team pared down product offerings so that baristas could efficiently serve the most popular drinks in a tiny space. "We'd get the 20 different syrups and choose the top six that people use and decided what we could offer. For example, we knew we couldn't do blended drinks but other things," he says.
Similarly, apply the "keep it simple" rule to your pizzeria.
"The only thing we cook is the pizza," Grim says. "We have no kitchen or hood or fryer, or any of that stuff. We have a salad station. Anything that needs to be cooked, we cook in the oven. There's no stove. Just the pizza."
---
Fun Waiting in a Small Space
At tiny Nomad's on a busy night, owner Tom Grim ensures the time passes as quickly as possible. "We have a beautiful garden area, and people hang out and drink wine. They bring their own wine (in New Jersey, any restaurant can do that), and people love it," he says.
Grim also uses an app service called Nowait, a text message waitlist system. "People leave their number, walk around, and Nowait texts them when their table's ready," he says.
In a pinch, chalkboards also work for waits at small restaurants, says Jeff Pond, former owner of A4.
"We took a pillar in the front area, made a chalkboard and had a running wait list. We didn't take reservations and only sat 36 people. You could see how far along you were on the list," he says.
Heidi Lynn Russell specializes in writing about the issues that affect small business owners. She is a regular contributor to Pizza Today and lives in Lexington, Kentucky.