Burrata — how to add this simple, yet lavish ingredient to your menu
What's better than house-made fresh mozzarella? Homemade fresh mozzarella filled with cream. That's right, I'm talking about burrata. The creamy, rich, silky smooth cow's milk cheese that is popping up on pizzeria menus all over. Burrata is such a fantastic ingredient because it is such a simple, rich accent to almost any pizza or side dish. It can be the star of the show or round out all of the other toppings. You can make it yourself or buy it from your distributors.
Burrata, meaning "buttery" in Italian, originated in the Apulia region. It is made from cheese curds that are stretched into balls and filled with cream and cheese shreds called Stracciatella. It is typically made with cow's milk, but you can also find a buffalo milk version. The result being a bit tangier. While you used to mainly see this cheese on Italian style pizzeria menus, such as Neapolitan or Roman, it has made its way onto almost every type of pizza these days. I think one of the most Instagrammed pizza combinations last year was pepperoni, burrata and hot honey. This appeared on everything from Detroit to New York to Sicilian styles. 
Stracciatella on its own is fantastic. It is also a great way to mimic the flavor and texture of burrata if you are trying to cut costs or want to make your own but want to simplify the process. Stracciatella means "rag," from the Italian word "strattore" (to stretch) and describes the action to make the cheese as well as the way it looks. If you want to use the whole burrata ball but are looking for a way to use less on each pizza, you can pre-chop it and portion. So instead of putting an entire ball of cheese on each pizza you can evenly distribute it with each piece containing both the denser outer shell and the creamy interior. 
To sauce or not to sauce, that is the question when it comes to burrata pies. While I tend to lean towards white pies when using burrata, I've seen an equal number of red sauced pies with burrata. Depending on when you add the cheese might determine if you sauce the pie or not. Some people strictly use burrata as a post-bake pizza topping but I would argue that it also has a place as a topping that can be cooked. When baked, the texture of burrata is completely transformed. While it keeps its creamy richness, the cheese loses its structure and melds with all of the other flavors on the pie. Think puddles of cream dotting your pizza. 
While many specialty cheeses have distinct flavors that they pair with, burrata is more versatile. 
You can do sweet or savory combinations. It goes great with fruit, cured meats, roasted vegetable, sauces and pestos. For example, we do a pie called the PB&AJ (prosciutto, burrata, arugula and jam). The creaminess of the burrata really rounds out the salty sweetness of the rest of the pizza. Laura Meyer, Nicole Bean and I made a Roman-style pizza with burrata, mortadella, pistachio pesto and honey for the Las Vegas Pizza Festival a few years ago that was a total flavor bomb. Some other great combinations include:
peaches, burrata and arugula
prosciutto, burrata and basil
wild mushroom, burrata and thyme
heirloom tomatoes, burrata and basil
winter squash, burrata, fried sage leaves and toasted pumpkin seeds
rainbow chard, burrata, pomegranate seeds and balsamic
Calabrese salumi, burrata, chili oil and basil
If you do make it in house, it gives you the flexibility to decide what size to make it as well as if you want to flavor it. Roberto Caporuscio, of Keste in New York City, makes one of the best burratas I've had. He serves it on top of a simple pizza consisting of grape tomatoes, basil and extra virgin olive oil. It's like a Margherita on crack, if you will. The pie arrives hot out of the oven with the perfectly white oval on top. As you cut into it, the fresh cream oozes out of the cheese and onto the pie. I haven't had the pie in about 10 years, and I still dream about it. Caporuscio also does a truffle version where he infuses the cheese with the fungi.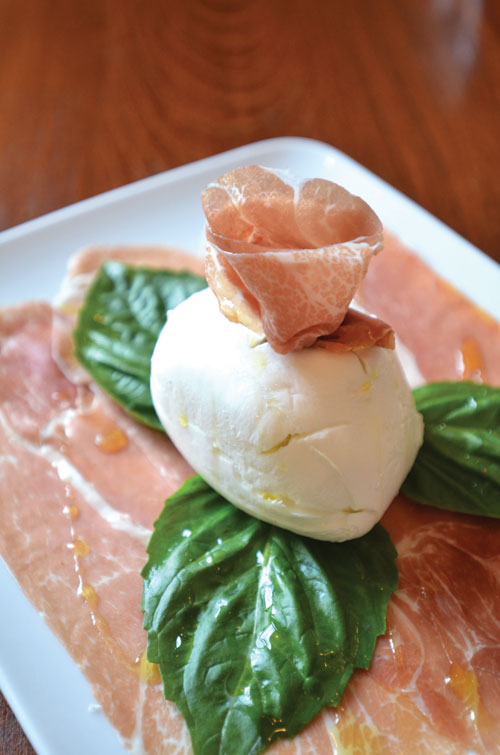 Burrata isn't just great on pizza though. It is fantastic as an appetizer, on a salad or in pasta. I'm a big fan of highlighting simple ingredients and burrata is the perfect way to do that all year round. You can nestle it in a pile of thinly sliced prosciutto accompanied with seasonal fruit and herbs and drizzle it with a really good quality extra virgin olive oil. Serve it with homemade focaccia and a sprinkle of sea salt. Instead of topping a salad with chicken or fish, offer a ball of burrata as an up charge. The same can go for pasta. Lately I've seen a lot of baked burrata on pizzeria menus. It's an easy dish to make with ingredients that you have on hand. Either cook the burrata with marinara, vodka, pesto or any other sauce of your choice until it is nice and bubbly, drizzle with a good extra virgin olive oil and serve with some toasted crusty bread. 
As you can see, there really is no wrong way to eat burrata. It is the perfect addition to almost any pizza and can transform a lackluster pie into something really special. 
Butternut Squash Burrata Pie (AKA Butternut Bae)
Get the Butternut Squash Burrata Pie recipe. 
Audrey Kelly is the owner and pizzaiola at Audrey Jane's Pizza Garage in Boulder, CO.