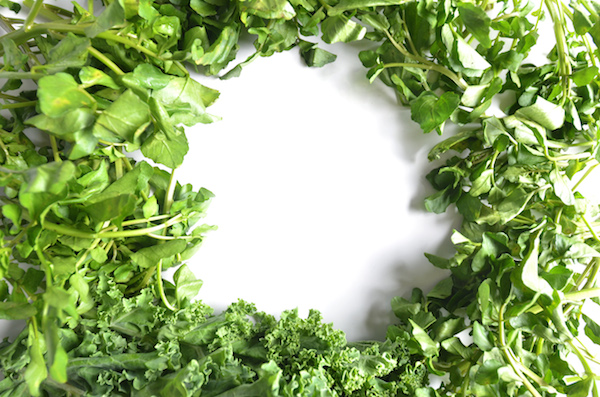 Spring is the big start of the year for numerous game-changers for pizza. The early spring enables cold-loving greens like arugula, green garlic, spinach, romaine, ramps, rhubarb, cilantro and sprouts to pop either in farmed fields or on their own in the wild. The warmer weather of late spring brings on the stiffer and hardier garlic scapes, kale, chard, radicchio, endive and nasturtium.
Pizzerias like mine that are lucky enough to have massive amounts of farmers, wild foragers and wild land available are finding numerous ways to turn the spring greens into spring cash. The combination of an aging population that are eating healthier and the explosion of culinary media showing us that not all foods come from plastic and boxes has led to more acceptance of greens by our customers.
Let's start with the obvious greens and how they can play a big role on your pizza sales.
• Spinach. Triple-washed, baby spinach can be obtained from your purveyor from as little as 11 cents an ounce. Organic spinach, unwashed and untrimmed, can be had for 17 cents per ounce. I use spinach in my menu mix as "the great equalizer," meaning that I put approximately two to three ounces after the sauce on my vegetarian/vegan pizzas to bulk them up. Let's face it: most vegetarian pies lack the height that cheese affords. Spinach holds better in the raw, uncooked form and melts perfectly for a nice crunch.
• Arugula. We get arugula from local farmers and use the whole stem to finish off pizzas with a melted, creamy profile but reputable purveyors can offer it for as low as 32 cents an ounce. Arugula offers a fabulous counterpoint to tomato, feta, Parmesan, gorgonzola and beets, asparagus, basil, fennel, garlic and pears. If you have a great pie that reflects the "agrodolce" or sweet and sour effect like blue, stilton or gorgonzola combined with fruit like pears, orange, apple or peach, arugula with a balsamic glaze — arugula an instant winning partner!
• Romaine. It isn't just for salads anymore! I par-braise the hearts of locally raised romaine in a bagna caulda puree right through my conveyor ovens and top pizzas with it along with olives and fresh mozzarella. The combination of anchovies, fresh garlic cloves, lemon and extra virgin olive oil creates a wonderful bath to cook this crunchy green in. Romaine is also perfect for making a Caesar Salad Pizza by finishing the cooked pie with chopped romaine tossed with Caesar dressing, Parmesan and anchovies.
• Kale and chard. These greens are not only widely known as healthy alterative vegetables but they also bulk up pizzas and add a great chewy addition to any melting pizza. Raw, chopped kale and chard have a tendency to burn in a conveyor or wood-fired oven, so a long soak in a bath of hot, hot tap water helps defray the burnt edges and create an acceptable "wilt." These as well as dandelion greens are perfect when sautéed quickly in garlic and bacon fat. There are many kinds of kale and the best for my use is lacinato kale because it is easiest to prep and has less gnarly waves to the leaves. Its taste is deep and clean.
• Watercress. This crunchy spring green is best bought locally. I've been very disappointed when I get it commercially. Watercress grows beside streams and springs and is to die for with Pecorino, goat cheese, beets, cucumbers, mushrooms, almonds and strawberries.
Take a walk on the wild side
"Prosciutto di Karma" Chips and Cracklins
This is the mother of all crunches! Nothing beats prosciutto cracklings with kale chips for the fatty flavor that accents the bold kale taste and with just a handful, transforms a pie into an adventure!
Get the full recipe: "Prosciutto di Karma" Chips and Cracklins
Ramp and Walnut Pesto
In Appalachia where I live, ramps are the initial trumpet blast of spring. They appear for only two weeks, so gorging is not only substantial but required eating. Ramp can be found in large batches and the small, strong tasting, onion-like bulb below the ground leads to the more mellow broad leaves that wave like flags in the wind.
This recipe includes how to "shock" the ramps so the chlorophyll sets and the pesto stays bright green year-round. This recipe is perfect for the pizzeria because it can be frozen to use all year. I freeze this pesto to include on many different pizzas and mix in Parmesan, chilies, butter, cream or more oil right after thawing it out.
John Gutekanst owns Avalanche Pizza in Athens, Ohio. He is an award-winning pizzaiolo, baker, teacher, speaker and author and has been featured in Gastronomica, Food Arts, National Geographic, Alimentum Food Journal, Food Network and Best Food Writing, 2012.