DeLuca's Pizzeria
407 Park Ave.,
Hot Springs, Arkansas
(501) 609-9002
delucaspizzeria.com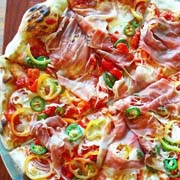 Anthony Valinoti is the man behind Deluca's.He can often be found hand mixing his Napoletana pizza dough, making pies or mingling with guests. DeLuca's makes a limited number of pies per day to ensure the highest quality. The pizzeria's menu is focused on brick oven pizza, salads and a dessert. In addition to the classic Margherita, "The Gooch Pie" features Calabrese, garlic, peppadews and arugula ($28). Valinoti also offers local produce on his pizzas and salads, including locally grown arugula, jalapenos and Portobello mushrooms.
---
Calacino's Pizzeria
3611 Robert C Byrd Dr.
Beckley, WV
(304) 253-1010
calacinos.com
Calacino's affinity for its local West Virginia Mountaineers is evident in its eclectic décor. Its Signature Stackers are popular, like The Big Legursky ($21.95) — sliced Ribeye, sautéed peppers and onions, lettuce, tomato, mushrooms, melted mozzarella cheese and ranch dressing placed on a large pizza crust, folded over into a sandwich and cut into slices. The specialty pizza menu highlights eight pies from supreme, meatlover's and white to chipotle BBQ Chicken, Mediterranean and Hawaiian Punch. Customers finish the meal with a Cheesecake Xango ($4.50), a banana caramel cheesecake rolled in a flaky pastry tortilla, covered in cinnamon and sugar and then topped with whipped cream.
---

The Midway
4725 Freret St.
New Orleans, Louisiana
(504) 322-2815
midwaypizzanola.com
The neighborhood pizzeria opened in a revitalized Freret Street District in 2011 offering Deep Dish-style pizza. Its Deep Dish recipe hails from a family restaurant in Virginia and has found a home in Nola. The Midway expands beyond typical appetizers to offer its own take on Pigs in a Blanket — Italian sausage, mozzarella, caramelized onions, tomato-basil relish and Creole mustard-jalapeno sauce ($7.95). Spinach Cheese and Mushroom Bread Sticks ($7.25) and Roasted Polenta Cakes ($7.25) are also offered. Its wide specialty pizza menu offers a mix of traditional and creative pies. The FD2 features chorizo sausage, green chiles, red onion, cotija cheese and green onions (14-inch for $19.25). The Thunderbird is topped with roasted chicken, Chisesi ham, bacon, caramelized onion, green onion and roasted red pepper aioli (14-inch for $19.25).