Tavern Style Pizza is having a moment
When I sat down to write about Tavern style pizza, I had a hard time organizing my thoughts. I thought about all the differences between them and was trying to figure out the best way to describe them all and hit a roadblock. I was trying to unify them when a light bulb turned on. Tavern style, also known as bar pies, are not unique to any one location. There are variations across the East Coast and all over the Midwest. The one characteristic that unifies them is that they are all thin crust but even how thin the pie is varies slightly. Some pies are cut into squares, and some are not. Some use cornmeal, others only use refined flour. Some use fats, some do not. Some are super low in salt to the point where you question if there is any in the recipe. Some are seemingly unleavened, and even the doneness of the bake challenges the color spectrum. Tavern very much is a style, thin crust and crispy.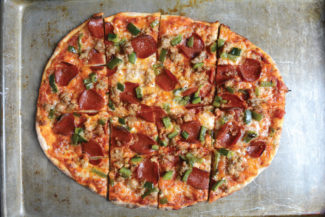 When Chicago pizza is mentioned in conversation, a lot of Americans think deep dish. Although deep dish pizza may be iconic and delicious, it is not the only style that Chicago makes. Of all the native Chicagoans I have spoken to, most of them say that pizza to them is always the thin and crispy tavern style. Deep dish is for the out-of-towners. Chicago styles are known for their use of cornmeal and the cracker thin is not exempt from this. How much cornmeal is used varies but cornmeal itself is a great way to make a crispy pie. 
Par baking the dough is another way to add crispiness to a thin-crust pie. As much as I love crispy thin-crust pizzas, they lose that crunch very quickly as the pizza cools down. Maintaining that crispiness is one of the hardest traits to keep. Utilizing cornmeal and a par bake or double bake method helps ensure your pizza stays crispy for a longer period of time. How would you do this? 
Coat your dough ball in cornmeal and roll it out with a rolling pin or use a sheeter. Once you've reached your desired size or thickness, dock it, place it on a peel and slide it into the oven. Without any sauce, cheese or toppings, par bake it just for two minutes or just until it's no longer raw and the bottom is just beginning to show some spots of color. Remove it from the oven and stack them until ready to use. When an order comes in, top it as you normally would and then finish the bake until it's crispy and the toppings are cooked. The par-baked shell is not only quicker on the line when orders come in because it's prepped and ready to go but that double bake helps evaporate out more moisture. Without the addition of sauce on the first bake, there's no barrier keeping moisture in. Chicago thin crust is normally cut into squares.
Another type of tavern style comes out of St. Louis. This may be the funkiest style of pizza I have had. Super crispy but with an overly sweet sauce and then a processed cheese called Provel on top of that. 
Provel on its own deserves a mention. It comes in a block and it's a processed cheese composed of provolone, Swiss and cheddar. It has a super low melting point and a high flow rate so a small amount spreads a lot and is quick to burn. 
When you eat a St. Louis pie, you get a crispiness mingled with the sweet sauce and then this super sticky processed cheese that sticks to your front teeth. It's not for everyone but sometimes you just need a little indulgence that isn't going to ruin your day. And since it's thin crust, this pizza is it for me. 
The dough itself seems unleavened and doesn't have the same coloration as a pie that has a sugar content. Instead of using a New York-style dough, I would use a low protein flour similar to a Neapolitan or even an all-purpose flour and omit any sugar or fat. This gives you a different kind of crisp. There is no cornmeal or Semolina and to make it even crispier I always use the double bake method. 
This pizza is even thinner than the Chicago version and without the durability of cornmeal the dough can be fragile and prone to bubbling in the oven. To prevent this, I add a little bit of sauce on that first bake to help keep the dough from bubbling too much. Keeping in mind the low melting point of the cheese, this will change how long I bake the shell the first time as compared to the second and final bake when it has been topped. If it's a plain cheese pie, I will bake the shell a minute or two longer the first time so that the final bake is slightly shorter making sure the cheese does not burn. If the pizza has toppings, especially a raw sausage, I will shorten the first par bake and lengthen the final bake so that the toppings have time to cook but it's not in the oven long enough to burn. The moisture from the toppings, as well as the coverage, helps make sure the cheese does not burn. This pie is normally cut into squares.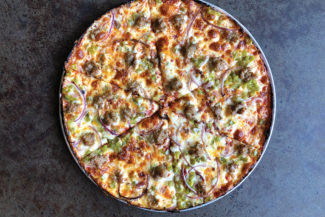 The other Tavern pie that stands out to me is the East Coast pie. This thin-crust pie is not always cut into squares, not always round, sometimes oblong in shape, and can be cooked almost to the point of burnt but is considered normal. Toppings and cheese are thrown on haphazardly and usually to the edge. There is no cornmeal in this pie and is thin but a little thicker than the St. Louis style.
One of the main features of a tavern style pie is always the crisp. For those that have cornmeal and fat, they have a snap reminiscent to a Ritz cracker. It's crispy and it snaps but there's a density to it. Other styles like the St. Louis and East Coast versions have no fat or cornmeal and have a snap like a saltine cracker. All of these styles are "cracker" thin, but the type of snap is what sets them apart.
Laura Meyer  is Chef at Capo's and Administrator and Teaching Assistant at the International School of Pizza in San Francisco