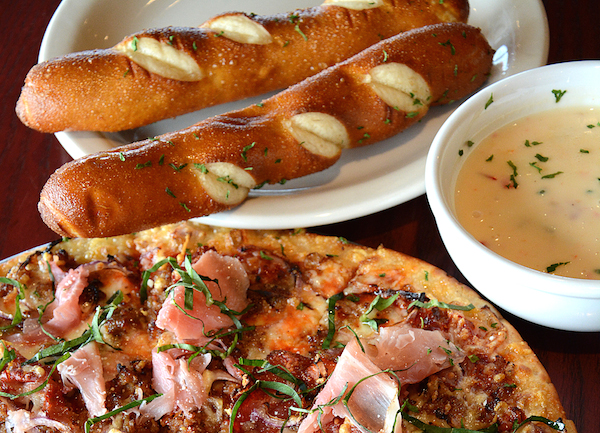 Pretzel bread is red hot right now. Serve with either hot mustard or beer cheese for dipping and watch your appetizer sales increase once your customers get a taste of this on-trend menu item.
This recipe comes from our very own Dough Doctor, Tom Lehmann. Like nearly all of Tom's recipes, it is formatted in "Baker's Percent" to make scaling exact and easy.
Flour: (Soft wheat pastry flour) 100 percent
Salt: 1 percent
Yeast: (IDY) 0.25 percent
Water: (variable) 40 to 45 percent
Oil/fat: 5 to 8 percent
Finished Dough Temperature: 80 F
Mix dough just until it takes on a smooth appearance. Allow to ferment for 2 hours (can go as long as 5 hours for more flavor). Divide into desired weight pieces, usually about 2 to 2.5 ounces each. Roll out each dough piece with a sheeter/rolling pin to about ¼-inch thickness, then roll up like a jellyroll. Form the finished roll into a piece about the size and shape of a hotdog.
Be sure the seam is well sealed on the dough. Allow the formed dough pieces to rest for about 5 minutes, then pass through an alkali bath (2-percent sodium hydroxide in water).
Note: Be very careful handling and working around this stuff! The alkali solution can also be brushed onto the surface of each roll if desired. Due to the danger of working with the sodium hydroxide, some bakers opt to use a 20-percent non-diastatic malt syrup solution (2 parts malt syrup in 8 parts water).
Sprinkle with pretzel salt or any coarse salt. Bake at 425 F until lightly browned, typically 15 to 20 minutes (will vary with the type of oven used). A common variation is to not use any salt on the dough prior to baking. If you choose this method, dip the baked pretzel bread in clarified butter as soon as it comes out of the oven. Set aside to drain and cool before serving.