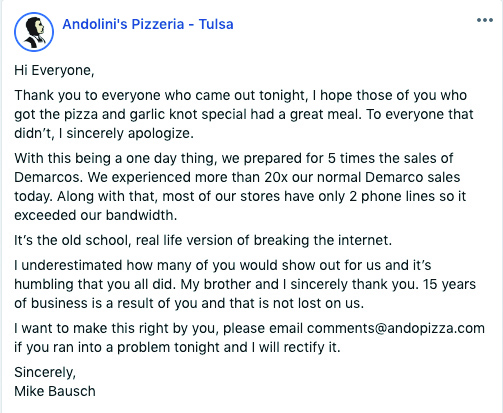 How I righted a wrong
I messed up huge. I over-promoted an event. I didn't even know that was possible. Our 15th anniversary for Andolini's Pizzeria was on January 8th of this year. Typically, our anniversary goes off with little to no fanfare. As a fun one-day promo, I decided to have a 20-inch pizza (San Marzano and fresh mozzarella with basil) and an order of garlic knots, typically over $30 value, for $15. One day only, pick up and dine-in. That's the promotion.
I do promotions like this pretty regularly. Not that deeply discounted or with that small of a timeframe — but nothing that's too dissimilar — for the Super Bowl or Halloween. I sent out an e-mail one week ahead of time and followed it up with another e-mail the day before to my 35,000 followers for my five main brick-and-mortar Andolini's locations in the Tulsa metro area. Along with that, we ran it on Facebook as a promoted post a few days ahead of time.
The day was going pretty standard until people started to call in to reserve their $15 pizza. I didn't think much of this at the time, but that's never happened before. In my experience, people don't typically reserve a discount in advance. Come 4:45, every Andolini's location started to get annihilated. By 6:00 pm, it was on, and we were in full nonstop pizza mode at every location with a crowd that looked like a grunge-era mosh pit.
Now to put this in perspective, I expected three to four times the regular sale of that one particular pizza that was only available for this promotion. What occurred is we sold 25 times what's typical for that pizza. I'm not saying that to be braggy. I'm saying that because we pissed a lot of people off.
At the location where I was making pizzas, I paused to communicate with my other managers via text streams and coordinated re-supplies to each site. That meant San Marzano tomatoes, more basil, more fresh mozzarella … every item beyond dough had to be restocked.
Once it started to settle, I could see I was getting annihilated on social media from people who had long wait times. One person called it a scam and that we were ill-prepared. Well, we were. But at five times preparation I thought we were set. People who called in to order mostly got a busy signal because our lines were jammed, so they thought we stopped answering the phone.
What seems like a catastrophe was the birthday gift I didn't expect and absolutely loved. All of my staff came together on a sleepy Wednesday in our slowest month of the year. Everyone was running on adrenaline, stoked about where they worked, and the customers were a part of a scene. A scene that was super annoying, but a scene nonetheless.
The second I could pull away, I went and wrote this response to my customer base and sent it out via Facebook. I explained the situation clearly and rationally and told people to e-mail me if they ran into problems. The ones that did e-mail me, I sent them a certificate in the mail for a completely free pizza on me for any style to use whenever they wanted. I wrote over 150 direct e-mails to customers. That's not counting all the social media exchanges or review responses.
What we do in this business is capitalize on opportunities. This crap scenario gave me my largest opportunity ever to go wow factor on hundreds of people and build brand awareness and tap emotional heartstrings. I did my mea culpa, but the extra thing that people want and love is the comeback. That's where the win is.
I dealt with the situation head-on, took my punches and turned a bunch of angry customers into ecstatic customers. Andolini's had enough press off the event that the news wanted to run a story on it because it dominated social media that day. Fifteen years down, however many more to go, and I love this industry for moments like these.
Mike Bausch is the owner of Andolini's Pizzeria in Tulsa, Oklahoma.