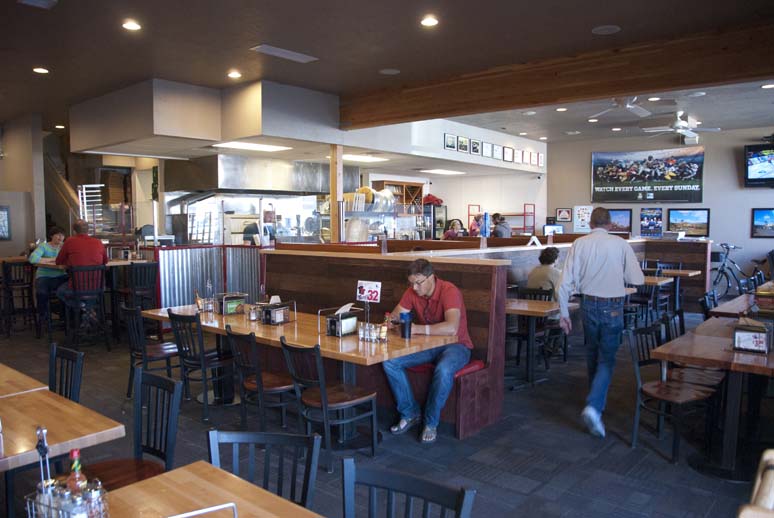 Is there a magical formula for floor plans?
In Somerville, Massachusetts, a small pizzeria called "A4 Pizza" packs a punch in just 1,200 square feet. Customers who sit at the end of the bar have a front-row seat to the main attraction: a well-loved pizza oven.
In Milwaukee, Wisconsin, you'll find the Pizza Man, a sprawling two-story restaurant rebuilt after a devastating fire. This place has universal customer appeal with its unique ambient touches, like a retractable roof that creates a "snow globe" effect when the Polar Vortex hits Wisconsin.
And in East Hollywood, California, at DeSano Pizza Bakery, customers enjoy open "European-style" seating. Strangers get to know each other like paisanos as steaming pies are carried to large communal tables from a central, strategically placed oven.
Three places. All vastly different, but they have one thing in common: they've mastered the art of strategic seating. A restaurant's floor plan can enhance the customer's experience and encourage them to spend more, according to the National Restaurant Association.
A4 Pizza, Pizza Man and DeSano all employ a three-pronged formula to their dining rooms: optimal seating plus efficient service plus "Wow!" factor.
And just in case you're concerned, dining room size does not matter, says Jeff Pond, the chef at A4. "Every space is unique to itself. The reality is, you open and you see what your challenges will be. You have to be open-minded and don't lock yourself in one philosophy," Pond says.
Forget about the chairs –– it's really about the tables, says David Gemmel, who leads the operations engineering group at WD Partners, a Dublin, Ohio consulting firm that innovates customer experiences for multi-unit food and retail brands.
"If you don't configure seating correctly, then you end up with a 'full' dining room, where all tables are occupied, but 40 percent of the seats could be empty," Gemmel says. "Your goal is to have the maximum amount of people dining rather than oversized tables."
One common mistake is overuse of four-tops. "It's estimated that half of all parties consist of just one or two guests," Gemmel says. "So that's a lot of empty places at tables — and a lot of guests slowly losing patience while they wait for their pager to buzz."
Combine two-tops for larger configurations when necessary, and they can handle the 50 percent of all parties that consist of one or two people, he says.
Sarah Baker is director of operations and general manager for Pizza Man in Milwaukee. The restaurant reopened in July 2013 after its former location, which had been around for three decades, was destroyed by fire. The new place now seats up to 250 customers, with a variety of seating to fit everyone's needs.
"What was really important for us was to have flexibility in arranging the tables –– free standing tables to configure to two-tops or 12-tops with a push," Baker says. "People also love our booths, which are handy when you have small children and need to contain them."
Conversely, DeSano in L.A. uses the communal European-style seating to its advantage. Long tables with wood benches seat eight to 10. Managing Partner Marino Monferrato (who also will be on Fox's "Hell's Kitchen" this fall) is from Italy. He makes it fun for people to adjust.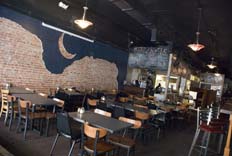 "If we have a space issue, I say, 'Can the two of you squoosh to the left?' and they act very well like they're waking up from a dream," he laughs. "It sparks the conversation. Ninety-nine percent of the time, they start to talk to each other. Americans are fantastic. They talk to everyone and anyone."
Are there obstacles to your wait staff? Analyze the flow pattern between kitchen, serving stations and tables, says Luke Panza, who has worked in seven restaurants, serving in numerous front-of-the-house management roles. Today, Panza is co-founder and director of marketing of NoWait, a digital restaurant wait list service.
Servers shouldn't distract guests when they move around, Panza says. "No one wants to eat with a crowd over their shoulder," he says.
Sit down in the guest's seat to see intangibles. "Don't put a table in a difficult space where servers are reaching over the table to serve people," Panza says.
Got a small space? Design the room around a focal point. That's how they did it at A4 Pizza. "We started with the oven and built around it," Pond says. "We built the kitchen backwards, around the oven and then the bar. The bar is only 10 or 11 feet, and we have a small takeout section nearest the door. We have window seating, too, and lower tables for ADA accessibility."
Decide on a "Wow!" factor to add a splash of magic.
Most people may not want to sit next to the kitchen, but at A4, it's a primo seat. "At the end of the bar, you're basically in the kitchen," Pond says. "You're involved in the experience. The oven that I had this company build is a big steel dome with a rustic steel exterior. We set it outside a few months to make it rust, and it adds to the industrial feel."
At DeSano, the ovens are in the dining room, so diners can see the pizzaiolos making their pizzas before they are delivered to their table. "Since we are a pizzeria we do not want to take the show away," Monferrato says.
And the second floor dining area for Pizza Man in Milwaukee "is one of the coolest restaurant spaces I've seen anywhere," Baker says.
"We completely took off the roof. It was an all open-air dining space until April this year, when we installed retractable glass to make it a four-season area. The balcony has seating for 50 people. It becomes our 'snow globe' in the winter, because it's encased in glass."
TIP: Table Tops
Table design is a key element of floor plans, says David Gemmel, who heads the operations engineering group at WD Partners, a Dublin, Ohio consulting firm. Consider:
Booths are a must for families. Put them on the perimeter for more flexibility in the center of the dining room.
Zones break up large sections. Dividers eliminate the feeling of a "cafeteria," which can subconsciously affect the guest's perception of your brand.
Tables should transform the space. For example, a four-top square with hidden leaves for smaller-party lunch can easily convert into a six-top round for larger-party dinners.
Heidi Lynn Russell specializes in writing about the issues that affect small business owners. She is a regular contributor to Pizza Today and lives in Wilmore, Kentucky.