From cash to mobile wallets, there are many ways to accept payments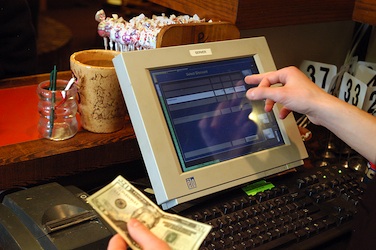 Cash is not king anymore, at least not in restaurants. Consumers are paying with credit and debit cards, and some are using trendy new methods such as digital wallets. Meanwhile restaurant owners say they would like to update their technology to accept mobile pay, pay-at-the-table and other methods. While these systems expand the ways in which customers can pay for their meals, independent restaurants should be aware of certain details when investing in these payment solutions.
According to 2018 research by Capital One, one in four Americans rarely carries cash, and among Millennials, it's one in three. Dimitri Syrkin-Nikolau, founder of Dimo's Pizza, with two locations in Chicago, has noticed a shift away from cash. Ten years ago, the ratio of cash to credit/debit card paying customers was 50/50. Now only about 10 percent of people pay with cash. "There is a proliferation of credit cards that provide rewards points," he says. "There is a more educated consumer base that understands how to make their money work for them."
For Dimo's Pizza, less cash handling results in a better flow of operations. For even more efficiency, a few years ago Dimo's added Apple Pay and LevelUp. With Apple Pay, the customer loads credit or debit card information onto their iPhone or other Apple device, then can "tap to pay" at the restaurant with a contactless reader, or by ordering online. LevelUp is a digital ordering platform that was acquired by GrubHub in 2018.
The rise of online ordering has led to the increase in credit card payments, which offers a benefit. "It ensures that when someone places an order that we receive money for it," Syrkin-Nikolau says. "With cash we have to wait until we deliver the pizza, and if the person is asleep or isn't there, we've already done the work and we're not getting paid."
Online ordering platforms have their own drawbacks, including concerns that the third parties do not represent the restaurants well, the food arrives compromised, or the third-party Web sites are confusing to customers looking for the restaurant's Web site.
Controversies aside, online ordering is growing. According to the National Restaurant Association's Restaurant Technology Survey, 37 percent of restaurants offered online ordering for takeout or delivery in 2016 (the most recent data available), compared to only 23 percent in 2011. Also, 34 percent of restaurants offered smartphone apps, compared to 12 percent in 2011. Also, in the 2016 survey, 32 percent said they use mobile payments.
Operators hope to update their technology, and 25 percent said payment options will be the most important area of development over the next five years.
Mobile pay such as Apple Pay, Google Pay and Samsung Pay have gotten much attention as innovative new ways to pay, but these credit/debit card payments via smartphone are more popular online than in-store, says Milo Vinson, CEO of LineSkip, which provides online ordering, point of sales systems, and customized apps for restaurants. He estimates that 70 to 80 percent of restaurant-related online orders use these smartphone platforms, while at the store, five to 10 percent of customers are waving their phones at a reader. "The big reason for that is not many merchants have been able to implement that technology," he says. "They are using old credit card readers or point of sale systems."
Restaurant operators that are considering getting new systems that can accept mobile pay should pay close attention to whether to rent the equipment or buy it, how soon they will have to replace the technology and processing fees.
Fees are an age-old challenge for any business that accepts credit cards. "All of the different payment systems have fees and the processors offering new unique technologies feel that they can charge more," says Robert Livingstone, president and founder of Cooper City, Fla.-based IdealCost.com, a merchant advocacy and credit card processing auditing firm. "Processing is a commodity. The big secret to the industry is that all processing vendors buy the same rates from the same place and then choose how much to mark them up to the business." He adds that fees from the big banks and credit card processors are among the top five expenses for many pizza restaurants.
The biggest change in restaurant payment acceptance, Livingstone says, is the incorporation of EMV chip readers, which became standard in the U.S. in 2015 and is a way to avoid losing chargeback disputes from customers. "Social pay, tap and go, and pay at the table are at very low levels of adoption nationwide," he says, and mostly in metropolitan areas and high-volume tourist destination chain restaurants.
Also, according to the NRA survey, 48 percent of operators agreed that customers prefer to pay their restaurant checks themselves by using mobile payment, kiosks, or tabletop or wireless devices. However, operators also noted barriers such as cost (63 percent) and lack of infrastructure (50 percent) to implementing new customer-facing technologies.
That was the issue for Aaron Baumhackl, who with his wife Suzanne is co-owner of Solstice Wood Fire Pizza, Cafe and Bar in Hood River, Oregon. More than four years ago, he signed a contract for table-side processing. Solstice was an early adopter of the technology and might have been too early. "The technology wasn't ready," he says. "The compatibility piece with the main system wasn't there."
The three handheld tablets made the restaurant's three point of sale terminals slow down or crash, making what was supposed to be a streamlined process cumbersome. Neither the technology company nor the merchant services provider would take the blame or fix the problem, so Solstice was stuck with four years of paying for an unruly system. Besides the technology issues, Baumhackl says bringing the tablet to the table and waiting for the customer to view and sign the bill presented another problem. "It was awkward," he says. "Customers felt pressure to tip."
That contract has ended, so Baumhackl added a fourth POS terminal and is not using the tablets until a better system comes out and other restaurant owners give it good reviews. "I'm sticking with the tried and true," he says. His advice: "Be more skeptical about these new technologies and do your homework before signing a contract."
Nora Caley is a freelance writer who covers small business, finance and lifestyle topics.