Mastering the POS System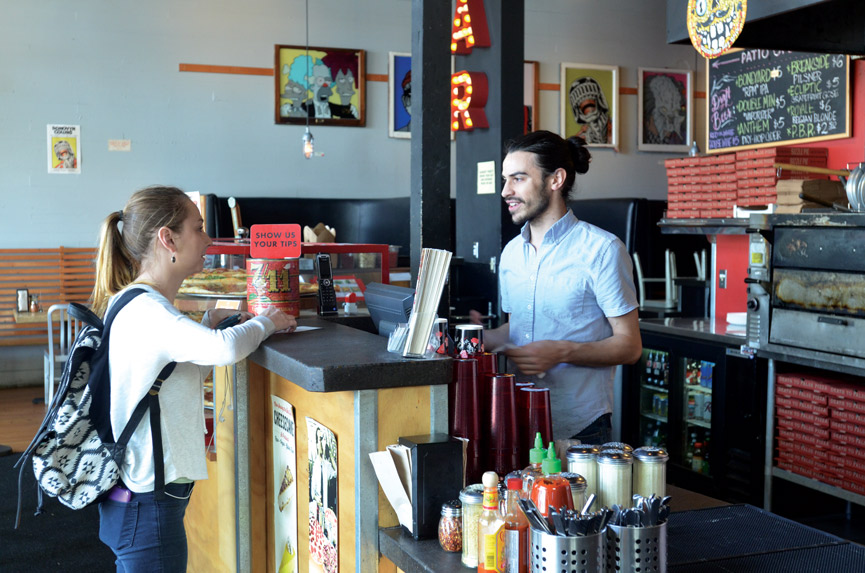 Nils Kravis has big plans for Rad Pizza.
A long-time restaurant executive who began his career with Pizza Hut in Canada before becoming the chain's director of operations in Australia, Kravis has been involved in more than 500 restaurant openings in his career. His latest one, however, represents his most daring endeavor to date.
Last April, Kravis and his wife, Jennifer, launched Rad Pizza in Hamilton, Ontario, a scenic Canadian city of some 600,000 located southwest of Toronto. As the flagship unit for Rad Pizza, Kravis knows the 3,400-square foot unit's early success is paramount to the larger pizzeria empire he aims to create. As a result, Kravis has crafted everything – the menu, the mission, the operations – with growth in mind.
But before Kravis reaches 100 units, or even 10 units, he understands the mothership must shine.
Long viewing technology as an enabler, Kravis looked for a point-of-sale (POS) system that was intuitive and user friendly. Such a POS, he reasoned, would help Rad Pizza employees serve customers craving speed and convenience alongside a good pie, but also ensure accurate data that Kravis could later analyze to tweak his upstart fast casual.
"Given the growth we envision, an intuitive POS and, just as important, employees trained to use it is critical," Kravis says.
A restaurant's nervous system, the POS connects servers to the kitchen to the back office, and employees' ability to learn and navigate the POS positions the operation to work seamlessly and successfully. Poor POS training, after all, can dampen profitability, heighten wait times, result in incorrect product being delivered to the customer and lead to ill-informed decision-making.
"Effective training on the POS is fundamental to fast service, order accuracy and good customer experience," confirms Graham Campbell, chief operating officer of Givex, a cloud-based operations management solution that pairs POS capabilities with other key functionalities like gift cards, loyalty and tableside ordering.
Though confronted with the challenges of time, labor costs and staff turnover, savvy pizzeria operators nevertheless prioritize employee training on the POS and see it as a critical piece of business operations. Here's how pizzerias can get employee POS training right:
Start with menu knowledge
Before employees ever touch the POS, Kravis first ensures staff understand the menu, namely what the restaurant sells and what the kitchen can produce. Thereafter, he says, it's much easier to dive into the POS.
"If they know our product first, then the POS is simply a visual graphic of the menu," Kravis says.
Leverage training from POS vendor
From online tutorials to in-person training from a POS vendor rep, many POS providers provide training tools restaurants can use to introduce a system's basic functions or as a supplement to existing store training programs.
Drill the basics
Campbell says restaurant operators are most often concerned with employees being proficient with the order flow, interface and the specific requirements of their specific restaurant. As such, these core functions should consume much of the training. Kravis, for example, has focused Rad Pizza's POS training on those core actions.
"We get them comfortable navigating forward and backwards and moving around the POS to accommodate our orders," Kravis says.
Have trainees shadow top employees
Having new front-of-the-house hires follow your best servers helps trainees learn about the job in general, but especially the POS, says Ryan McSweeney, marketing coordinator at Upserve, a cloud restaurant POS used by nearly 10,000 restaurants. He recommends having trainees shadow their mentor over a variety of different shifts, which will allow new hires to see how someone familiar with the POS interacts with the system throughout the day.
"This will also make [trainees] feel comfortable using the POS in any environment," McSweeney says.
Utilize training mode
Most POS systems feature a training mode – and that can be an operator's premier training tool. In training mode, employees can receive guided practice, input mock orders and tinker with the POS without unleashing real-world consequences.
"They can practice navigating the menu, inputting orders and making transactions all without any of it being processed or sent to reporting," McSweeney says.
While in training mode, Kravis has employees role play, being both customer and order taker so they can see both sides of the POS. He instructs staff to come up with out-of-the-box orders and to remove and add items after the fact, which helps a trainee learn how to troubleshoot various situations.
Turn employees loose
Kravis says most employees are comfortable using the POS themselves after a day or so of training, especially given how intuitive many of today's systems are.
Though operators might be hesitant to turn employees loose, it's a necessary part of training. Kravis prefers new employees work their first solo shifts during slower periods and he provides ongoing coaching as employees work their way toward independent proficiency.
Of note, Campbell reminds that many POS systems have permission and access settings that allow management to configure the accounts of new employees so that they only have access to basic POS functions as they learn the system. After employees have proven their ability to navigate the POS, restaurant leadership can then expand access accordingly.
Don't put POS training to bed
Though an employee might have the POS basics covered, keep the training going and leverage all the data a POS can provide to identify opportunities to retrain individual staff or fuel the restaurant's performance.
Upserve's server performance feature, for instance, provides information on the servers who are turning tables the fastest, upselling products most frequently and boosting ticket sizes. With this data in hand, operators can work toward improved efficiency and profitability at the pizzeria.
"Using the POS to see repeat guests and knowing what their favorite meals are, having servers look at the analytics behind which menu items are performing best and utilizing other integrations of the POS like inventory and tableside payments can make sure your servers and business are performing to the best of their ability," McSweeney says.
Chicago-based writer Daniel P. Smith has covered business issues and best practices for a variety of trade publications, newspapers, and magazines.