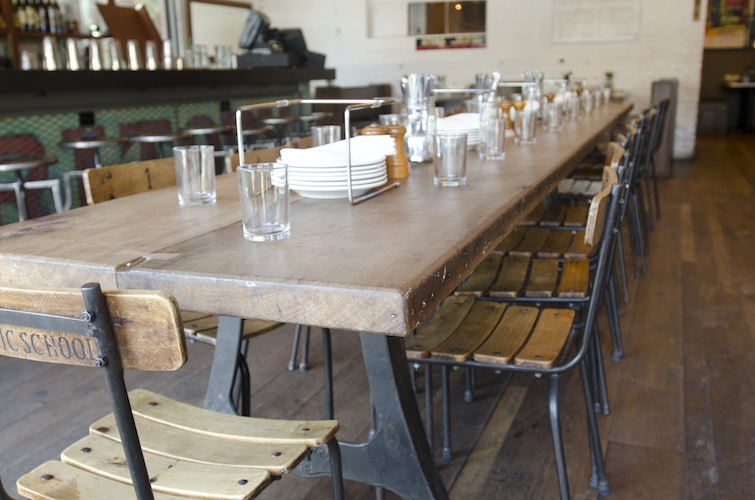 Nothing goes better with pizza than reclaimed wood.
At least that's one big trend in restaurant design right now. Operators and design experts say as the new year opens, emerging concepts and longtime restaurants are looking to classic finishes to make dining areas warm and inviting. Among those finishes is reused wood for tabletops.
"What happens is barns out west are being repurposed," says Jay Miranda, principal for design at Chipman Design Architecture Inc. in Des Plaines, Illinois. "More adventurous people buy a barn and repurpose it into a home. Other barns are beyond restoration so the next best thing is to take the lumber, clean it up, resell it and use it for restaurant furniture."
The results look warm, clean and classic, and also let diners know the restaurant cares about the environment. "Most restaurants would not be able to do LEED certification," Miranda says of the complex Leadership in Energy and Environmental Design green building program. "But they want to do their part to help the environment, and using reclaimed wood is one of the ways to do that."
Chipman Design Architecture works with Melville, New York-based Sbarro. The 1,000-plus unit chain recently opened an artisan concept, Pizza Cucinova, in Columbus, Ohio. Anthony Missano, president of business development for Sbarro, says Pizza Cucinova uses reclaimed lumber and also marble for tabletops and counter tops. "It adds a nice elevated feel to an otherwise natural rustic look," he says. "It's rooted in history so it's a trustworthy kind of design."
Nostalgia plays a role in other restaurant finishes too, says Mike Flaherty, principal with Nichez, a design firm in Denver. "We have seen the styles of old school pizza places coming in to trend with the use of subway tile, school house lighting and lighter colored marbles," he says. "Using these materials to accomplish a craft and artisan, yet clean and modern look is what we are looking for in an interior."
Nichez has worked with Anthony's Pizza and Pasta, which is also based in Denver. The 25-unit chain recently updated its look. Among the changes, says managing partner John LeBel, is oak instead of laminate for the tables, and marble for countertops. "The pizza industry itself is reflecting on going back to how pizza was originally made," he says. "It's a classic look, more representative of the way pizza used to be."
Marble and wood can go together, especially when things don't go the way the designers expected. Mark Brooks, creative director for Settebello Pizzeria Napoletana in Henderson, Nevada, says when the seven-unit company opened its Las Vegas location last year, the marble tabletops turned out to be too small. The pizzaiolo came up with the idea to wrap reclaimed wood around the marble to make the tables larger. That turned the unexpected two-tops to the much-needed four-tops.
To complement the eclectic look, Settebello put up steel walls that are covered with murals, including maps of Naples, Italy, and photos by a Rome-based photographer that Brooks found on social media photo site Instagram.
Colors also help create an inviting ambiance. Missano says earth tones are popular now, balanced with bright colors. The key is to use the bolder colors as the accent, not as the main wall color.
Barbara Bestor, principal of Bestor Architecture in Los Angeles, says the firm offers clients custom color concrete tiles for floors, and sometimes for vertical surfaces. Marble is also available in different colors, and pewter and concrete colored marble have become popular. "The marble that we use has become inexpensive, so we are using a lot of that," she says. "The general trend I see continue to explode is dark colors and brass or bronze fixtures."
Contrasting colors can give the room a dimensional feel, says Flaherty, from Nichez. "Artwork on the walls should use appetizing colors for Italian food, specifically greens and reds, staying away from blues. If color is being used too much in the wall paint or tile, black and white photos on the walls can create a classier look," he says.
Miranda says the colors and textures depend on the restaurant concept. Fine dining restaurants are more likely to use natural materials than laminate, which is the composite of materials made famous by the brand Formica. Fast casual eateries use thin, solid surfaces, and light colors. Stained concrete floors are also big now.
Anthony's Pizza uses dark wood countertops and tables with white subway tile walls. There are also gray walls with murals. "We like gray," LeBel says. "You'd think gray would be a boring color and people wouldn't be excited, but we contrasted it with colorful murals and great photos of New York." Anthony's serves New York-style pizza, so the photos and the subway tile are meant to evoke that New York feeling.
One design element may already be too popular. Brooks says Settebello will open its eighth location this year, in Newport Beach, California. "In the next restaurant we will stay away from reclaimed wood," he says. "It has become a cliché. We will do something until it's overdone." n
Nora Caley is a freelance writer specializing in food and business topics. She lives in Denver, Colorado.