Do you need to offer Internet to your guests?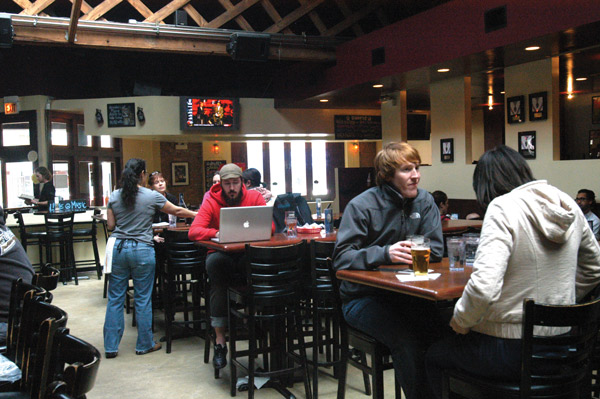 With Sacramento and San Francisco as home to HOT ITALIAN's three locations, it's fair to say the pizzerias are ensconced in California's cutting-edge technological landscape. Everything about this pizza-making enterprise screams sophistication, from sleek and modern décor, to pizza toppings like smoked salmon that appeal to urban palates.
And the customers are as devoted to their tech gadgets as to the steaming pizza on their plates. Millennials, who comprise the bulk of them, are constantly glued to their phones, laptops and tablets in the restaurants, says Andrea Lepore, HOT ITALIAN'S founder and creative director. So providing free Wi-Fi at each pizzeria is "a no brainer," she says.
Besides attracting customers who want to be able to get online while they eat, HOT ITALIAN sees another benefit: free marketing, from the very customers using the complimentary Wi-Fi service.
"We always encourage people to post photos of our food on Instagram, Snapchat (and) Facebook. You have to make it easy for people to have access online. It can only help you," she says.
Robert Siciliano agrees. He's a security expert with BestIDTheftCompanys.com (BIDTC), an identity protection service review site. As a fraud prevention specialist, Siciliano doesn't think pizzeria owners should be fearful of using Wi-Fi, even if you're an old-school, mom-and-pop place that hasn't dabbled with technology yet.
"I say offer it up," he says. The trick, however, is to offer it up smartly. Here's how to wend your way through the world of Wi-Fi, without exposing your business or customers to security risks:
Always (always!) have two Wi-Fi portals: one for you and your staff and one for your customers. You wouldn't want to provide customers with the same Wi-Fi access that you would use to process credit cards or that you use for sensitive business accounting or e-mails.
"If you're just opening (one line) up to everyone and giving your password, that's deadly. That's when you have to worry about hackers," Siciliano says. It's easy to provide two Wi-Fi systems on site. Just plug in two different routers, he says.
That's how HOT ITALIAN has handled their Wi-Fi service. "In all three locations since day one, each has a private network for employees and a public one. We also have a firewall that protects the private from public," Lepore says.
Use filtering software to block customer access to sites with inappropriate or illegal content. "You don't want someone in your establishment watching porn. You don't want them accessing child pornography, either. That's going to come back to bite you," Siciliano says. "It's not something you want to think about, but you have to think about it. It goes with the territory."
Because you're a business, chances are you're already getting "business class" web from an Internet Service Provider like Comcast or Time Warner. To set up filtering software, all it takes is a quick call to them. "They'll provide you with the hardware and software necessary and point you in a direction with filtering technology to stop customers from downloading Torrents, which are illegal pirated music or movies or accessing illegal sites," Siciliano says. They also will set up the user name and password.
"That inclusive package is, 'plug and play.' You don't have to necessarily do it yourself," he says.
Manage squatters with business class software. Keep in mind that people will show up at 11 a.m., order pizza, and may not leave until 4 p.m. so that they can use your Wi-Fi. That's where your ISP business class cost will pay off, because the provider can help you manage squatters through software. It basically opens a box when the customer logs on, informing them they can only be online for a set amount of time. When the time is up, the system will automatically kick them off the server.
"It recognizes your customers' device. It understands the innards of the device and installs a cookie that expires after a period of time," Siciliano says.
On the other hand, you may be like Lepore, who doesn't perceive a problem with squatters on her Wi-Fi. She encourages languid European dining. If people stick around for the web surfing, it adds to her bottom line, she says.
"It's a casual, relaxing environment, with magazine racks and an Italian style, with people hanging out after eating pizza, drinking espresso, ordering gelato. So we encourage a slow pace," she says.
Post your expectations for customer Wi-Fi use, as well as the password. Create a sign in a prominent place that provides the Wi-Fi password to the public use account –– and also sets your standards for web browsing (i.e., no inappropriate sites) and Wi-Fi time limit.
"Keep in mind that no one likes to be barked at," Siciliano says. For example, you could say, "We appreciate customers who notice when others need their table," instead of, "You'll be kicked off the web if you stay at a table longer than 30 minutes.
"And it should not be handwritten, but professionally done," he says.
Heidi Lynn Russell specializes in writing about the issues that affect small business owners. She is a regular contributor to Pizza Today and lives in Lexington, Kentucky.