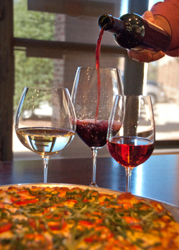 In the literary world, the phrase "write what you know" rings true for many writers. That same principle can be applied in the restaurant industry –– and that's what Corbett and Julie Monica have done in their 2,770-square-foot trattoria-style restaurant, Bella Monica, in Raleigh, North Carolina.
Corbett, whose grandparents owned a restaurant in New Jersey, has worked in restaurants since the age of 16. Julie worked her way though college serving and bartending as well, and the two eventually married and landed in NYC. "We knew we wanted to open a restaurant, but it wasn't necessarily happening in Manhattan," Julie says. "Corbett's mother had moved down a few years before to this area, and we had visited and fell in love with the area. There was a lot of opportunity here."[/caption]
They made the move to Raleigh and opened Bella Monica in August 2000, opting for an Italian focus simply because "this is our heritage," Corbett says. "My family's from Naples, and this is the food I ate growing up, both in the restaurant and (at home). It was a very easy decision. It's what we know, and it's the food we love."
Today, Bella Monica brings in $2.4 million annually and was No. 81 on Pizza Today's Hot 100 Independents in 2012. Pizza accounts for about 40 percent of sales, but the restaurant has a full menu of traditional Italian offerings. "We started with a smaller menu, certainly, than we have today," Corbett says. "We focused primarily in the beginning on pizzas and just a few pastas –– zitis and lasagnas. Things that we could execute well. As those things worked and as we got more business, we were able to execute more."
Part of that success is having a staff capable of creating the recipes that have been in Corbett's family for years. The restaurant employs around 40 people, and the kitchen staff works with two conveyor ovens in a former takeout and delivery space.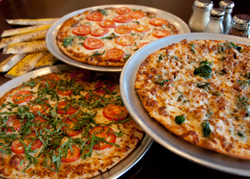 "It's not the most efficient, but we've made it work," says Corbett as he inspects his small bustling kitchen. Those two ovens are able to push out nearly the entire menu, including creamy polenta, baked pastas, fish, fried eggs and the restaurant's thin-crust pizza.
"When we first thought about taking this place over, it would be the first restaurant that we owned. I was perplexed on how we were going to get it done in a conveyor oven," Corbett says. "It's been a blessing in disguise. You want to fry an egg? You put it in halfway. They guys have formed a system, and so far, it works."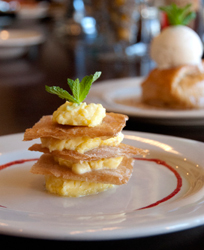 The house specialty, baked ziti, was Corbett's grandmother's signature dish. Lasagnas are popular, both meat and vegetarian, and the pizza's flatbread-style crispy crust separates Bella Monica from other pizzerias in the area. The Margherita is a top seller, and they recently added the Frisco pizza which features broccoli rabe, sausage, caciocavallo, garlic, olive oil and chilies.
Bella Monica's extensive menu requires smart ordering, and they receive shipments several times a week to ensure freshness. Limited storage in the kitchen reduces their ability for buying in bulk, but "we have pretty good relationships with most of our vendors," Corbett says. He regularly compares prices with other restaurateurs in the area. "We've been loyal customers to most of our vendors, so we have fairly good pricing, I think, for being a single store. That, and we're pretty watchful. We don't have a lot of waste."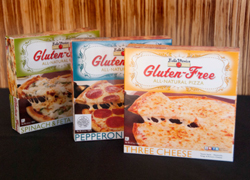 Lacking the space for a full bar, the restaurant serves beer and wine only. They've implemented an extensive wine program, which has earned the restaurant accolades from Wine Spectator. Beer and wine make up to 20 percent of sales. They have an off-site facility where they store Italian varietals for several years –– even up to 10 years –– before opening and "our clientele is very wine savvy," Corbett says. "Over the years, we've kind of exposed them and taught them about Italian wines.
"One of our big focuses (for employees) is wine training. And most of them enjoy it. … Our wine list is only Italian wine by design."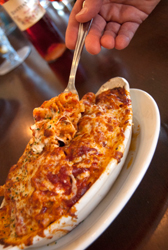 As an independent restaurant, word-of-mouth advertising has become crucial at Bella Monica, and "we really try to pay attention to people inside so that they go out and spread some good word-of-mouth," Corbett says. Social media like Twitter and Facebook have worked well, and one of the company's assistant managers handles that aspect. "We're very active in the community," Julie adds, including donating food to and participating in local school and charity events. While they could spend more dollars advertising in more traditional outlets, Corbett prefers to participate in local cooking and "Best of" contests. "This is more social," he says. "It's just more fun."
After nearly 13 years in the industry, the Monicas say they have found a balancing act when it comes to being owner/operators. While they used to be chained to the store from open to close, they realized after the birth of their daughter that they could scale back and trust in their management. They're still in the store every day.
"I love the business myself," Corbett says. "For me, if I'm not in my own restaurant, I want to be in somebody else's restaurant."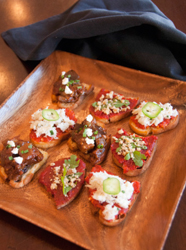 Julie says back office management is time consuming, but she still wants to be in the dining room daily to greet guests, feel the pulse of the restaurant's clientele and gauge customer satisfaction. "I don't want to be bogged down and locked in the office," she says. "I want to be out where the fun is!"
The Monicas have considered opening another store in the future, but when the economy took a nose-dive a few years back they instead launched a retail gluten-free frozen pizza line that eventually made its way into grocery stores.
Made by an off-site vendor in a full gluten-free facility, the pizzas are privately packaged under the Bella Monica name and helped the bottom line without relying on expansion or franchising. In addition, "we have a full gluten-free menu now," Julie says.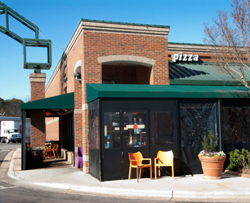 "The (gluten-free) pizzas that we sell here are actually the same pizzas that we sell in grocery stores because we can't make that pizza here," Corbett says. But for salads, gluten-free pastas like Eggplant Parmigiana and Cheese Ravioli, they use separate utensils and pans in-house to reduce cross contamination.
"As a lot of people were seeing (sales) taper off (during the recession), we had a lot of gluten-free folks coming in," Corbett says. "It has boosted our business."

Mandy Wolf Detwiler is managing editor of Pizza Today.