Giovanni Di Palma, owner of Antico Pizza Napoletana in Atlanta, Georgia, has created the scenario many operators dream of. Most nights and weekends, a line of eager customers wrap around the parking lot and down the block.
Most Saturdays, Di Palma says, Antico sells more than 1,000 Neapolitan pizzas. The high-volume shop near Georgia Tech in the Midtown district generates $4.5 million in annual sales with no salads, pastas, other entrees or alcohol.
Pizza Today visited Antico during a midweek lunch in the spring to discover what drives this successful operation. Upon opening, the crowd has already lined up, extending out the door.
The shop, which opened in 2009, is split into two rooms. In the front area, two employees operate registers and fill carryout orders, which account for a stunning 35 percent of sales.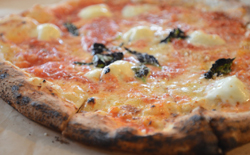 It's Antico's other room where all of the action takes place. Three Grande Forni ovens, weighing 10,000 pounds each, hand made from refractory Sorrento stone and shipped by sea from Naples, Italy, dominate the focus of the space. Communal picnic-style tables that sit on concrete floors fill the area. The Dough Room, literally a walled area with large windows to showcase the dough-making process, is captivating and manned constantly because of the sheer volume of dough needed.
There are a dozen employees flowing seamlessly through the open kitchen area fixated on their tasks at hand. They are center stage.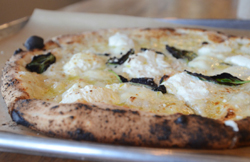 That's intentional, Di Palma says, adding there is a theatrical component centered on the art of pizza making. "The experience and atmosphere are really second-to-none," he continues. "That was important to me that people really see the artisan craft. They see us making dough. They see us crushing tomatoes…they are seeing everything while they eat."
A communal approach also produces a "wow" factor as people wait, watching aluminum pans of Neapolitan creations atop brown paper arrive to neighboring guests. "They are seeing the other pizzas, so they are saying which pizza they are going to try when they come back," Di Palma says.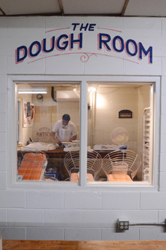 The Margherita D.O.P ($18) is most popular. The San Gennaro with salsiccia, sweet red pepper, bufala and cipolline ($21), and Diavola with spicy sopressata, pepperonata and bufala ($21), have become famous and Atlanta cult classics.
Pizza makes up 78 percent of Antico's sales. Though its calzone has won awards, Di Palma says, they don't sell a lot of them. Another menu item Antico does sell a lot of is its cannoli — 2,500 of them a week.
But, Di Palma contends, it's all about pizza. At Antico the product markets itself. "My pizza is extremely photogenic," he says of the pizzeria's social media buzz. "I let the customers do it for us. They take pictures and send it to everyone they know." Add in celebrities tweeting the pizzeria to millions of followers and the word-of-mouth for Antico's drives traffic. If fact, Di Palma says he has never bought any advertising.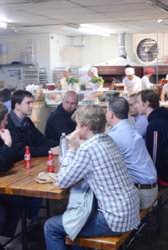 "I've made price irrelevant," Di Palma says. "I went to a terrible neighborhood…and I'm the most expensive pizza in the city of Atlanta…people stand in line in the rain and the cold for it. They want quality and that is why Neapolitan pizza is so wildly popular now and booming." Di Palma goes to great lengths to showcase the craftsmanship he has created at Antico.
Growing up in New York in an Italian family, Di Palma always valued his Neapolitan roots. In 2005 he began a quest to learn the ways of his grandfather's craft in the small village of Cimitile, just outside of Naples, Italy. He was amazed by the flour mills there — the variety of formulas and the freshness of the product — yielding a major difference that he saw between American pizza and Neapolitan.
Throughout his years of training in Italy, Di Palma sought answers to one question: "How can I do this in America?"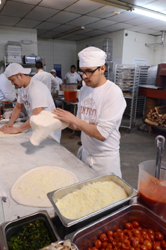 In addition to becoming a maestro pizzaiolo, Di Palma says, "I learned logistics and importing." Di Palma goes beyond using traditional distributors. Antico has its own warehouse, which aids in importing products based on his criteria. "When I buy a product, it goes this way: quality first, freshness and logistics second and price third," he says.
He buys direct from an Italian flourmill. He has bufala mozzarella and fior di latte mozzarella flown in from Naples once a week. Each fall, he travels to the fields of the Sarno Valley in Italy to look at produce first hand.
Food cost at Antico remains low, Di Palma says. "Our food cost is in the mid-20s because I am buying such massive quantities directly from the sources," he says.
"What makes Antico's so magical is having those products and the freshness of them and meeting very, very skilled people."
Finding craftsmen to reproduce what he learned in Italy, consistently, Di Palma says, would take five years. Instead, "What I did was I broke myself down into five different skills and I teach one guy one skillset and that's all he does," he says, adding each person also trains a back up. Everyone has one specific task, whether it's opening pizza, making dough, or working the ovens.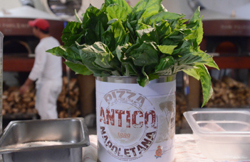 The Antico staff is a family, Di Palma says, adding that he's loaned employees money and paid hospital bills. Each month he takes his 22-member crew and their families out for dinner. "Those are things that you have to do as an independent proprietor to stay successful," he says, resulting in little to no turnover.
The final component of Antico's is Di Palma. Guests get to see his passion for Neapolitan pizza and the energy he brings to the pizzeria.
Atlanta's Little Italy
Giovanni Di Palma, owner of Antico Pizza Napoletana, knew that he wanted to open his pizzeria in an old bakery. When the former French bakery became available in Atlanta, he says: "When I saw it, I had a feeling this was going to be the perfect place." Forget the fact that the location was in a dilapidated area that was notorious for its drug problem and crime. He saw the neighborhood for its potential. He purchased two city blocks around the pizzeria with the vision of opening an entire Italian village. The neighboring Gio's Chicken Amalfitano recently opened. This summer, Di Palma is also set to open Bar Antico, a lemoncello bar, gelateria and café. Piazza San Gennaro will also join the project across the street from the pizzeria, featuring a fountain surrounded by pastry and pasta shops, along with Italian street carts — a Little Italy in Midtown Atlanta. It's beautiful — revitalization centered on a pizzeria, he says.
Denise Greer is associate editor of Pizza Today.