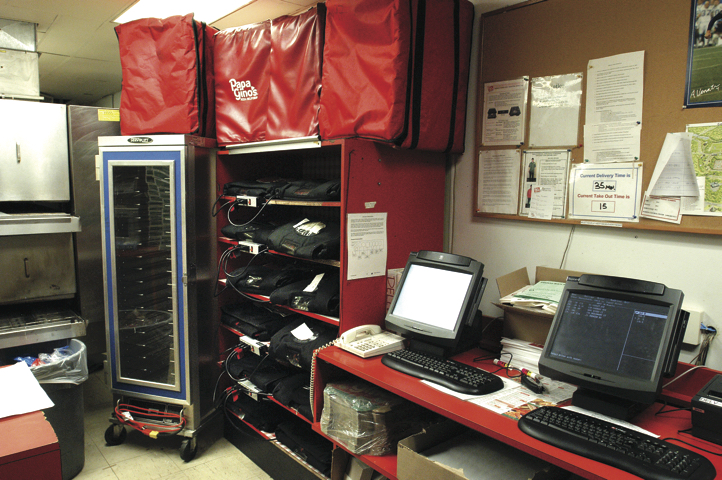 A successful pizza delivery can be thwarted by a number of roadblocks. There are the expected interferences of busy kitchens, slow cars and the frustration of navigating complicated subdivisions or downtown traffic. Then there are more high tech kind of interferences — loss of Internet or WiFi connection, point-of-sale software (POS) glitches, GPS or power failure and cars that breakdown or run out of gas.
Yet in spite of all these potential interferences, roadblocks and challenges, pizza operators believe in pizza delivery because it is a profitable investment for their businesses.
And their customers love them for it.
But with technology improving every day, how can operators know if the next best thing is the next best thing for their business and their customers?
From simple to complex, technology is an asset for food on the go for the operators who create it and for the customers who love it.
A technology-enhanced container like an insulated bag can maintain the food quality and a restaurant's reputation.
"While using an insulated bag for deliveries might seem obvious, a lot of restaurants don't make the investment," says David Boles, co-owner and kitchen manager of Essex's NY Pizza & Deli in Salem, Massachusetts. "Insulated bags keep more than just pizza hot; they can also be used to extend the life of fried foods, hot sandwiches and pasta. It's important that the food be brought from the restaurant to the consumer's front door in the bag to ensure optimal food temperatures, especially in cooler climates. The benefits continue for those in warmer climates, too, as insulated bags can help keep cold items, like salads, the right temperature on long deliveries. At the end of the day, if you're getting food delivered that isn't in an insulated bag, it should be a big red flag that the quality might be subpar, and you might want to order from somewhere else next time."
Now getting that quality food from Point A to Point B to Point C, and so on under a specific time constraint requires a more interactive technology tool. Planning and routing deliveries can be time-consuming, and pizza delivery drivers do not have a lot of extra time because the cheese is getting colder with every passing minute.
To increase delivery efficiency, operators may want to upgrade and update their POS platform says Christie Melby, account executive at Communiqué PR, in Seattle, Washington, which represents The Revel System. Such POS systems rely on a secure iPad-based POS platform for restaurants, retail outlets and grocery stores. They cover the basic transaction processes as well as delivery management, inventory management, payroll and customer relationship management. It also presents a solution designed for pizza restaurants that includes features like delivery management, ingredient inventory management, half pizza specification, and always-on mode, says Melby.
According to Melby, this system allows restaurants to efficiently manage all deliveries at a single location, driver tracking, estimated food prep and realistic delivery times, report breakdowns of delivery payments and tip tracking. All delivery management reporting data is stored via the cloud, allowing users to access data in real-time and remotely.
Becky Boyd, vice president of MediaFirst in Roswell, Georgia, who represents Paragon Software Systems, explains that Paragon's Multi Depot route optimization software enables Hunt Brothers Pizza "to produce efficient routes for a multi-site operation; the routing and scheduling solution is in use at the division of Hunt Brothers Pizza handling operational and strategic planning needs for more than 100 vehicles servicing 3,600 customers in 15 states."
According to a December 2014 "POS Software Trend Report 2015," created by Dorothy Creamer, managing editor, and Abigail A. Lorden, group editor-in-chief of Hospitality Technology, and based on reader surveys with restaurant executives, software upgrading and potential purchasing decisions for 2015 for most hospitality operators revolved around a POS that could allow restaurants "to accept new mobile payment options, like e-wallet and adding new functionality, features and/or modules to current POS software." Upgrade wants like tablet-based POS software and loyalty tools were high on operators' wish lists for this year, too, according to the report.
Operators definitely have their eyes on upgrades that will enhance or replace their current POS software. Of course, operators are not the only ones who are tech savvy. Customers have never been more ready to use their phones, tablets and laptops to get their favorite food on the table.
Building pizzas and customizing orders online is a proven popular choice with customers. They can see their ordering history and with a click of the button, dinner is done. And now mobile apps are making it even easier and faster for customers to order pizza and to track deliveries.
Mobile apps and sites along with the mobile and online ordering offerings from large chains like Pizza Hut, Papa John's and Domino's, are driving food delivery technology and options further for both customers and operators.
Even with technology changing and improving every day, one thing is certain. There will always be a market for pizza delivery. And the operators who strive to serve the needs of their customers by investing time and money in making their pizza delivery work well, with POS upgrades and the understanding of what customers want right now in terms of food delivery options, will continue to drive their business into a tech savvy future.
DeAnn Owens  is a freelance journalist living in Beaver Creek, Ohio. She specializes in features and human-interest stories.