Emily
919 Fulton St.
Brooklyn, New York 11238
(347) 844-9588
www.pizzalovesemily.com
Matthew and Emily Hyland opened this popular borrough pizzeria this year serving up what they call "New Brooklyn" style, a doughier sibling to a Neapolitan pizza. The pizza
menu is broken down by sauce — The Reds, The Whites, The Pink and The Green. Signature pies include The Colony (red sauce, mozzarella, pepperoni, pickled chili and honey), Emily (mozzarella, pistachios, truffle sottocenere and honey) and the Vodka (vodka sauce made with Surryano ham, mozzarella, parsley). Topping off dinner is the attention-grabbing S'mores Calzone. Emily hosts pizza-making workshops once a month on Saturday afternoons.
Joe Squared
133 W. North Ave.
Baltimore, Maryland 21201
(410) 545-0444
www.joesquared.com
This two-unit coal-fired pizzeria is getting a ton of national buzz from the likes of Zagat and the Food Network. In addition to its square-shaped pizza, Joe's Squared applies creativity with nearly 60 cheeses, meats, veggies and fruit toppings from which to choose. An acclaimed pie is the Bacon and Clam featuring maple smoked bacon and clams on a roasted garlic cream sauce and topped with sweet onion, fresh mozzarella, Romano, Asiago and oregano. The Meatball and Spaghetti (yes, pasta is on the pizza) is topped with marinara, oregano, meatball, sweet onion, roasted red pepper, spaghetti, Parmesan, Romano, Asiago and mozzarella.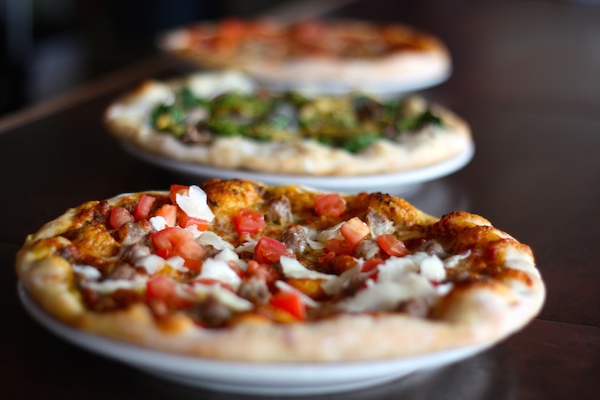 Transfer Pizzeria & Cafe
101 W. Mitchell St.
Milwaukee, Wisconsin 53204
(414) 763-0438
www.transfermke.com
Named after the old pharmacy where the pizzeria now resides, Transfer has an ideal corner spot, a hub for its intersecting streets. It's also developed quite the following for its live jazz nights. The pizza menu is extensive and is filled with traditional, garlic, veggie, seafood and specialty pizzas. The garlic section has eight pies that feature Transfer's signature garlic cream sauce, like the Garlic Special with sausage and mushrooms or the Roasted Potato Chicken. The pizzeria also promotes its gluten-free pizzas and beer from local providers.