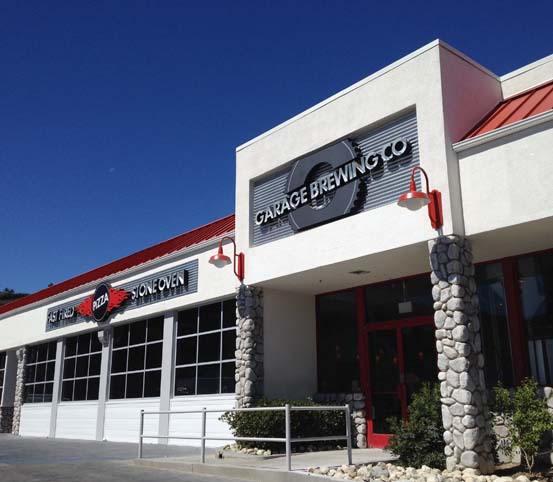 Garage Brewing Co. and Pizzeria
29095 Old Town Front Street
Temecula, California 92590
(951) 587-2537
www.garagebrewpizza.com
This newly opened restaurant combines craft beer and build-to-order pizza. Garage has a tasting bar and eight of the nearly 30 craft beers offered on tap are made in-house. The pizza menu features a Fully Kustome-Built Pizza for $7.99 with nearly 40 sauces, cheeses and toppings to choose from. Staff members offer up their own creations, too, like the Red Hot Mustang with buffalo and red sauces, buffalo Parmesan-edged crust, cheddar blend, chicken bacon and Ranch dressing.
Emporio
231 Mott St.
New York, New York 10013
(212) 966-1234
www.emporiony.com
Emporio's vaulted ceiling skylight spans its entire dining area, making for an impressive atmosphere. Reminiscent of a 20th century Roman grocery, the pizzeria features 13 Roman-style pizzas. The Speck and Mushroon is topped with smoked scamorza, ricotta and truffle oil ($18). The Tuscan Kale & Sausage features fior di latte mozzarella, pecorino and hot peppers ($16). Main dishes also highlight regional offerings, like the Berkshire Pork Belly with polenta, cipollini "agrodolce," and broccoli rabe ($23).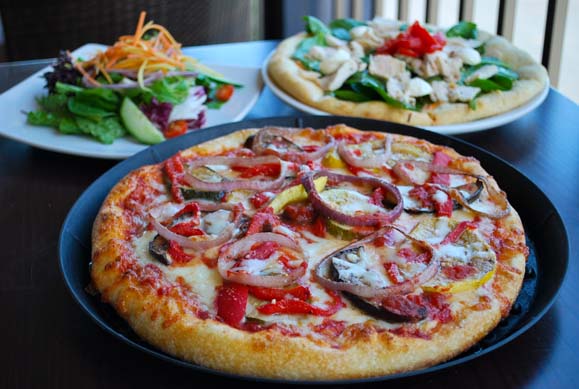 Blue Highway a pizzeria
2130 E. Silver Springs Blvd.
Ocala, Florida 34470
(352) 629-5555
www.bluehighwaypizza.com
Last year the family-owned pizzeria opened its third Florida location. Its diverse menu offers small plates, salads, soups, pastas and calzones. Blue Highway menus 14 specialty pizzas like the Abruzzese with tomato sauce, mozzarella, house-made meatballs, sliced roasted garlic, parsley and Parmesan on a thin crust ($11). The pizzeria also menus piadine — oven-baked flatbread that is topped with salad and folded like a sandwich. The chicken piadine is topped with roasted peppercorn chicken, spinach, roasted red peppers, fresh mozzarella, Parmesan, red pepper aioli and lemon vinaigrette ($10).
Broomelli Boys Pizzeria
760 Scranton Rd.
Brunswick, Georgia 31525
(912) 267-7075
www.broomelliboys.com
Broomelli Boys entertains its dine-in guests with off-the-wall table tents featuring pop culture and cult classic characters. The pizzeria also has a second location at a local mall. Its pizza menu consists of six pies. The Flyin' Hawaiian is loaded with ham, pineapple, white cheddar and jalapeños or banana peppers. The White has an EVOO base and is topped with feta, mozzarella, Parmesan, fresh garlic and oregano. Other menu offerings include salads, pastas, subs, signature Breadstyx and calzones. A popular sub is the Hot Italian Sausage (spicy sausage, green peppers, onion, marinara, mozzarella and Parmesan).