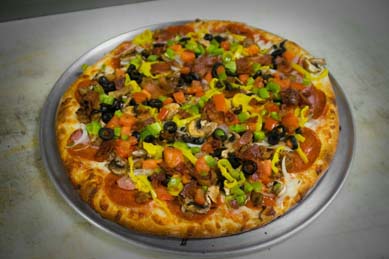 Palo Mesa Pizza
2790 S. Halcyon Rd. Arroyo Grande, California 93420 (805) 474-9924 www.palomesapizza.com
Palo Mesa prides itself on its house-made ingredients — sausage, meatballs, dough, sauces and dressings are all made on premise. The pizzeria also brines chicken breast and pickles jalapeños. With an influx of creative specials, Palo Mesa's specialty pizza menu is home to fan favorites like the Thai Chicken Pizza with grilled chicken, shredded carrots, cilantro, Thai peanut sauce and topped with crushed peanuts ($17.95 for a large) and A Hot Hawaiian with jalapeños, bacon, ham and pineapple ($17.95 for a large). Innovative pies garnered owner Michael Steven a Southwest regional title in the traditional division at the 2013 International Pizza Challenge during the International Pizza Expo.
Pizza Corner
92 Olani St. #1112 Kapolei, Hawaii 96707 (808) 380-4626 www.pizzacornerhawaii.com This Hawaiian resort pizzeria's Poke Pizza with Hawaiian style Ahi poke, lomi lomi tomato salsa, green onions, furikake and sesame seed ($27) took third place in the non-traditional division finals at the 2014 International Pizza Challenge during Pizza Expo. Another "local style"pizza on its menu is the Kalua Pork with fresh mango salsa, mango chutney, mozzarella and green onions. In addition to its limited regular menu, Pizza Corner features a weekly chef's creation. With a BYOB policy, the pizzeria encourages its customers to grab beer and wine to bring in and enjoy with their New York or local-style pizza.  
Rocco's Uptown Pizza & Pasta
2717 Howell St. Dallas, Texas 75204 (214) 871-9207 www.roccosuptown.com This pizzeria is a "go-to" spot for young urban professionals with a majority of business coming from carryout and delivery. With its young clientele, Rocco's has a text program, mobile apps and online ordering. Bonus: its liquor license allows for beer delivery. Rocco's also has thriving late-night sales in trendy uptown Dallas. Its menu is diverse with 16 specialty pizzas, 20 pasta entrées and a variety of appetizers and salads. The Sausage Alfredo Pizza is topped with Alfredo sauce, Italian sausage, mushrooms, sun-dried tomatoes and garlic ($18.95 for a 16-inch). Its Lasagna Pizza features ricotta, seasoned ground beef, mozzarella and marinara ($18.95 for a 16-inch).
BOP Brick Oven Pizza
800 S. Broadway Baltimore, Maryland 21231 (410) 563-1600 www.boppizza.com BOP's Web site boasts testimonials from the likes of Kevin Bacon, the late George Carlin and Talking Heads founder David Byrne. The picturesque restaurant sits a block away from the Chesapeake Bay in the quaint Fells Point area. Fittingly, it serves up the White Clam pizza with a garlic sauce, mozzarella, Parmesan, Fontina and ocean clams on its regular or thin crust ($15.95 for a 14-inch). The pizzeria offers a tiny BOP lunch special, which includes a six-inch two-topping pizza, garden or Caesar salad and small drink for $6.75.