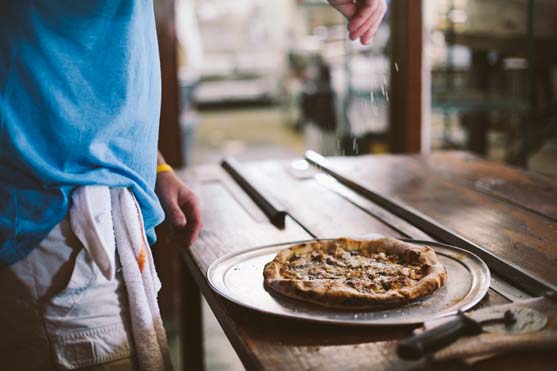 Post Office Pies
209 41st St. South
Birmingham, Alabama
(205) 599-9900
www.postofficepies.com
Recently named in Thrillist's "33 Best Pizza Shops in America", the wood-fired pizzeria's chef and co-owner John Hall was also featured in the New York Times for taking his culinary talents back to the small southern city. With just over a handful of specialty pies, offerings like the Swine (tomato sauce, pepperoni, house-made pork sausage and bacon — $16 for a 12-inch) have already gained mouth-watering reputations. Several toppings are available on its build-your-own-pie option, but there's a three-topping maximum. The pizzeria offers seasonal salads that change depending on produce that is available locally and in season. In the fall, the Brussels Sprout and Kale Salad ($9) with bacon, crushed red peppers and a red wine vinaigrette made an appearance.
All Star Pizza Bar
1238 Cambridge St.
Cambridge, Massachusetts
(617) 547-0836
www.allstarpizzabar.com
The Inman Square pizzeria takes a funky and fun approach to pizza. Its 16-inch thin-crust is a canvas for All Star's pizza concoctions with daily specials, including featured veggie and vegan creations. A build-a-pie option offers 36 toppings from the traditional to obscure, like jerk-roasted jack fruit, duck confit  and roasted sunchokes. Black mission figs are the stars of the popular Ms. Piggy's Fig ($22), pairing with goat cheese, prosciutto, pistachio gremolata and mozzarella on a white sauce base and finished with sweet-fig balsamic drizzle. There's also the Atomic Meatloaf Meltdown ($22) with white sauce, pepper jack cheese, mozzarella cheese, red onion jam and hot sauce.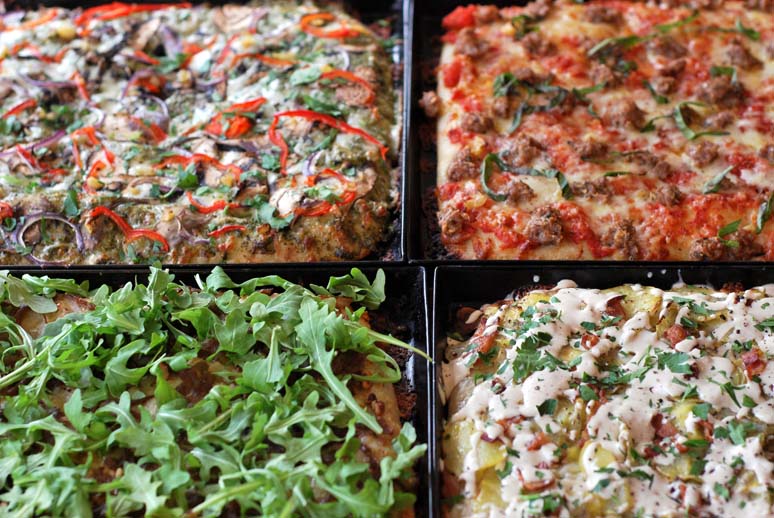 Goat Mountain Pizza
215 W. Holly St.
Bellingham, Washington
(360) 510-6336
www.goatmountainpizza.com
This communal spot serves up its Roman-style pies by the inch and customers pay-by-the-weight. Its fans flock to the brick-and-mortar location, as well as its rustic mobile wagon unit. Goat Mountain is also known for its unique pizza combinations that change daily. A recent pick includes a pizza with broccoli, roasted garlic, roasted delicate squash, balsamic reduction and chili flakes. Seasonal creations like the Oktoberfest with house-made Italian fennel sausage, caramelized onions, Dijon cream sauce, pickled jalapenos and arugula have also been featured. A staple pie is topped with house-made garlic & fennel sausage, mama lils pickled peppers, aged mozzarella, grana padano, parsley and red sauce.