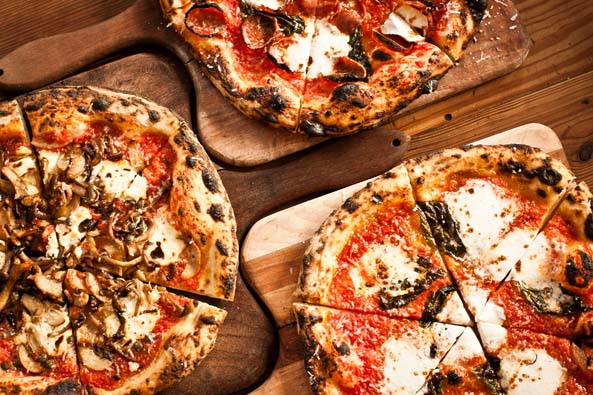 The Backspace
507 San Jacinto Blvd.
Austin, TX 78701
(512) 474-9899
thebackspace-austin.com
Residing in a restored 130-year-old building, the pizzeria's interior is rustic with vintage hanging church lights over the bar, wagon wheel wall décor and stools made from old wine barrel staves. Add intimate seating for 30 and The Backspace is a hip, casual spot in downtown Austin. Its menu offers seven Neapolitan-style, wood-fired pizzas, antipasti and an all-Italian wine list. In addition to the Marinara ($11) and Margherita ($13), the Roasted Mushroom ($14) is topped with ricotta, tomato, caper and thyme. The House Guanciale ($15) is accompanied by charred onion, mustard greens and mozzarella.
Blind Lady Ale House
3416 Adams Ave.
San Diego, CA 92116
(619) 255-2491
blindladyalehouse.com
Co-owner Clea Hantman uses her VPN certification as a base to create Blind Lady's own pizza philosophy with an emphasis on locally grown produce and house-made sausage, chorizo and ciccoli. The House Chorizo pizza is topped with Poblano chile, fontina, epazote (a Latin herb),
tomato sauce and Cotija cheese ($14). The Egg & Bacon features egg, bacon, Swiss chard, caramelized onion, Pecorino Romano, fontina, tomato sauce and truffle oil ($13).
My Father's Pizza
110 Cherry St.
Black Mountain, NC 28711
(828) 669-4944
www.myfatherspizza.com
Set in the Blue Ridge Mountains, the family-owned and -operated pizzeria offers a popular, spacious patio to take in the views and the quaint downtown shopping district. Its interior is dominated by wood and stone with ample seating in two rooms. Its craft beer list highlights North Carolina breweries. The pizzeria's menu is comprehensive with 10 salads, nine appetizers, a dozen pizzas offered on traditional, thick crust or gluten-free crust, more than a dozen hot oven subs, stromboli, pastas, desserts and seasonal specials. Gourmet specialty pizzas include the Skinny Pig with applewood smoked bacon, caramelized onion, cracked black pepper and Asiago on an oil and garlic base. After it is  baked, the Skinny Pig is finished with arugula and balsamic vinaigrette (12-inch for $13.40).