Ranger Joe's Pizza in Kalispell, Montana proves a pizza worth traveling for
Ranger Joe's Pizza in Kalispell, Montana is a destination pizzeria in Montana centered around what the state known for adventure. The pizza company's brand is on point with its adventurous theme. But first let's explore a gallery of photos provided by Ranger Joe's Pizza showcasing the concept, design and branding.
Ranger Joe's Pizza Concept & Branding Photo Gallery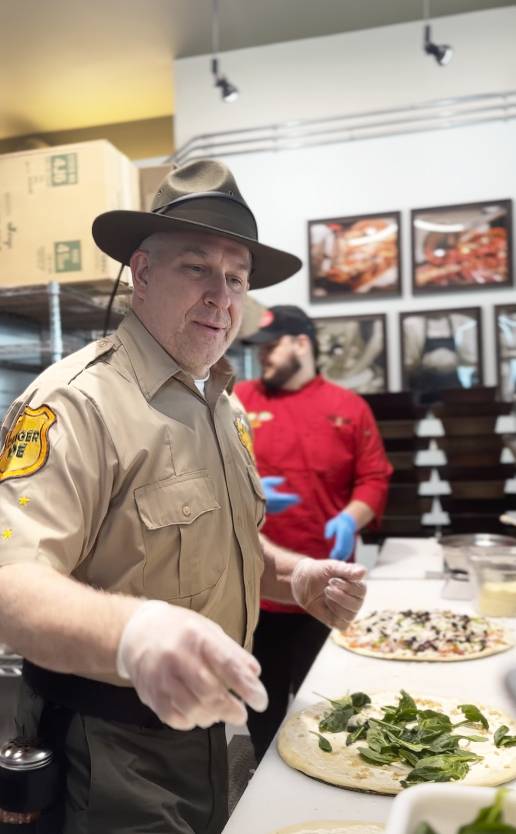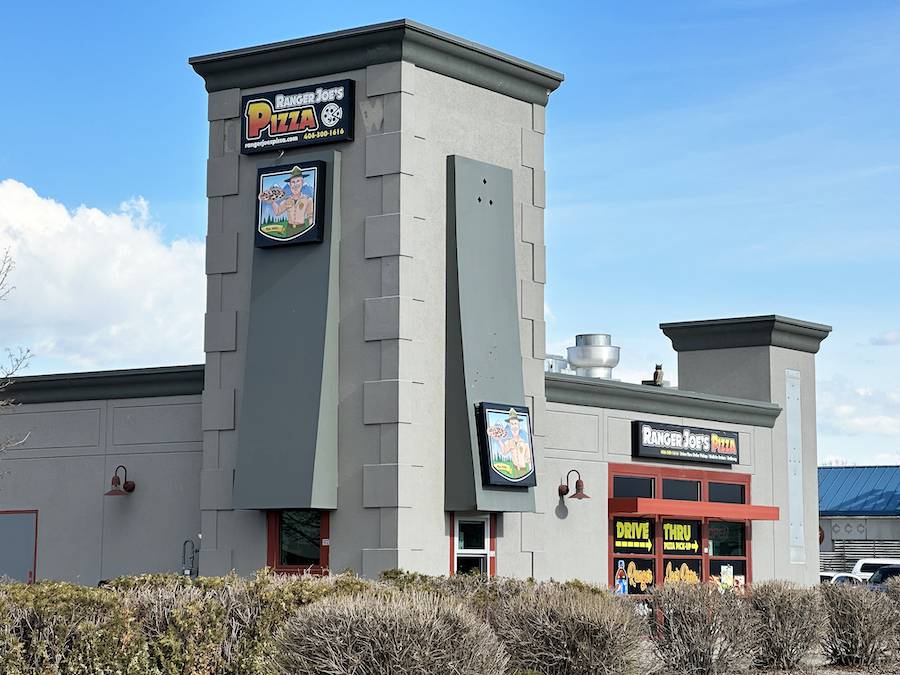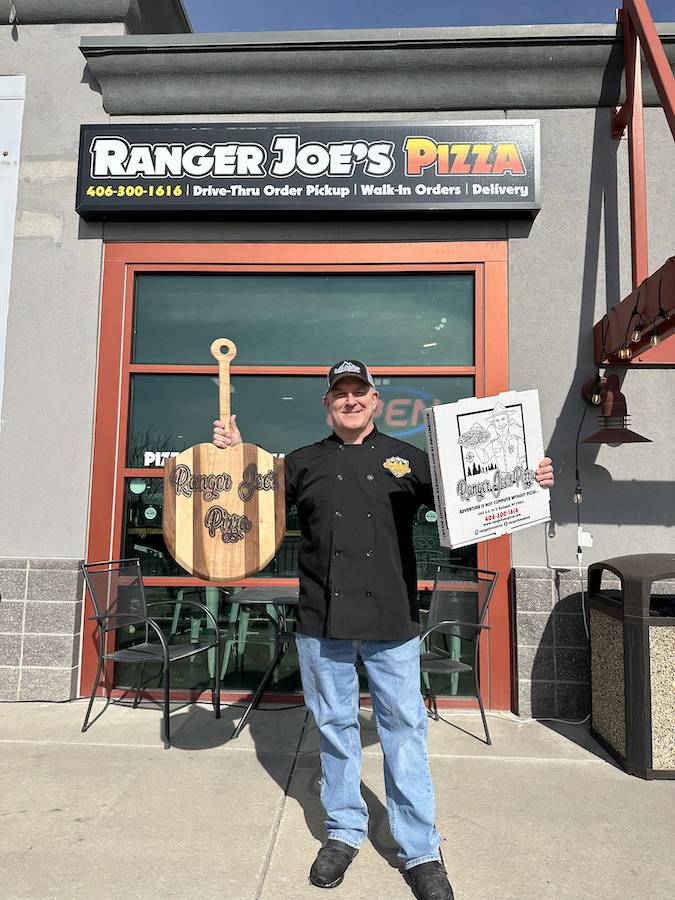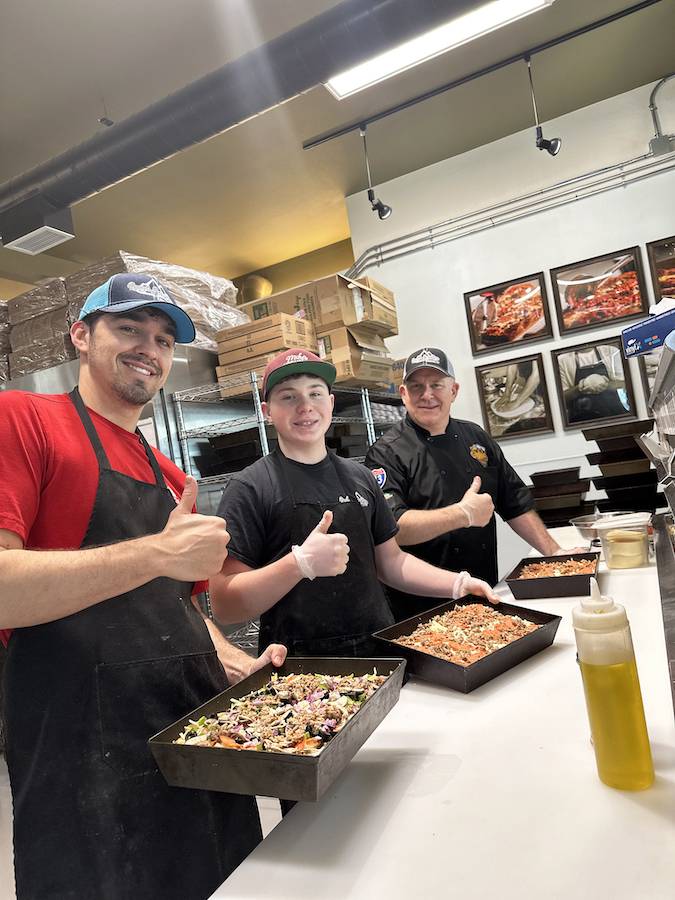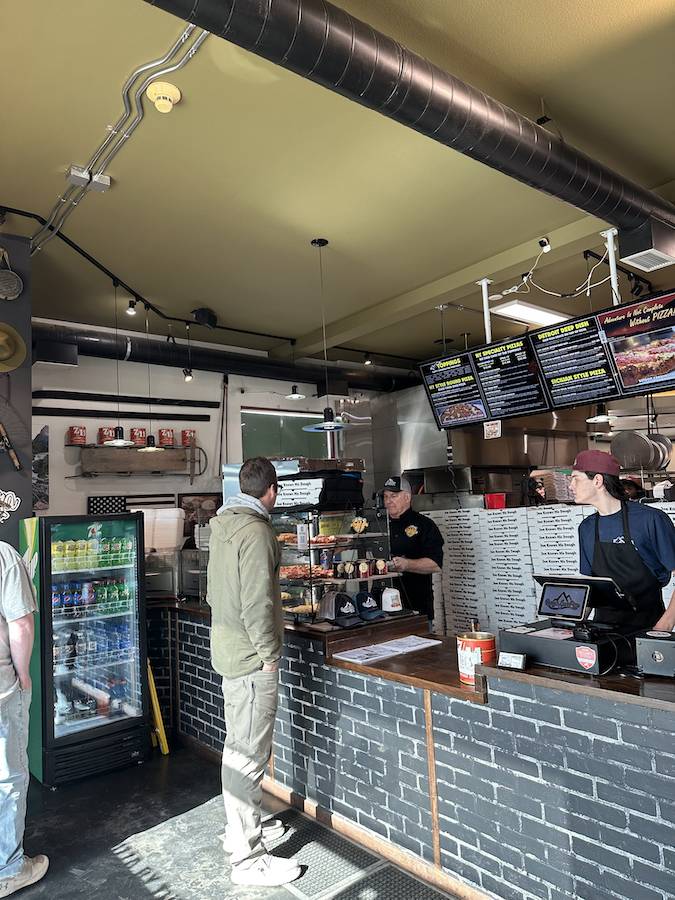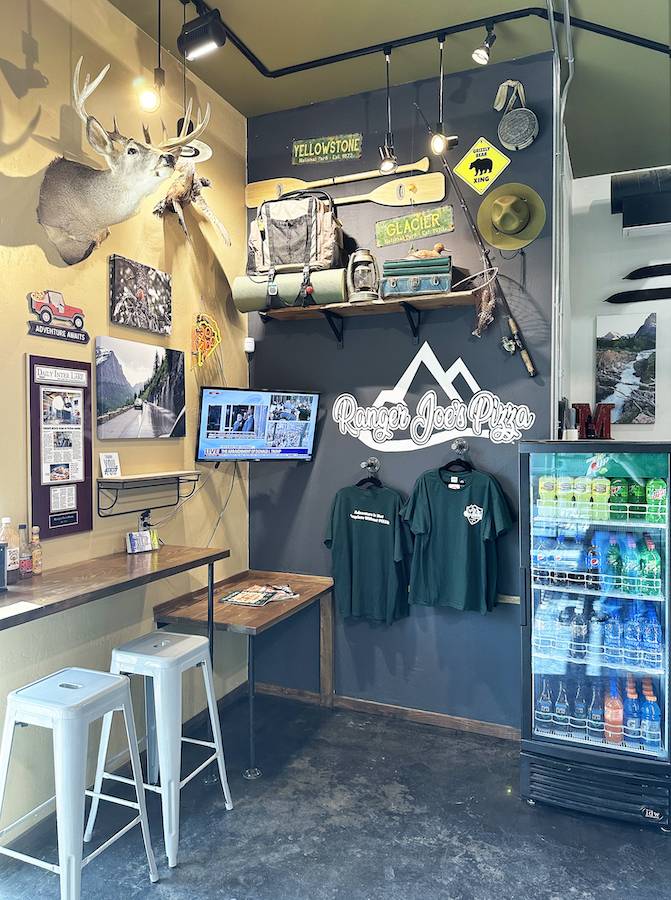 Branded Pizza Peel and Boxes
Thumbs Up from the Pizza Markers
Discover Ranger Joe's Pizza in 3 Questions and Answers
We asked owner Joe Ledwidge three questions about his unique pizza spot to learn more about the pizza company's concept, the pizzeria's branding, pizza styles and its pizza menu.
1.) What defines your restaurant and makes you stand out?
Our theme is the outdoors with adventure at the center of our décor. Our slogan is "Adventure is not complete without PIZZA!" It was themed after a hike me, my sons, nephews, son-in-law and friend went on in Glacier National park here in Montana in 2017. It turned out to be more elevated and challenging than we expected. It was 13 miles round trip, the hottest summer in 10 years. Through it all, I kept everyone motivated and led the pack all the way through black bear and grizzly country. Once back the next day, I was ceremoniously promoted to "Ranger Joe" for keeping all motivated and focused on completing what we set out to do. The pizza shop has the original hiking gear from that day adorning the walls. We also have animal mounts, park signs, fishing gear and other adventure decorations to give it that outdoor feeling when you walk-in.
2.) Tell us about your pizza style(s).
We have three styles: NY hand tossed, Detroit Deep Dish and Sicilian style pizzas. We also have calzones, cheese breads and mountain cinnamon sticks desert.
We are the only pizza shop offering Detroit Deep dish and Sicilian style in the Flathead Valley.
We have customers that drive from Missoula, which is over 100 miles away just for our pizza.
We cold ferment our dough in the walk-cooler on average from 2-4 days in order to develop the outstanding flavor of our pizza crust, we cook our sauce in house with a secret blend of spices and we cook our Italian sausage in-house which our customers really appreciate. We've been doing it this way since the 80's when my parents owned their pizza shops.
We have a slice bar that offers all our styles of pizza to get that quick fix for RangerJoe's.
3.) What pizza menu item do your fans go crazy over and describe it?
The "Big Fork" which is a Detroit Deep Dish pizza with mozzarella, provolone, triple cheese mix for the edges, Pepperoni, Sausage, onions and topped off with pizza sauce, ricotta dollops, parmesan/Romano cheese and Mike's Hot honey drizzled on top.
The "Honey Bear" which is a NY hand tossed pizza with a white Alfredo based sauce, garlic. Spinach, Italian sausage, mozzarella and provolone cheese and finished off with Rosa Grande "Cup and Char" pepperonis. Once out of the oven it is sprinkled with more parmesan cheese and topped with a light drizzle of Mike's Hot honey.
The Pizza at Ranger Joe's Pizza Photo Gallery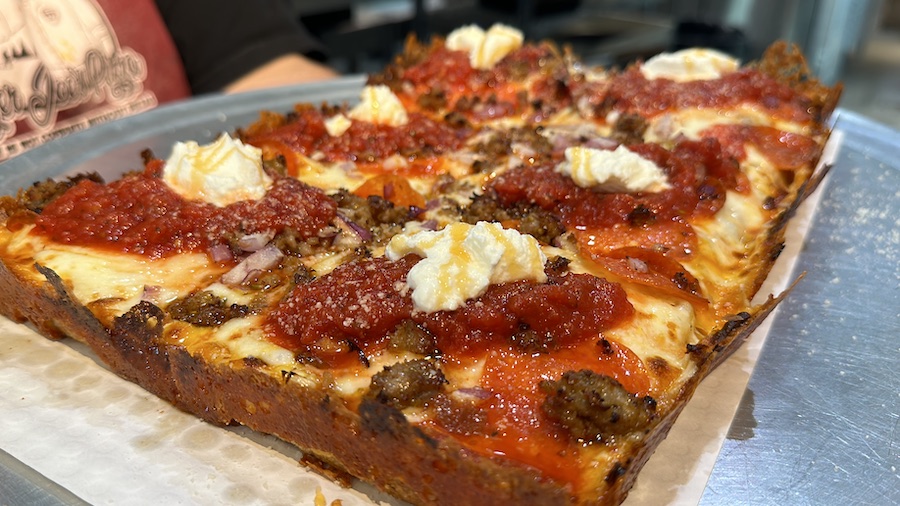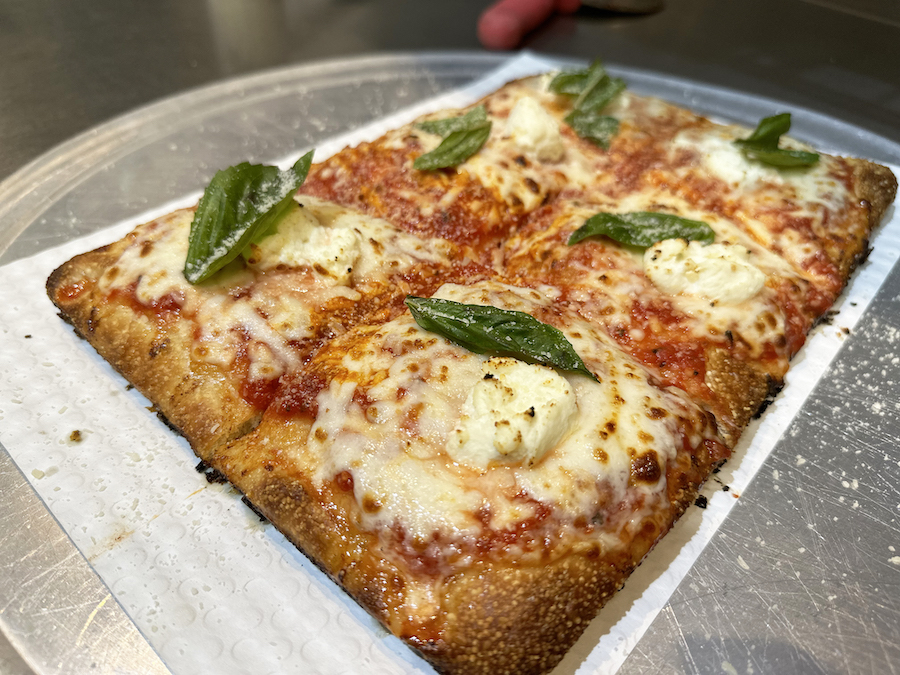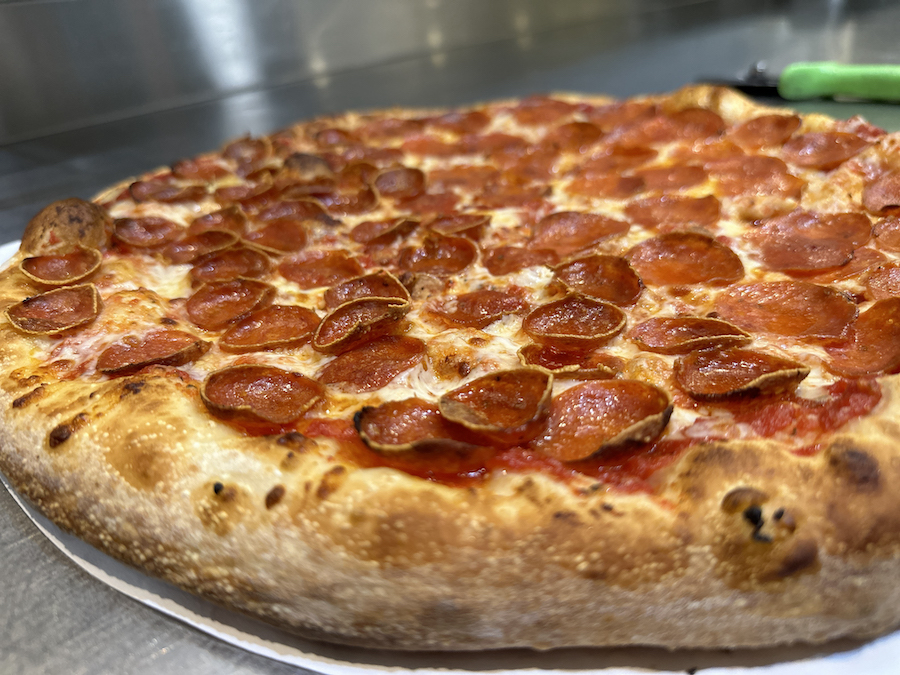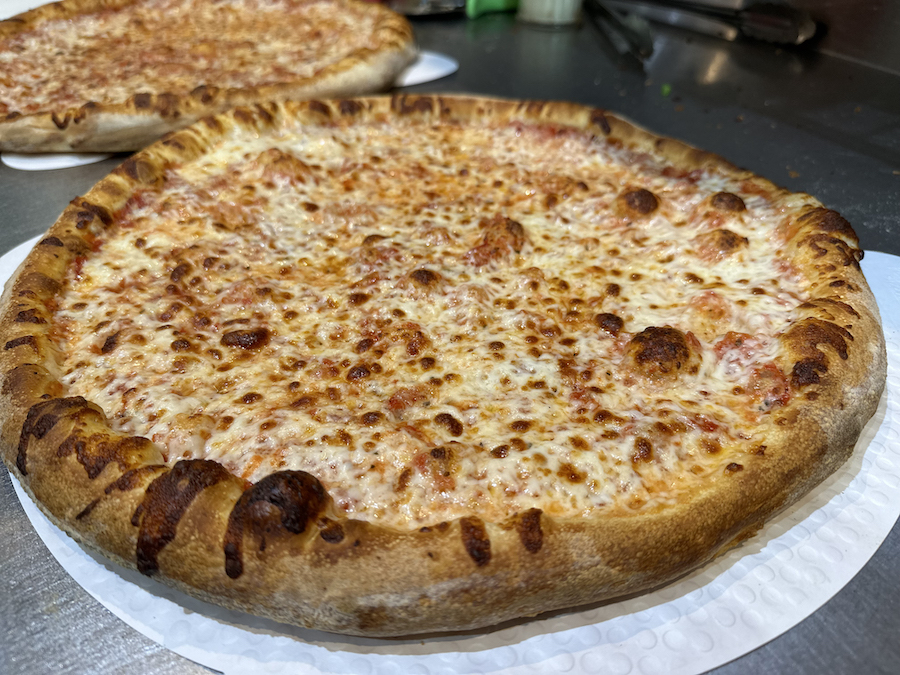 More US Pizza Destinations
A look at two other unique pizzerias in the U.S. that people are traveling to. They provide unique setting, pizza products and a concept to make desired "must visit" pizza places.
It's a local haunt, literally. The pizzeria resides in the basement the old Sacred Heart Hospital and is rumored to have ghosts roaming its halls. The gothic 1915 building makes for a unique setting for a destination pizzeria. The pizza pub features a honed in menu of appetizers, salads and pizza. The apps menu highlights the house-made East Hill Hummus topped with feta, tomatoes, and served with house-made flatbread. The pizza menu spotlights the Ponderosa Stomp with cheddar, bbq sauce, roast chicken, bacon, green peppers red onion and a drizzle of honey. The menu also suggests trying the pie with cream cheese and jalapenos. The Pesto Vecchio is topped with ricotta, Roma tomatoes, mushrooms, artichoke hearts and basil pesto.
Nicky's was recently dubbed on of Tennessee's best pizzas by EnjoyTravel. The coal-burning pizzeria is a rarity in the state and its sourdough starter makes its pizza a standout. The counter-service spot serves up Italian dishes. There is even a bagel shop. Nicky's offers a special vegan menu, featuring the Be Hive Zaza with red sauce, plant-based pepperoni and mozzarella. The pizza menu highlights That's Hot with spicy Italian sausage, hot giardiniera, garlic, mozzarella and grana Padano. There is also The Goat with spinach, whipped goat cheese, prosciutto cotto and smoked provolone.