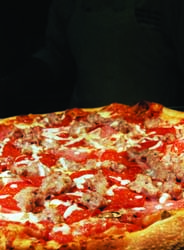 Calfornia-based Frankie, Johnnie & Luigi Too! has one of those storied histories dating back to the 1950s when a Connecticut native moved West and opened a pizza parlor.642-427
He was later joined by Frank D'Ambrosio Sr. Fifty years later, D'Ambrosio's sons, Don, Nick, John and Frank, now man the helm of Fulfillment Systems Inc., the holding company that owns and operates six restaurants throughout California and a sausage company their father founded (taking it from 600 pounds a day to 30-40 tons a day. That same sausage is used in their restaurants as well).
Dig below the surface of the corporate entity, though, and you'll find that Frankie, Johnnie & Luigi Too! with three stores under it's umbrella, is more than a slick package. It's an old fashioned Italian dinner house, the kind the brothers most likely grew up in as kids. From the red checkered tablecloths to classic dishes like Veal Scaloppini Marsala and Rigatoni e Spinaci, Frankie, Johnnie & Luigi Too! is Italian through and through, exactly what its owners want. And given its sales of $15 million a year –– a far cry from its initial $22 first-day sales –– they seem to be doing it successfully. (Fulfillment Systems also owns two units know as Giorgio's and a fine dining establishment as well.) "The concept is so identical, says John D'Ambrosio, who serves as the company's CEO. "The only difference is that Frankie & Johnnie's are in freestanding buildings and Giorgio's are in in-line shopping centers. Their menus are identical (and) the operations are identical. We always talk as if they were one."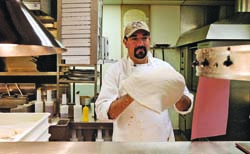 Frankie, Johnnie & Luigi Too! offers dine-in and "a tremendous" carryout business, but does not offer delivery, D'Ambrosio says. "We didn't want the hassle or the liability. Also, I'd rather have people pick up food and then they see the other foods. I think it's almost a better marketing tool to get them in the stores and see what else we offer."
D'Ambrosio cites a major point of difference that sets Frankie, Johnnie & Luigi Too! aside from its competitors –– unlike many other pizzerias, Frankie, Johnnie & Luigi Too! is a full-service concept. That includes table service and a full bar at each of the stores.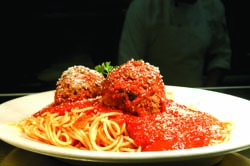 Why full service over a less laborintensive counter service concept? "It just wasn't our mentality," D'Ambrosio says. "I just always hated it. It was cold, it was impersonal –– it just wasn't us." D'Ambrosio and his brother, Frank, keep a fi rm hand on quality and control, and that has kept the concept initially small (read on to learn more about upcoming expansion plans).
"Some guys don't care about control. They just care about growth and having an exit strategy," D'Ambrosio says. "I think this is the key: my brother Frank and I –– and my other brothers, too –– I think have a genuine sense of hospitality and that's why we couldn't do the self-service thing. It goes back to when we were kids and you'd invite somebody in with 'Come in, sit down and I'll get you a cup of coffee.' I think with a genuine sense of hospitality and a genuine sense of urgency of getting the job done and making sure things are done right, you move a lot slower. You delegate maybe a little less and when you try to keep your standards high, you don't grow too fast."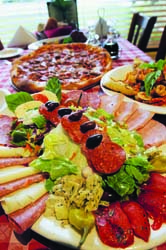 Like many operators, D'Ambrosio says staff training "is much more difficult today than it was 20 years ago. It takes a lot longer to train staff … you have to educate them on the food, how to sell it and how to serve it. It's very difficult to find people who view it as a profession."
In the past, D'Ambrosio has tried sales incentives as a retention tool, but ultimately "you just hire the best attitude we can, we try to train them the best we can, we try to follow through with that training … and then we monitor the best we can."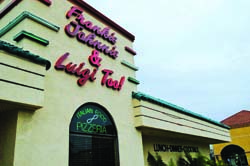 The crown jewel of Frankie, Johnnie & Luigi Too! is its menu. This is no simple pizza and pasta set-up. Instead, diners can enjoy a meal of Calamari Fritti (Semolina herb-crusted squid served with cocktail and tartar sauce at $9.50), Baked Salmon Risotto (oven baked salmon served over risotto with onions, artichoke hearts, red bell peppers, mushrooms, green onions and sun-dried tomatoes at $11.95), oven-baked manicotti (stuffed with herbed ricotta and topped with creamy pesto, béchamel and marinara sauces and served with spinach aglio olio at $9.50) and topped off with tiramisu or cheesecake.
And while those dishes might seem high-brow to many Pizza Today readers, make no mistake: pizza is king here too, with specialty gourmet pizzas like Johnnie's Favorite (pesto, roasted chicken, roasted red bell pepper, artichoke hearts, black olives, bruschetta tomato, ricotta cheese and mozzarella cheese at $24.95 for a 16-inch large) sitting along side staples like barbecue chicken ($19.95 for a large) and pepperoni ($18.50). Pizzas are baked in a rotary oven which affords more room in the kitchen.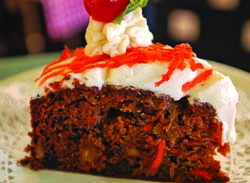 Being a full-service restaurant extends to the full bar, which D'Ambrosio says is an accommodation to his guests, with hard liquor becoming a larger part of the restaurant beginning about 10 years ago.
"Sometimes you might lose a party because you don't serve cocktails," D'Ambrosio adds. Still, he says that hard liquor sales are low compared to beer and wine in his establishments. (Alcohol accounts for about 10 percent of sales).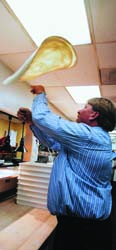 With six stores in all under their belts, is expansion in the company's future? "We were going to expand in the Central Valley on a 5-year plan to do about 15 stores, but as everything started turning to hell in 2001, 2002, I pulled the reins back in wondering if it was the right time or not and it was a good thing I did," D'Ambrosio says. "Now is the time to re-implement that plan of expansion.
"Business is like a tomato. You can't let it ripen because then it rots and falls off the vine. You've got to keep it green. We've got so many tenured people in our system that we've got to keep it moving for them to move up, or we'll lose them."
D'Ambrosio says he hopes to open three more stores and is developing a fast food concept that will pair the company's signature pizza with offerings using the company's sausage.
Bottom line, the D'Ambrosio family has weathered much in their 50 years in the restaurant industry, and John says there are several factors to that success. First, "it's a balancing act of putting away money in the good times, because you know there are going to be bad times," he says. "Another big challenge is keeping up on store maintenance … they wear out. You have to keep them fresh and keep them alive."
Maintain food quality and keeping the menu fresh to avoid recipe erosion are also critical elements to longevity. "If you have good food and good service at a moderate price in a clean, friendly atmosphere, they will come," D'Ambrosio says, "and that has not changed since the first restaurant in Ithica 6,000 years ago."?
Mandy Wolf Detwiler is managing editor at Pizza Today.642-432