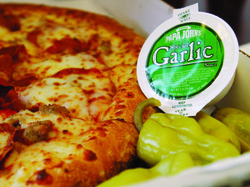 Recently, I had a phone conversation with Arjun Sen, formerly the vice president of marketing and operations services at Papa John's Pizza. Prior to that, he was manager of marketing research at Pizza Hut. Today, he's a consultant with a dizzying grasp of detail. For example, he can show you a mind-numbing flowchart listing more than 500 areas in your pizzeria that can be isolated, examined and improved. That's right — 500. Here are three cherry-picked eyeopeners from our hour-long interview:
Do small things in a big way. Arjun waxes poetic about John Schnatter of Papa John's fame. He describes John's undeniable love of making pizzas and passion for the business. Even on store visits, John would pull up to the make-line, grab a doughball and start knocking out some orders. Arjun says of Papa John's: "The company culture revolves around the word 'focus'."
Papa John's, says Arjun, focuses intently on "little things." Rather than execute a "10" idea at a "3" level, they'd rather execute a "3" idea at a "10" level. Think about that for a minute. They'd rather over-deliver on a small thing than under-deliver on a big thing.
After all, a tub of garlic dipping sauce and some pepperoncini isn't really an Earth-shattering "10" idea like "30 minutes or it's free" delivery was for Domino's. Yet it is something different, simple, and easy to accomplish time after time. And in the real world of high employee turnover, being able to consistently deliver on a few simple things turns into a distinct advantage.
When worlds collide. When marketing makes a promise that operations cannot deliver, the result is frustration. Marketing, of course, wants a driver to be properly dressed, smile at the doorstep, deliver a piping-hot pizza and make a great impression on the customer.
Operations, on the other hand, has a different agenda. They want to maximize productivity from every dollar spent on labor. So, they want that same driver to help inside the pizzeria (uniform might get dirty), take as many deliveries at one time as possible (not all will be piping-hot) and not to dally at the door (customer service suffers).
Do you make a promise in your marketing that is problematic to deliver on? Do you really have the "best" pizza in town, or would you be better off promising speedy delivery or family friendly prices?
According to Arjun: "Marketing a fantasy message that will connect with customers without taking into account whether operations can fulfi ll the promise has no other choice but to cause disappointment. Identify what you can offer, that customers love, that will differentiate the brand, and that you can actually accomplish over and over."
Why haven't you called? When do you decide to go out on a second date? A day after the date? A week? Two weeks? No, you decide on having a second date while on the fi rst. And Arjun uses this analogy to impress upon pizzeria owners the absolute necessity of making sure a customer is so pampered during each interaction with you. You want them, subconsciously, to decide to return before they even taste the pizza. Hopefully, the latter will reinforce their decision and bring it to the forefront of their minds. Arjun's message here is simple: "Treat each customer visit as though the next one depends on it."
So, to recap, make sure you do little things in a big way. See that your marketing message is on the same page as your operational strengths. Treat each customer as though they were the love of your life. Three easy steps you can put into practice today!
Kamron Karington owned a highly successful independent pizzeria before becoming a consultant, speaker and author of The Black Book: Your Complete Guide to Creating Staggering Profits in Your Pizza Business. He is a monthly contributor to Pizza Today.