In order for their staff to stand out, operators should consider what their staff is wearing. Are the employees easy to spot? Are their shirts clean and wrinkle-free? Are their shoes appropriate? Do they look professional? Are their clothes accurately representing the image and style of the restaurant? What do customers see when they look at your staff? Because a picture is worth a thousand words, what the staff wears sends a message about a restaurant. Operators should make sure that message is the right one.
"Uniforms are a very important branding element. It is a great way to further your brand, and a great way to show the culture of the restaurant or reinforce the style of the restaurant," says Kimber Johnson, creative director with Lamb Creative and partner with 360 RDD in Scottsdale, Arizona. "You decorate, create menus … uniforms are an inexpensive way to almost decorate your restaurant."
Ron Santibanez, founder and president of Profit Line Consulting in Moreno Valley, California, agrees that "uniforms play an important role in the branding of any restaurant."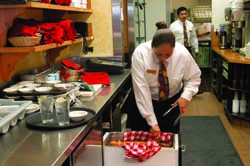 Uniforms should make spotting an employee easy, because hungry customers want service fast. Uniforms are not just pretty, either — they can put the focus on the good work of good workers.
"Sharp-looking uniforms possibly attract better employees," Johnson theorizes. "When you look better, you feel better. Looking sharp — go 120 percent of the way — presenting yourself well is in your best interest. You are at a disadvantage if you don't do uniforms, because the other guy will."
When choosing the type of uniform, whether it is dress shirts and ties or t-shirts and caps, or something more extravagant, operators should keep their employees' comfort and budget in mind. No one enjoys working in uncomfortable conditions, and that includes what clothes are made of and how well they take a beating in the washer and dryer — because an employee who lives on tips cannot afford to keep replacing a poor-quality uniform.
"We live in fashion forward times. There is more opportunity to dress your staff, more brands, and more options. It's a good time to put your staff in great-looking uniforms; ten years ago it wasn't like that," Johnson says, adding that seasonal temperatures like 115 degrees during an Arizona summer can dictate some uniform choices.
"Regarding the life of uniforms, pick options that are going to wear well; good brands, good fabrics that are not going to shrink in the wash. Make smart choices with uniforms, because your employees will appreciate it. Give access to products they won't have to replace all the time. Blends tend to be better, but it depends on where you are; some, like the all-cotton, are driven by climate and culture," Johnson says.
Asking questions while concentrating on the staff's needs will help operators find the right uniform. Uniforms should be a perfect fit for all the employees.
"Companies tend to design the uniforms for the female; they assume they'll have a female wait staff. You can find a good balance with your employees — different shirts for males and females — not exactly the same, but complementary," Johnson says. Establishing a dress code policy is also important when it comes to uniforms. Operators may consider addressing issues and making rules on things such as piercings, tattoos, footwear, use of perfume or cologne, even make-up and hairstyle in the dress code policy.
"Dress codes should be established so that employees cannot add accessories that distract from the overall appearance. Uniforms should be replaced when they appear worn," Santibanez said. Johnson agrees with making the dress code clear and well-documented by posting the uniform designs and policy where the staff easily can see them.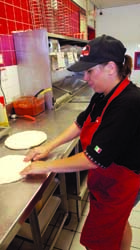 "It's important that the employer stick to the specs. Make people go home and change. Make policy, document it, and implement it so there are no questions," Johnson says. Although establishing a dress code policy is essential to producing a successful uniform, operators can change the uniform itself when the time is right.
"It is reasonable to change it up. Uniforms are not the same as a logo," Johnson said.
Specific uniforms can dress up or dress down a restaurant's image. And with so many options from all-cotton to fabric blends, t-shirts to polo shirts with baseball caps to button down dress shirts with ties, operators can design the uniform that best fits their restaurant. Even a general dress code like white shirts and black pants or red shirts can help operators define the look of their staff and promote their restaurant's image. Because when a staff stands out in a positive way, customers will sit down ready and eager to be served. ?
DeAnn Owens is a freelance writer based in Ohio. She specializes in features.