I In these increasingly competitive times, standing out has become more important than ever. Offering top-notch food and service is the first step, but sometimes you've got to take it a little further. Featuring live entertainment may give you the edge you need to move ahead of the pack.
Need convincing? Consider Brian Hogan, co-owner of Shorty's Pizza. Hogan and his partners have two Georgia locations, one in Atlanta and one in Tucker. They offer live music and dancing at the Tucker restaurant.
When building out the Tucker site two years ago, they realized there was room for a stage and decided to go for it. Their motive? They wanted to find a way to keep people staying in their seats and to also attract an after-dinner crowd. "In a small town, the dining tends to end early," explains Hogan. "People leave around 9:00. Live music offered us a way to get a new group in (the bands don't start until 9:30) and to keep people here longer."
Then there is the appeal of becoming a destination point, and offering customers in this hard-pressed economy more value for their dining dollar, says Phil Willis, owner of Mission Pizza & Pub in Fremont, California. Willis has offered live music for 15 of the 20 years he's been in business. This (along with his high-quality product, he is quick to add) has helped him turn customers into steady regulars. In fact, says Willis, they're in a growth mode; business is up 10 percent over last year.
Live music also leads to higher ticket prices, says Maria Fiore, co-owner of Café Fiore, in Ventura, California. She has offered live music and dancing since "day one," five years ago. Although table turns may slow down a tad, this is more than compensated for by the fact that people generally stay longer and spend more money, says Fiore. Willis agrees. "Most people tend to order more drinks," explains Willis, whose restaurant serves beer and wine only. "And there is no labor involved in opening up a bottle of beer, so the margins are very good."
Locating talent isn't difficult, say these operators. Once your first band hits the stage, the rest is a breeze. "If you offer music, the people find you," says Hogan. "I could fi ll up every night of the week with bands." Mark Langley, owner of Clifton's Pizza in Louisville, Kentucky, says when he first opened 19 years ago (he's offered live music from the start) he found musicians by going to other places that offered entertainment and also through word-of-mouth and customer suggestions. Now that he's firmly established, the musicians come to him — and he has the stacks and stacks of audition CDs to prove it. In fact, he adds, sometimes the number of people approaching him about playing can be a little overwhelming.
But thanks to the Internet, checking out musicians and getting a feel for how they fi t with your restaurant has gotten easier — every band has a MySpace or Facebook page, says Fiore. She tries to go with local musicians as much as possible because these bands tend to bring in their local followings.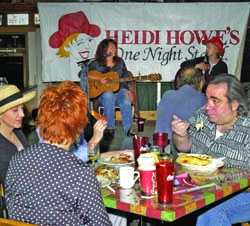 Hogan likes to use local bands also, although he also features "national bands" on his stage.
"We've found a niche," he explains. "If you can find local bands that have a lot of friends, but they don't play more than several times a month so there aren't that many venues where their friends can go to see them play, you can really draw in a crowd." (See sidebar for additional suggestions.)
Live entertainment can be very affordable, says Langley, adding that a small percentage of his operating budget is devoted to this. Featuring a single or a duo is one way to go (he offers dinner-type music, such as acoustic or jazz combo). Langley also invested in a sound system, which allows him to bring in bands pretty cheaply, since they don't have to provide their own.
Willis doesn't pay bands (his lean is towards country and blue grass). Instead, he guarantees them $100 in the tip jar and provides dinner and drinks. Fiore has top-40 bands playing Thursday through Saturday and does pay them. She estimates about 10 percent of her operating budget goes to entertainment, but says that live music brings in at least 30 to 40 percent additional revenue.
Hogan's strategy depends on the band. "If a band approaches us, we offer them $100 and let them decide what to charge at the door and let them keep that," he explains. "But for others, we've paid as much as $2,000."
For pizzeria operators considering whether to offer live music, Langley advises that they have to be ready to stick with it. "There are times when it's not profitable and the musicians are playing to an empty room," he says. "Then there are times when it is. You just have to take the good with the bad. But this has helped us stay competitive. Even in this economy, we're still pulling people in. In fact, we just had one of our busiest Saturdays ever."
Also, unless the musicians stick to original work, you'll have to carry licenses (ASCAP and BMI), says Willis. Otherwise, you'll face stiff fines. ?
Making Music Work
You're a restaurant first; music is a value-added component, so make sure it doesn't overwhelm your primary business. Maintain control by:
? Investing in your own sound system, says Willis. This way you, not the band, control the volume. He purchased his in parts on eBay. Keep it simple, says Hogan. "Lots of people try to overdo the sound system," he says. "But the more complicated it is, the harder it is to use." His before-buying advice? Ask musicians what they like.
? Matching the music to your clientele and ambiance/noise level. Remember that certain types of music can inspire unruly behavior, especially when alcohol-fueled.
? Getting to know the local music scene. What bands draw the crowds, and what kinds do they attract?
Pamela Mills Senn is a freelancer specializing in writing on topics of interest to all manner of businesses. She is based in Long Beach, California.