The state of the U.S. economy is no laughing matter, but pizzeria operators are serious about remaining profitable in the face of the recession. That's the message that came out of International Pizza Expo 2009 this spring. Nearly 5,700 operators attended the 25th Anniversary edition of the show at the Las Vegas Convention Center March 10-12, and their overriding mission was to propel the industry forward with the help of vendors and industry experts.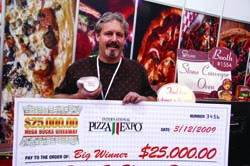 "The show was a smashing success," says Jeremy White, Pizza Today's editor-in-chief. "I'm sure a lot of people, particularly exhibitors, walked in not really sure what to expect. The number of pre-registrations were lower than in recent years, and that was a direct reflection of the doom and gloom we're hearing about in the daily news. But what's going on in the financial world didn't deter pizzeria owners from turning out in near record numbers."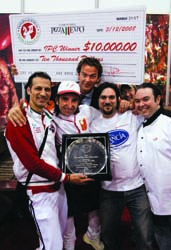 In fact, International Pizza Expo 2009 turned out to be one of the largest shows in the Expo's 25-year history. When asked why he thought the turnout was so high, White pointed to the resilience of pizzeria owners.
"These people don't have the backing of large corporations and investors with bottomless pockets," he says. "They've built their small businesses with sweat equity, and they're proud of what they have, as they should be. When the economy tanks and we're looking at one of the worst recessions in U.S. history, you better believe pizzeria operators are going to tighten their belts and go to work. They aren't simply trying to keep a stock price at a certain level — this is their livelihood. If they don't stay profitable, their business goes down and they're in the unemployment line.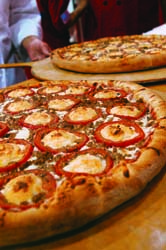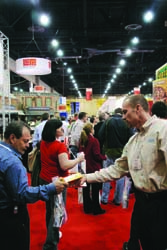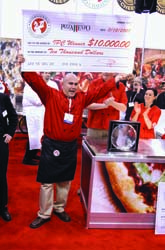 "The attendees at this year's show were more serious than I've ever seen them be before. They were there to take in every seminar, to examine every product or service or idea on the show floor. They were ready to buy as long as the purchase was going to enable them to increase sales or operating efficiency in some fashion. It was invigorating to see."
This year's show featured two keynote speakers — Mike Mrlik of Gatti's Pizza and Joey Todaro of La Nova Pizzeria. In addition, there were more than 60 concurrent educational seminars that covered everything from wine to customer service. In "Talk of the Town," Scott Anthony offered tips for getting your pizzeria mentioned in the local press. In "How to Recession-Proof Your Business," Bryan Dodge argued that it's the people — not the food — that make a pizzeria special.
Other seminars paved the way for pizzerias to be more eco-friendly or gave leadership tips. But they all had one thing in common: "Each of the seminars were led by dynamic, qualified experts and were geared toward offering solutions to the problems today's pizzeria owners face," says White. "The goal is for our speakers to throw out ideas that our attendees can put into action immediately. They don't want to wait until August to make meaningful changes. They want to take control now."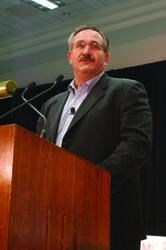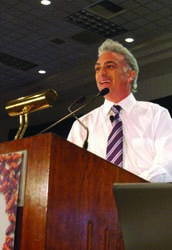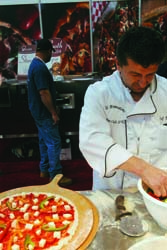 While the seminars are a key component to the tradeshow, the glitz and glamour often accompany the competitive events. And International Pizza Expo organizers took the competitions to an entirely new level this year.
"The show gave away more prize money than ever before," White says. "It amazes me that Bill Oakley and his staff, who plan and produce the Expo, somehow fi nd a way to make it bigger and better every year. The Expo gave away $32,000 in prize money this year, plus another $25,000 to end the show with the Mega Bucks Giveaway."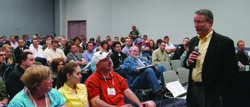 This year, the International Pizza Challenge was divided into two categories: traditional and non-traditional. Scot Cosentino of Goodfella's Pizza in Staten Island, New York, took top honors in the traditional competition. Grazziano Bertuzzo, meanwhile, won the non-traditional category. Bertuzzo, from Brian, Lecce, Italy, then squared off with and defeated Cosentino in a blind-box competition between the two winners. The additional round required the use of a secret ingredient — fresh mushrooms — and carried a $5,000 cash prize (both Cosentino and Bertuzzo were awarded $10,000 for winning their respective categories) as well as "World Champion Pizzaiolo" bragging rights. It was Bertuzzo's second consecutive win.
Let's not forget the "Rockin' Party," which featured the World Pizza Games fi nals. The Games featured fi ve different disciplines, all but one of which involved pizza dough: freestyle acrobatics, fastest dough, fastest box folding, largest dough and longest spin. For results, see the sidebar above. "The World Pizza Games were a ton of fun," says White. "The Rockin' Party is a great place to unwind and meet people within this industry, and the entertainment and 'wow-factor' provided by the Games are second-to-none. It's truly a can't-miss event at the Expo every year."
In fact, says White, those who missed the show can view some of the action on Pizza Today's Video Spot. "Just go to PizzaToday.com and play the featured video," White says. "Throughout the year we'll be highlighting footage we captured at International Pizza Expo 2009. We'll also be conducting pizzeria tours, looking ahead to next year's Expo and, of course, bringing Chef Jay (Pizza Today foodstylist Jerry Washington) back for his demonstrations and delightful dishes."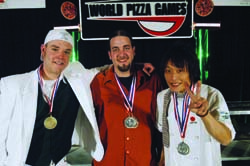 World Pizza Games Results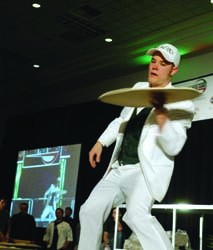 First Division Freestyle Acrobatics
1. Justin Wadstein, Kianti's Pizza & Pasta Bar, Santa Cruz, California
2. Akaogi Kazuya, Aromavita, Japan
3. Jamie Culliton, Grimaldi's, Tucson, Arizona
Fastest Dough
1. Richard Allen, Cousin Vinnie's Pizza, Dayton, Ohio
2. Bruno DiFabio, Country Cottage, Buffalo New York
3. Giuseppe Lucia, 210 Giglio Pizzeria, Italy
Fastest Box Folding
1. Justin Stokes, Sparky's Pizzeria, Urbana, Ohio
2. Mo Rashad, Cousin Vinnie's Pizzeria, Dayton, Ohio
3. Mike Kelly, Grimaldi's, Tucson, Arizona
Largest Dough
1. Spencer Glenn, Pizza My Heart, San Jose, California
2. Eric Corbin, Grimaldi's, Tucson, Arizona
3. Giuseppe Lucia, 210 Giglio Pizzeria, Tucson, Arizona
Longest Spin
1. Akaogi Kazuya, Aromavita, Japan
2. Jamie Culliton, Grimaldi's, Tucson, Arizona
3. David Sommers, Mad Mushroom Pizza, West Lafayette, Indiana
This report compiled by members of the Pizza Today and Pizza Expo staff.