MJ Vacco co-owns Scornovacca's Pizza in Des Moines, Iowa. Founded by his parents in 1976, Vacco is transitioning to take the business over from his mother and running it on a day-to-day basis. He began the transition last October.
Q: Did you always intend to take over the family business?
A: I always had my thoughts turned away from the restaurant business, because I had grown up in it and wanted to venture out and see what else I could do. Then I realized what an opportunity was under my nose. This business has paid my way through life. So I decided to reset my focus.
Q: What were you doing before moving back home to Iowa?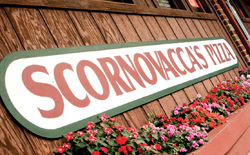 A: I left to go to college at Arizona State, then I spent 11 years in Arizona in the financial world.
Q: What do you like most about running a pizzeria?
A: I like that everything we make is our own. I really like that we create it from scratch. That has really paid off, and it's something that we're really proud of. Not only is it really good food, but it's made with love, and our loyal customers appreciate that. And then there's our customers. Many of them watched me grow up, so I really try to make a point of telling them we appreciate them coming in.
Q: Has anything about running a restaurant taken you by surprise?
A: Not really. My parents always made it evident that there would be ups and downs in this business, that there would always be a curve ball. Employees don't always show up on time. Food doesn't always arrive on time.
Q: Among other things, isn't Scornovacca's known for its onion rings?
A: They are one of our top-selling items. We make them homemade. We make our batter, add the seasonings. People really freak out over them. They're a staple item for us. We probably sell about 100 orders of them a week.