LloydPans digs deeper with Chicago Deep Dish Pan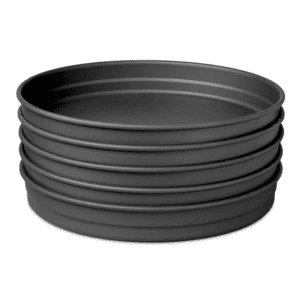 Chicago-style deep dish pizzas are known for their deep, buttery crusts layered with ingredients to create the pizza's uniquely thick look. LloydPans Deep Dish Pizza Pans come in 1.5" and 2.25" depths, and both come in a variety of diameters. The Chicago-inspired Deep Dish Pizza Pan is the perfect pan to help pizzerias and foodservice operations recreate the popular pizza that Chicago is known for.
However, deep dish's popularity is spreading beyond the confines of Chicago, and the uniquely thick pizza needed a tried-and-true pan to help pizza makers add this fan favorite to their menus. Thus, LloydPans added the Deep Dish Pizza Pan to its lineup.
LloydPans Chicago Deep Dish Pizza Pans come with patented PRE SEASONED TUFF-KOTE (PSTK) finish. PRE SEASONED TUFF-KOTE (PSTK)  eliminates the need for pre-seasoning, messy oiling of pans and offers an unparalleled durability built for commercial kitchens. The coating also makes the depanning/cleanup process a breeze. And, LloydPans Chicago Deep Dish Pans include additional features:
Can be stacked dozens high, stable for easier carrying
Ideal for proofing dough
Less expensive, since separators are not needed
1.2″ clearance between pans
Round rim for safe handling
Heavy 14-gauge aluminum
Available in PRE SEASONED TUFF-KOTE (PSTK) finish or bare aluminum
LloydPans, a U.S. manufacturer of commercial pizza pans and tools, bakeware, cookware and foodservice equipment, is located in Spokane Valley, Washington. In addition to an extensive line of standard products, LloydPans also offers custom solutions for just about anything their customers need. LloydPans' products are sold online at www.lloydpans.com and through distributors.
LloydPans
800-748-6251