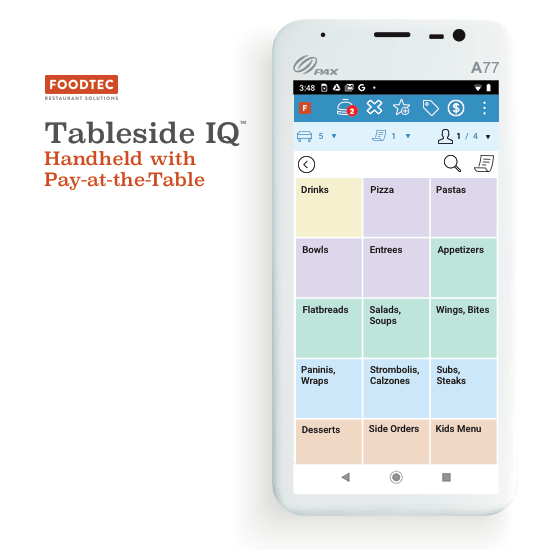 FoodTec Solutions, an industry leader in Point-of-Sale platforms for quick serve and pizza restaurants, announces the release of OrderIQTM with Pay at the Table.
OrderIQTM is FOODTEC's proprietary table-side, order-taking device that remotely pushes orders from a hand-held device to the kitchen. OrderIQTM has be redesigned to run on a new, easier-to-carry device, but also includes an EMV terminal that can take and process credit cards at the table. The benefits to restaurants management are immediate:
Wait staff efficiency­ – No need to run back to POS to process payment.
Fight chargebacks with processing by EMV.
Smaller form factor makes it easy to carry, hold and use.
Scan Gift Cards and Coupons at the table
Apple Pay compatible
"Labor challenges has forced today's restaurants to do more with less," said Andrew Bounas, FoodTec Solutions CEO. "The public is coming back to dine-in restaurants, but there is less staff to cover the tables. Every minute counts to the guest experience. Pushing orders directly to the kitchen, and then taking payment at the table reduces the number of runs back to the POS. Tableside efficiency means staff is more available to expand orders and turn tables faster."
"We have listened to FoodTec customers and their staff and designed for a device that fits easily in the hand," Bounas continues, "We also improved the UI so it's easier to find items in larger menus. Pilot customers have reported that their mobile-device-savvy restaurant guests have adapted easily to the pay-at-the-table process, much like their European counterparts have done for a number of years."
OrderIQTM with Pay at the Table is part of the FoodTec Solutions product set that include POS-powered mobile devices for Labor Management, Performance Reporting, Inventory Management and Consumer-facing Ordering and Loyalty. FoodTec's popular DeliveryIQTM App will also now support Pay-at-the Door via an integrated EMV terminal.
About FoodTec Solutions
FoodTec Solutions, Inc., based in Needham, Massachusetts, is the leading and award-winning provider of POS technology and related solutions for the pizza and delivery industry. For thousands of client sites in the US and internationally, FoodTec provides a full-suite of applications for POS, back office, on-line/mobile ordering, and comprehensive corporate office solutions for any size operator including marketing, loss prevention, and centralized database management solutions. Leveraging an array of cloud-based and store resilient technologies, FoodTec's single platform is extremely robust and economical to operate.