When speed of service improves the guest experience, everybody wins.
Dine-in profit gains are often directly proportional to improvements in table turnover. Everyone wins when the guest experience improves with faster service.
Graphical Table Layout & Service Dashboard.
With SpeedLine POS, graphical table service gives you a customizable floor plan to make sure even new servers always get food to the right table. You can design your floor plan to include not only tables, but walls, doors, windows, a buffet, a bar, and other landmarks to make it easily read by your servers.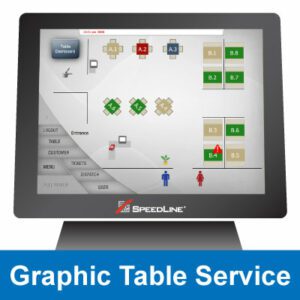 Get a bird's-eye view of diner stats and server performance. The Table Dashboard in SpeedLine POS allows you to track and quickly respond to service metrics. At a glance, color-coded service alerts notify staff of wait times, long table turnover, and more, to better manage the guest experience.
Visual service cues and alerts on the floor plan and dashboard give your team new insight to help them serve guests faster, measure and improve staff performance, and ultimately increase dine-in profitability.
All-in-One Tableside Service
From order taking to payment processing, you can do it all right at the customer's table by using either a Microsoft Surface Pro or Go tablet paired with the Link 2500 mobile PIN pad. Once orders are entered tableside using the handheld tablet, they are sent directly to the kitchen displays or printers, resulting in faster order processing. When it's time to pay, simply return to the table with the same tablet and a Link 2500 PIN pad, and accept payment securely using contactless tap, EMV chip and PIN, swipe, mobile wallet, and more.
Check Splitting
SpeedLine allows you to effortlessly manage seats and separate checks. Your servers will have the option to take orders separately or split the bill at the end of the meal. Let your customers pay how they want, without complications for your staff.
Kitchen Displays
Replace printers with kitchen displays to improve speed, coordinate cook times, and eliminate the need to print and hang orders. Most importantly, a kitchen display allows you to set up delay timers that ensure all the items in an order are hot and ready when you need them—either for delivery or table service.
Item Routing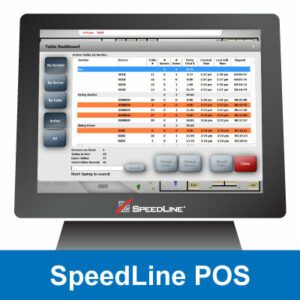 Item routing reduces kitchen confusion because staff at a particular prep station see only what they need to.
Assign make routes: when an order is placed, make tickets tell the staff what food to prepare and tell SpeedLine where to print or display the menu items for your staff
Organized tickets: each item in the order can be directed to print or display in different prep areas of your restaurant, so that no orders get lost, and staff members have the information they need to prep the order.
Reporting and Analytics
Make business decisions based on real-time data accessible from anywhere, at any time. Your Analytics subscription includes the ability to:
Review dashboards of key metrics in charted or tabular reports.
Filter store data by location, time, sales, and more.
Get email alerts when a value varies from your set threshold.
Drill into chart data, see trends, and identify discrepancies.
Export a dashboard to a PDF or image for printing or sharing.
And more!
Contact SpeedLine for more information on what SpeedLine POS can do for your full service restaurant: www.speedlinesolutions.com/full-service | sales@speedlinesolutions.com | +1-888-400-9185
About SpeedLine Solutions Inc.
The world market for pizza is $128 billion each year. Restaurant delivery is growing in pizza and explosively in the restaurant industry. That's great news for SpeedLine users, where our local team develops, markets, and supports the industry's leading point of sale solution for this large, technology-hungry industry.  SpeedLine continues to successfully provide software solutions to thousands of pizza, quick service, and multi-concept restaurants and chains.