Molded Fiber Glass Tray Company (MFG Tray) offers a new compact storage solution–introducing the new Mini Stacking Box. Hatched from the celebrated 870 Series Line, this half-sized box provides an effective solution when space is of the essence. Get more flexibility in tight production lines or small storage facilities with all the strength and durability of MFG Tray's standard boxes.
"We are very excited about introducing the Mini Stacking Kit to the Food Service Industry. Our storage boxes are used just as commonly in large kitchens as in small ones," said John Thompson, MFG Tray's President & General Manager. "This new addition came from talking to our customers, building relationships, and responding to their ever-changing needs. MFG Tray has always taken great pride in responding to change and fostering growth for our valued customers and is thrilled our product lines continue to grow along with them."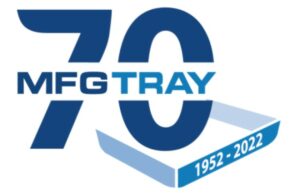 The new Mini Stacking Box is available as a kit–consisting of two air-tight mini stacking boxes and one snap-on lid. Each kit offers secure stacking and is compatible with standard-size MFG Tray dough boxes.
Molded Fiber Glass Tray Company, headquartered in Linesville, PA, is the leading manufacturer of high-strength, glass-reinforced composite containers, trays, boxes, flats, and totes and is one of the largest employers in our region. For over 70 years, MFG Tray containers have supported businesses serious about material handling in the metalworking, plastics, electronics, food service, confectionery, farming, and pharmaceutical industries.