Bellingham, WA, May 16, 2023– Wood Stone Corporation is proud to announce the launch of its latest innovation, the OneRev Rotating Pizza Oven. This revolutionary device is designed to make perfect artisanal pizzas without the pizza chef constantly turning and moving the pizza in the oven. Since you don't need a person to continuously watch the pizza in the oven, it can be a great solution to the labor challenges that pizzerias and restaurant businesses face today.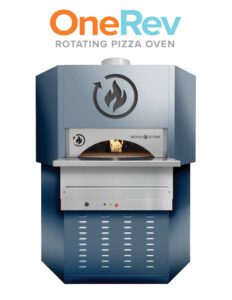 The Wood Stone OneRev Rotational Pizza Oven makes the perfect artisanal pizza in just one rotation, every time. All you need to do is build and load the pizza, remove it when it's done, and serve it to your customers. The OneRev Oven takes care of the baking process from start to finish, making it easier for businesses to produce high-quality pizzas consistently, at volume.
"We are excited to introduce the OneRev Rotating Pizza Oven. It is a revolutionary device that will transform the way pizzas are cooked in food service establishments. With its labor-saving features, businesses can reduce costs while maintaining consistent quality, making it the ultimate solution for any food service establishment looking to improve their pizza program.", says Dean Tryon, Director of Innovation and Engineering at Wood Stone.
This innovative oven is ideal for businesses looking to reduce labor costs while maximizing throughput. With the ease of operation, there is no need for a trained pizza oven operator to use the OneRev Rotating Pizza Oven, which can result in labor savings of $30K or more. Businesses can now easily hire and train new employees, without the hiring and retention headache. The OneRev Oven is versatile and capable of baking multiple-sized pizzas with various toppings at the same time, thanks to the Pizza Tracker, an innovative dynamic thermal management system. With zero recovery time, there is no impact from continuously loading pizzas, enabling maximum throughput and reducing wait times. The center, underfloor, and finish flames ensure even baking of every pizza, making it the ideal choice for food service establishments that want to stand out from the competition.
"At Wood Stone, we believe that innovation is key to success, and the OneRev Rotating Pizza Oven is a testament to that," said Chris Trout, President and CEO of Wood Stone. "With the labor challenges faced by the food service industry, we invested and developed a solution that saves on labor costs and makes it easier for businesses to hire and retain employees. Restaurants and pizzerias are able to consistently provide great tasting pizzas to their customers."
To celebrate the launch of OneRev Rotating Pizza Oven, Wood Stone is offering a special package deal for a limited time. The launch package includes a free powder coating of the oven in the customer's choice of color, a custom brand panel to display the customer's logo or artwork and a custom arch doorway for a unique look. Additionally, the package comes with a OneRev tool set to help businesses get started with their new oven right away. Don't miss this opportunity to get a top-of-the-line pizza oven with added customization options.
The OneRev Rotating Pizza Oven will be on display at the National Restaurant Association Show in Chicago from May 20th to May 23rd, 2023, Wood Stone booth # 4012.