Long Pizza Pans' versatility allows for pizza makers to shine creatively
No matter if your customers prefer the middle or the edge pizza slice, it will be easily accessible via any seat at the table surrounding the Long Pizza Pan. The name says it all — Lloyd Pans' Long Pizza Pans are king when it comes to pizza inspiration. From Detroit-style to Grandma, our Long Pans are available in a range of sizes to suit different pizza styles and small to large groups.
12 inches long: serves 1-2 people with 4, 4×3-inch slices
18 inches long: serves 2-4 people with 4, 4×4 ⅕-inch slices
27 inches long: serves 4-8 with 8, 4×3 ⅜-inch slices
Long Pizza Pan Specifications
Each pan is 4 inches wide and 1.5 inches deep
Folded rim for added strength and safety in handling
Durable 14-gauge hard coat anodized aluminum
Permanent and metal utensil safe PSTK finish for easy de-panning and cleanup
Made in the USA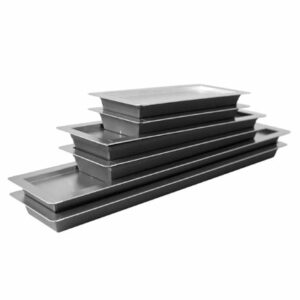 Not seeing the size you need? Customize your Long Pizza Pan upon request. Contact Sales@LloydPans.com or call (509) 468-8691 for custom orders.
LloydPans, a U.S. manufacturer of commercial pizza pans and tools, bakeware, cookware and foodservice equipment, is located in Spokane Valley, Wash. In addition to an extensive line of standard products, LloydPans also offers custom solutions for just about anything their customers need. LloydPans' products are sold online at www.lloydpans.com and through distributors.
LloydPans
800-748-6251