MFG Tray food prep and storage containers are available in a wide variety of sizes to accommodate an array of applications. They can be readily integrated into automated applications. MFG Tray's composite construction ensures years of dependable service.
MFG Tray food prep and storage containers may be used intermittently in temperatures ranging from -60° to 250° F (-51° to 121° C). They safely handle items to be refrigerated or frozen; they perform exceptionally well in flash freezing applications. The composite construction ensures dimensional stability without warping or sagging, regardless of changes in temperature or humidity. They may be cleaned in commercial, high-temperature and chemical dishwashers or steam cleaned.  The smooth, nonporous surface of composite products resists odors, stains and mildew and is not harmed by detergents.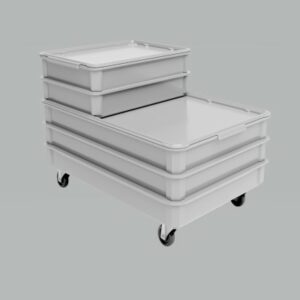 MFG Tray food prep and storage containers come in two standard colors (white and gray) although custom colors are available. MFG Tray Nest and Stack containers can be stacked when full and, with a simple 180-degree turn, nested when empty. MFG Tray Stacking Boxes stacking design ensures product protection ad saves valuable work and storage areas. MFG Tray Nesting Boxes nest empty and stack on lids when full and are ideal for handling small items. Optional dollies are available for ease of transport throughout the operation and snap-on lids for added product protection during proofing or storage, making them perfect for catering and other mobile applications.
Most MFG Tray containers are safe for food service and are NSF listed.
About our Company: MFG Tray has been a trusted supplier of trays and containers in the food service industry for over 70 years founded and still in Linesville, Pennsylvania USA. MFG Tray's broad line of products accommodate all aspects of food handling ranging from preparation, storage and merchandising and includes proofing boards and boxes, pan extenders, prep and storage containers, dough trays and boxes, and display, serving, and cafeteria trays. These trays offer several exclusive design, cost, and performance benefits that cannot be duplicated by other materials or manufacturers. The inherent strength and dimensional stability of MFG Tray composite trays make them exceptionally well suited for food service industry applications. Protect your customers and your brand reputation with the frontline prevention and quality that MFG Tray provide.
Check our food service catalog, products and more at www.mfgtray.com.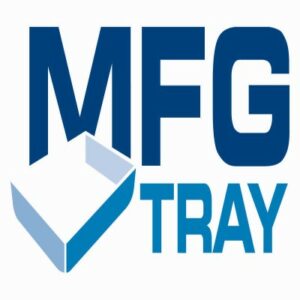 MFG Tray (Molded Fiber Glass Tray Company)
TF: 800-458-6050   PH: 814-683-4500
Matt Morian, MFG Tray Food Service Product Line Manager
EM: mmorian@moldedfiberglass.com