In the past, only large national brands such as Denny's, Chuck E Cheese, Applebee's, Chili's, Outback, and Hooters have had a virtual brand associated with their brick and mortar locations. However, today, many smaller restaurants have joined the virtual food revolution. Small restaurants are finding that virtual brands increase online orders that go directly to their bottom line, as they don't require additional overhead nor labor.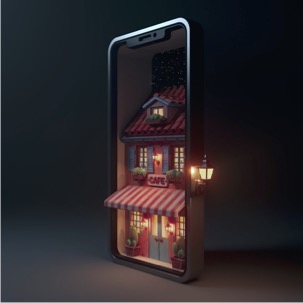 In 2020, the United States virtual restaurant & ghost kitchens' market was valued at $201.75 Million, having increased from $32.75 Million in 2016. Looking forward, the US market is forecasted to reach $1,014.3 Million by 2027, growing at a compound annual growth rate (CAGR) of 25.63%, between 2021 and 2027.
"Not all virtual brands are the same" says Greg Murphy, CEO of Virtual FOODS. "Partnering with a virtual restaurant company can be confusing. One should consider the impact on their business. Will you have to inventory additional ingredients? Will you have to make new menu items or follow new recipes, train staff on new items, or will the virtual brands allow your menu items to remain as is? What are the fees and commissions? Are you obligated to continue even if it turns out the virtual brand is not a good fit? All of these questions should be considered."
Murphy added, "We've found small restaurants prefer our no-risk business model:
$1,500 to $4,000 additional income per month,
no contracts,
no fees,
tablet & printer at no cost,
receive full menu pricing,
no mandatory purchases,
our restaurants become our exclusive partner for their neighborhood,
We pay up to twice per month, and never ask for money.
More information about Virtual FOODS is available at http://virtualfoods.net
About Virtual FOODS
Virtual FOODS is one of the largest virtual restaurant owners in the United States. The company specializes in winning orders on DoorDash, GrubHub, and UberEat, known collectively as "the food marketplace." Virtual FOODS owns:
Six virtual restaurant brands: Wings, Subs, Salads+Wraps, Pasta,
Cheesesteaks and Pizza.
70+ local online virtual restaurants, across the country.
Two brick-n-mortar pizzerias.
Virtual FOODS knows the pizza restaurant business. Virtual FOODS is large enough to have negotiated special terms with the food marketplace, which enables them to win more orders for their restaurant partners, and pay them to make the food.